The Soup Sisters Cookbook: 100 Simple Recipes to Warm Hearts . . . One Bowl at a Time (Paperback)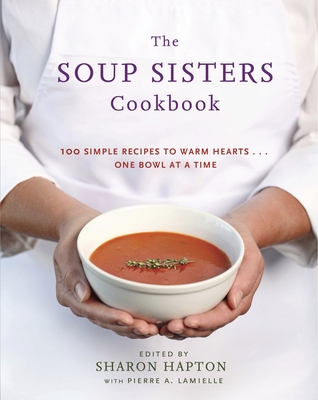 $19.95

Usually Ships in 1-5 Days
Description
---
100 recipes arranged by season, The Soup Sisters Cookbook gives you heartwarming soups to prepare and share throughout the year.
 
The Soup Sisters Cookbook showcases scrumptious recipes from the "souper volunteers" of the Soup Sisters and recipes from many of Canada's top celebrity chefs--including Michael Stadtlander, Bonnie Stern, Lucy Waverman, Massimo Capra, Anna Olson, Michael Bonacini and Elizabeth Baird. With 100 recipes arranged by season, The Soup Sisters Cookbook is certain to appeal to soup-lovers everywhere!
 
Soup Sisters are a Calgary-based non-profit enterprise founded in 2009. They are dedicated to making a tangible difference to the lives of women and children in need. Soup Sisters believe in the power of soup and the nutrition, comfort and warmth that the gift of soup can bring. This belief has resonated quickly and profoundly with communities across Canada, who come together through their local Soup Sisters events to cook, share and donate soup, to women's shelters in their community. The Soup Sisters' growing network has over 4,500 supporters, who collectively donate over 8,000 bowls of soup every month--over 75,000 bowls of soup have been donated to date.
About the Author
---
SHARON HAPTON is the founder of Soup Sisters. She was selected as one of Chatelaine and CityTV's Women of the Year 2011 and as a Woman of Vision 2011 by Global Television and the YWCA.
 
PIERRE A LAMIELLE is a graduate of the French Culinary Institute in New York. He is the author and illustrator of Kitchen Scraps, winner of the World Gourmand Best Illustrated Cookbook Award.
Praise For…
---
"Soup Sisters deliver comfort, nourishment and pleasure where it is needed most … via a simple bowl of soup. The Soup Sisters Cookbook will inspire you to make delicious soups that will comfort and please the people closest to your heart."
—Elizabeth Baird, cookbook author and food writer
 
"Soup Sisters exemplifies people taking care of each other in the most basic way—from the heart! Sharing a warm bowl of soup is like a receiving a great big hug. For those who love soup, and hugs, I'm proud to share one of my favorite soup recipes in this book."
—Christine Cushing, cookbook author and host of Fearless in the Kitchen
 
"Soup is a whole meal in itself. For anyone in need, it warms the soul. I'm proud to be a part of this book and the soul-warming Soup Sisters effort."
—Michael Stadtlander, Chef and Owner of the Farm-to-Table Eatery Eigensinn Farm, Ontario
 
"Of all the community work I've done, nothing makes me feel more like I'm contributing than when I'm working with Soup Sisters. I can't wait to try the delicious recipes in this collection at home."
—Michael Allemeier, Chef, Culinary Instructor and co-author of Bishop's: The Cookbook
 
"Thank you to Soup Sisters for including me in their magical family and in The Soup Sisters Cookbook. I hope cooks everywhere embrace these recipes the way that so many of my friends and family have, with gratitude, humility and in very large bowls."
—Kimberley Seldon – Decorating Editor of Style at Home and author of 500 Ideas for Small Spaces 
 
"Soup Sisters has a unique and simple way of showing kindness in the world: by delivering soup to shelters across North America. I am proud to share my Hamburger Soup recipe in this book. It is a well-known favourite with kids! Thank you to Soup Sisters for providing healing nourishment to the young people who need it."
—Sheldon Kennedy, O.C., A.O.E., former NHL player and lead director, Sheldon Kennedy Child Advocacy Center

"A pot of soup is a universal, inexpensive and nourishing way to show others you care. It is perfect for teaching children the value of making and sharing a meal, especially when they are learning basic cooking skills. This book will inspire your family to cook together, and hopefully, extend your dinner table out into a larger community."
—Julie Van Rosendaal, cookbook author, CBC radio food columnist, food writer and editor