The Truth Commission (Hardcover)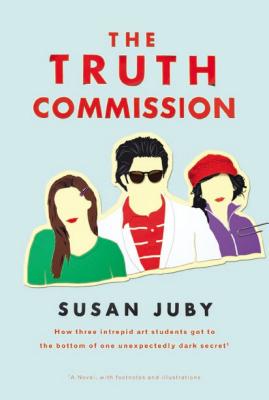 $18.99
Email or call for price.
Description
---
A Book Riot Best Book of 2015 So Far
 
Four starred reviews!
 
"Susan Juby's The Truth Commission knocked my socks off. You should read it!"—Gayle Forman, best-selling author of If I Stay
 
"Susan Juby is a marvel. Wise, witty, and full of heart, her writing draws you in and won't let go. And just when you think it can't get any better, it does."—Meg Cabot
 
This was going to be the year Normandy Pale came into her own. The year she emerged from her older sister's shadow—and Kiera, who became a best-selling graphic novelist before she even graduated from high school, casts a long one. But it hasn't worked out that way, not quite. So Normandy turns to her art and writing, and the "truth commission" she and her friends have started to find out the secrets at their school. It's a great idea, as far as it goes—until it leads straight back to Kiera, who has been hiding some pretty serious truths of her own. Susan Juby's The Truth Commission: A story about easy truths, hard truths, and those things best left unsaid.
 
* "With a deft hand and an open mind, Juby presents many layers of truth. This is a sharp-edged portrait of a dysfunctional family with some thought-provoking ideas about what is real." —Publishers Weekly, starred review

* "A surprising, witty, and compulsive read." —School Library Journal, starred review
 
* "Hilarious, deliciously provocative and slyly thought-provoking."—Kirkus Reviews, starred review

* "Juby's bright dialogue and vivid, appealing characters draw readers along as the three young artists navigate truths both light and dark, discovering themselves in the process."—The Horn Book, starred review
 
* "A smart, savvy YA novel about what constitutes the truth; its ideas will linger long after the last page."—Shelf Awareness, starred review
 
"I absolutely loved The Truth Commission. Every page made me laugh aloud, while all the time the tears were creeping up on me. The characters are so real that I wouldn't be surprised if they knocked on my door right now. I hope they do, I want to spend more time with them."—Jaclyn Moriarty, author of The Year of Secret Assignments and A Corner of White
About the Author
---
Susan Juby (www.susanjuby.com) has written six novels for teenagers. The most well-known is Alice, I Think, the first of the Alice MacLeod trilogy, which was made into a successful television series. She is also the author of a memoir, Nice Recovery,and the adult comic novel The Woefield Poetry Collective; the sequel, Republic of Dirt, has just been published in Canada. She is currently working on a second novel about the Green Pastures Academy of Art and Applied Design.
     Susan Juby lives in Nanaimo, BC, Canada, the setting for most of her books -- including this one.
Praise For…
---
PRAISE FOR THE TRUTH COMMISSION

"I absolutely loved The Truth Commission. Every page made me laugh aloud, while all the time the tears were creeping up on me. The characters are so real that I wouldn't be surprised if they knocked on my door right now. I hope they do, I want to spend more time with them." – Jaclyn Moriarty, author of The Year of Secret Assignments and A Corner of White

"Susan Juby is a marvel. Wise, witty, and full of heart, her writing draws you in and won't let go. And just when you think it can't get any better, it does." – Meg Cabot


* "With a deft hand and an open mind, Juby presents many layers of truth. This is a sharp-edged portrait of a dysfunctional family with some thought-provoking ideas about what is real." --Publishers Weekly, starred review

* "A surprising, witty, and compulsive read." –School Library Journal, starred review
 
* "Hilarious, deliciously provocative and slyly thought-provoking." – Kirkus Reviews, starred review

* "Juby's bright dialogue and vivid, appealing characters draw readers along as the three young artists navigate truths both light and dark, discovering themselves in the process." –The Horn Book, starred review



AWARDS FOR SUSAN JUBY

Alice, I Think:  An ALA Best Book for Young Adults; Kirkus Reviews Editors' Choice; Amazon Top Ten Teen Book

Another Kind of Cowboy: An ALA Best Book for Young Adults; An ALA Rainbow List Book; A Kirkus Reviews Editors' Choice; White Pine Award Master List; Finalist for the Canadian Library Association YA Book Award

Getting the Girl: An Edgar Award Finalist; Kirkus Editors' Choice; Georgia Peach Award Master List; White Pine Award Master List