The Heart Principle (Paperback)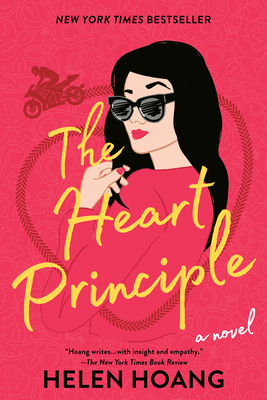 $16.00

Usually Ships in 1-5 Days
Staff Reviews
---
Not your typical romance. In fact, the romance is more of subplot while main story explores in ample detail the perils of being diagnosed with autism and burnout as an adult, dysfunctional family dynamics, caring for a dying parent and being able to distinguish what's best for you when it doesn't align with what your family thinks is best (especially when you've always done what your family thinks is best). At times heart-breaking but overall life-affirming!
— Zinna
Description
---
A woman struggling with burnout learns to embrace the unexpected—and the man she enlists to help her—in this new New York Times bestselling romance by Helen Hoang.

When violinist Anna Sun accidentally achieves career success with a viral YouTube video, she finds herself incapacitated and burned out from her attempts to replicate that moment. And when her longtime boyfriend announces he wants an open relationship before making a final commitment, a hurt and angry Anna decides that if he wants an open relationship, then she does, too. Translation: She's going to embark on a string of one-night stands. The more unacceptable the men, the better.

That's where tattooed, motorcycle-riding Quan Diep comes in. Their first attempt at a one-night stand fails, as does their second, and their third, because being with Quan is more than sex—he accepts Anna on an unconditional level that she herself has just started to understand. However, when tragedy strikes Anna's family she takes on a role that she is ill-suited for, until the burden of expectations threatens to destroy her. Anna and Quan have to fight for their chance at love, but to do that, they also have to fight for themselves.
About the Author
---
Helen Hoang is that shy person who never talks. Until she does. And then the worst things fly out of her mouth. She read her first romance novel in eighth grade and has been addicted ever since. In 2016, she was diagnosed with autism spectrum disorder in line with what was previously known as Asperger's syndrome. She currently lives in San Diego, California, with her husband, two kids, and a pet fish.
Praise For…
---
"A fiercely anticipated third release from the adored author of romances The Kiss Quotient and The Bride Test... If Hoang's previous successes prove anything, The Heart Principle will be a joy."—Elle

"[Hoang is] a consummate wordsmith of soulful romances, with soft, honest-to-goodness love stories paired with euphoric steaminess."—NPR

"There's something about the way that Hoang writes her characters. They're fully fleshed, vulnerable, sexual, and full of potential, and her newest novel proves no different."—Real Simple

"Sensitive and sweet, The Heart Principle—a worthy follow-up to Hoang's 2019 novel The Bride Test— explores a burgeoning romance built on undeniable chemistry." —TIME

"The Heart Principle is riveting the whole way through, exploring a complex range of subjects in unique and interesting ways."—Associated Press

"The author shows that romance can bloom in unexpected ways and reminds readers that happily-ever-after endings are different for everyone."—Shelf Awareness

"One of her most raw and autobiographical works, as she notes, and it touches on themes of grief and loss as much as the need for unconditional love and romance."—Book & Film Globe