A New Earth: Awakening to Your Life's Purpose (Paperback)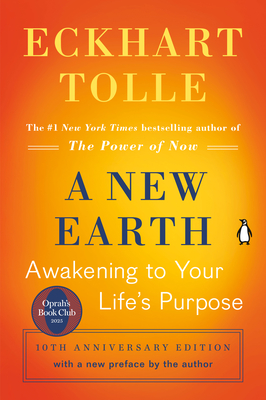 Description
---
#1 NEW YORK TIMES BESTSELLER

"A wake-up call for the entire planet . . . [A New Earth] helps us to stop creating our own suffering and obsessing over the past and what the future might be, and to put ourselves in the now." —Oprah Winfrey

With his bestselling spiritual guide The Power of Now, Eckhart Tolle inspired millions of readers to discover the freedom and joy of a life lived "in the now." In A New Earth, Tolle expands on these powerful ideas to show how transcending our ego-based state of consciousness is not only essential to personal happiness, but also the key to ending conflict and suffering throughout the world. Tolle describes how our attachment to the ego creates the dysfunction that leads to anger, jealousy, and unhappiness, and shows readers how to awaken to a new state of consciousness and follow the path to a truly fulfilling existence.

Illuminating, enlightening, and uplifting, A New Earth is a profoundly spiritual manifesto for a better way of life—and for building a better world.
                
About the Author
---
Eckhart Tolle is widely recognized as one of the most inspiring and visionary spiritual teachers in the world today. With his international bestsellers, The Power of Now and A New Earth—translated into 52 languages—he has introduced millions to the joy and freedom of living life in the present moment. His teachings focus on the significance and power of Presence, the awakened state of consciousness, which transcends ego and discursive thinking. Eckhart sees this awakening as the essential next step in human evolution. The New York Times has described him as "the most popular spiritual author in the United States", and in 2011, Watkins Review named him "the most spiritually influential person in the world".


Praise For…
---
Praise for Eckhart Tolle and his work

"[Oprah] Winfrey calls the book 'a wake-up call for the entire planet, one reader at a time. It helps us to distance ourselves from our egos . . . and to open ourselves to a higher self. . . . It helps us to stop creating our own suffering and obsessing over the past and what the future might be, and to put ourselves in the now.'"
—USA Today

"I would do anything to be anywhere in the vicinity of Eckhart Tolle." 
—Jim Carrey

"A gentle journey, one that could take you to a spectacular and very special place of new awareness and deeper understanding." 
—Neale Donald Walsh, author of Conversations with God

"One of the best books to come along in years. Every sentence rings with truth and power—the power to bring you into the gap, the space between our thoughts, where we find, as Eckhart so beautifully puts it, deep serenity, stillness, and a sacred Presence."
—Deepak Chopra, author of The Seven Spiritual Laws of Success