Ghosts of Harvard: A Novel (Hardcover)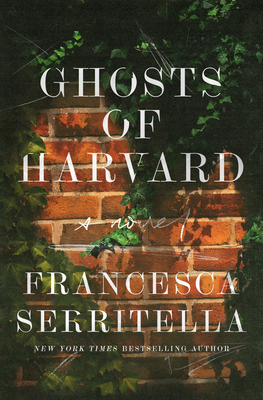 $27.00
Email or call for price.
Staff Reviews
---
Have you ever started a book in bed then looked at the clock and discovered you've been reading for two hours?
It happened to me last night; I began reading Francesca Serritella's GHOSTS OF HARVARD.
GHOSTS OF HARVARD is the perfect combination of family saga, psychological thriller, and mystery. Serritella introduces Cady Archer, a young woman entering her freshman year at Harvard. It would be perfect but she has a "ghost" haunting her. The prior spring her older brother, Eric, died from an apparent suicide. Cady decides to get to the bottom of what really happened, what follows will keep you up reading all night!
— Kathleen
Description
---
TEEN VOGUE BOOK CLUB PICK • A Harvard freshman becomes obsessed with her schizophrenic brother's suicide. Then she starts hearing voices.

"A rich, intricately plotted thriller . . . Serritella, who is a Harvard grad herself, writes about the campus with an insider's savvy."—Maureen Corrigan, The Washington Post

"Every time I thought I knew where Ghosts of Harvard was heading, I turned out to be wrong. Part mystery, part ghost story, part psychological thriller, this novel is all entertainment."—#1 New York Times bestselling author Jodi Picoult
 
Cadence Archer arrives on Harvard's campus desperate to understand why her brother, Eric, a genius who developed paranoid schizophrenia took his own life there the year before. Losing Eric has left a black hole in Cady's life, and while her decision to follow in her brother's footsteps threatens to break her family apart, she is haunted by questions of what she might have missed. And there's only one place to find answers.
 
As Cady struggles under the enormous pressure at Harvard, she investigates her brother's final year, armed only with a blue notebook of Eric's cryptic scribblings. She knew he had been struggling with paranoia, delusions, and illusory enemies—but what tipped him over the edge? Voices fill her head, seemingly belonging to three ghosts who passed through the university in life, or death, and whose voices, dreams, and terrors still echo the halls. Among them is a person whose name has been buried for centuries, and another whose name mankind will never forget.
 
Does she share Eric's illness, or is she tapping into something else? Cady doesn't know how or why these ghosts are contacting her, but as she is drawn deeper into their worlds, she believes they're moving her closer to the truth about Eric, even as keeping them secret isolates her further. Will listening to these voices lead her to the one voice she craves—her brother's—or will she follow them down a path to her own destruction?
About the Author
---
Francesca Serritella is the New York Times bestselling author of a nine-book series of essay collections co-written with her mother, bestselling author Lisa Scottoline, and based on "Chick Wit," their Sunday column in The Philadelphia Inquirer. She graduated cum laude from Harvard University, where she won multiple awards for her fiction, including the Thomas T. Hoopes Prize. Ghosts of Harvard is her first novel.
Praise For…
---
"Ghosts of Harvard is written with a masterly, focused hand, belying the fact that this is Serritella's debut novel. The pages burn with frenetic energy and are peopled by memorable, compelling characters. The tension is palpable, the twists and surprises perfectly timed and the stakes as high as humans should be asked to endure. The end result, a novel you will long remember and characters you will want to see again. A triumph in every respect."—#1 New York Times bestselling author David Baldacci
 
"Wow, what a lively, compelling, and intoxicating debut. Ghosts of Harvard is so many things—a rumination on grief, a glimpse behind the ivory walls of a famous institution, a poignant look at mental illness, and a powerful story about the ghosts that haunt us all. Francesca Serritella is my new 'go-to' author."—#1 New York Times bestselling author Harlan Coben

"Blistering and bracing . . . well-wrought and chilling . . . Ghosts of Harvard presents a postmodern gothic tale wrapped in the fabric of a traditional thriller, with sterling results. A magnificent mix of the Henry James classic The Turn of the Screw with Donna Tartt's The Secret History."—The Providence Journal

"Ghosts of Harvard is worth the read for its conclusion alone, but there is more to draw from the story than its beautiful tale of self-discovery. It highlights the importance of controlling the controllables, and the real ability to shape the legacy we leave."—The Harvard Crimson
 
"Ghosts of Harvard is a wrenchingly beautiful book. With immense heart and unwavering empathy, Francesca Serritella explores the legacy of loss and the mystery of family. It's one of those rare novels that spirits you to a deeper understanding of your own life, one of those stories whose voice you'll continue to hear long after you've turned the last page."—Bret Anthony Johnston, internationally bestselling author of Remember Me Like This

"Edge-of-your-seat tense . . . Fans of Jodi Picoult, Kristin Hannah and Chris Bohjalian, meet your new issue-based page turner. You may need to use a few precious paper towels to mop up the tears."—The New York Times Book Review
 
"Ghosts of Harvard is a rich, intricately plotted thriller that gathers suspense velocity as Cady runs through the mazelike halls of academe and the winding streets of Cambridge, chasing after clues to the more sinister circumstances of [her brother] Eric's death. It's a testament to Serritella's sure touch that when Cady's ghostly companions ultimately make their final departures, Harvard seems duller."—Maureen Corrigan, The Washington Post

"Hauntingly beautiful . . . An unexpected and entirely welcomed summer read . . . It's dark, unpredictable, and every chapter draws you further and further into the story, each one more exciting than the next. . . . Ghosts of Harvard's thrilling layers are entirely immersive. . . . From the very start of the novel, Serritella is unafraid to take on difficult topics. . . . She approaches these feelings, themes, and histories with care and nuance, careful to avoid stereotypes or stigmas."—Teen Vogue

"A brisk, entertaining coming-of-age story . . . Serritella has a wonderful touch for her secondary characters. . . . Readers of campus mysteries will love this surprising and intricate bildungsroman."—Publishers Weekly

"Those who like novels by Joe Hill and Pat Conroy will also enjoy this first novel. . . . The book begins as a thriller and ends as a story of personal growth and redemption. The writing is vivid and engaging, and it works for adults as well as for mature young adult readers."—Library Journal (starred review)