Red at the Bone: A Novel (Hardcover)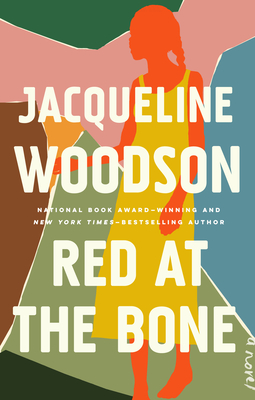 $26.00

Usually Ships in 1-5 Days
Staff Reviews
---
A short and beautiful novel using the lens of an unplanned pregnancy to explore the lives of four generations of a family. So well done!
— Mike
October 2019 Indie Next List
---
"Although you can read Jacqueline Woodson's newest novel over the course of one evening, there is nothing breezy about the richness of its story, nothing short about the depth of its characters, nothing quick about the way this book stays with you after you finish reading. Told through five distinct voices, Red at the Bone tracks an African-American family through time and place as an unexpected pregnancy upends and reshapes family and class expectations as well as individual trajectories. Ultimately, the novel is about legacy in every sense of the word. And since Woodson's writing packs the emotional punch of an epic in a novella number of pages, the legacy of her book is to be read over and over and over again."
— Kelly Brown, Magic City Books, Tulsa, OK
Winter 2020 Reading Group Indie Next List
---
"A spare, probing look at four generations of two families thrown together by a teenage pregnancy. Moving back and forth in time, in Red at the Bone we hear from the 16-year-olds and their parents, and from the child's perspective, beginning with her 16th birthday celebration. Social standing, goals, desires, and understandings are at stake, underscoring how early decisions and actions can change the course of lives. A powerful, poetic novel."
— Liza Bernard, Norwich Bookstore, Norwich, VT
Description
---
A NEW YORK TIMES BESTSELLER

A NEW YORK TIMES NOTABLE BOOK OF THE YEAR

"A spectacular novel that only this legend can pull off." -Ibram X. Kendi, #1 New York Times-bestselling author of  HOW TO BE AN ANTIRACIST, in The Atlantic

"An exquisite tale of family legacy….The power and poetry of Woodson's writing conjures up Toni Morrison." – People
 
"In less than 200 sparsely filled pages, this book manages to encompass issues of class, education, ambition, racial prejudice, sexual desire and orientation, identity, mother-daughter relationships, parenthood and loss….With Red at the Bone, Jacqueline Woodson has indeed risen — even further into the ranks of great literature." – NPR
 
"This poignant tale of choices and their aftermath, history and legacy, will resonate with mothers and daughters." –Tayari Jones, bestselling author of AN AMERICAN MARRIAGE, in O Magazine

An unexpected teenage pregnancy pulls together two families from different social classes and explores their histories – reaching back to the Tulsa race massacre of 1921 -- and exposes the private hopes, disappointments, and longings that can bind or divide us from each other, from the New York Times-bestselling and National Book Award-winning author of Another Brooklyn and Brown Girl Dreaming. 

 
Moving forward and backward in time, Jacqueline Woodson's taut and powerful new novel uncovers the role that history and community have played in the experiences, decisions, and relationships of these families, and in the life of the new child.

As the book opens in 2001, it is the evening of sixteen-year-old Melody's coming of age ceremony in her grandparents' Brooklyn brownstone. Watched lovingly by her relatives and friends, making her entrance to the music of Prince, she wears a special custom-made dress. But the event is not without poignancy. Sixteen years earlier, that very dress was measured and sewn for a different wearer: Melody's mother, for her own ceremony-- a celebration that ultimately never took place.

Unfurling the history of Melody's family – reaching back to the Tulsa race massacre in 1921 -- to show how they all arrived at this moment, Woodson considers not just their ambitions and successes but also the costs, the tolls they've paid for striving to overcome expectations and escape the pull of history. As it explores sexual desire and identity, ambition, gentrification, education, class and status, and the life-altering facts of parenthood, Red at the Bone most strikingly looks at the ways in which young people must so often make long-lasting decisions about their lives--even before they have begun to figure out who they are and what they want to be.
About the Author
---
Jacqueline Woodson is the bestselling author of more than two dozen award-winning books, including the 2016 New York Times–bestselling National Book Award finalist for adult fiction, Another Brooklyn. Among her many accolades, Woodson is a four-time National Book Award finalist, a four-time Newbery Honor winner, a two-time NAACP Image Award Winner, and a two-time Coretta Scott King Award winner. Her New York Times–bestselling memoir, Brown Girl Dreaming, received the National Book Award in 2014. Woodson is also the 2018–2019 National Ambassador for Young People's Literature and the recipient of the 2018 Astrid Lindgren Memorial Award and the 2018 Children's Literature Legacy Award. In 2015, she was named the Young People's Poet Laureate by the Poetry Foundation. She lives with her family in New York.
Praise For…
---
Praise for Red at the Bone:

"Readers mourning the death of Toni Morrison will find comfort in Sabe's magnificent cadences as she rues her daughter's teen pregnancy, which flies in the face of the lessons her mama ingrained in her from the Tulsa race riots of 1921 — the massacre by whites that drove her family north and taught them to vigilantly safeguard their social and economic gains. …With Red at the Bone, Jacqueline Woodson has indeed risen — even further into the ranks of great literature." – NPR

"Occasionally mentioned, and never forgotten, is the fact that Iris's family moved to Brooklyn from the South in 1921 after white people in Tulsa burned down black people's schools, restaurants and beauty shops. It's not just that the past informs the present, nor is it just that the past isn't past; it's also the case that the past has to be remembered, has to be kept alive." – The New York Times

"Red at the Bone is a nuanced portrait of shifting family relationships, jumping back and forth in time and moving bet­ween the characters' different voices… Underneath it all runs the vexed and violent history of the US. Sabe's family lost everything in the Tulsa massacre of 1921…Stories may be hidden, but they will come to light." ­– Financial Times

"Beautiful … a generous, big-hearted novel." – Brit Bennett, #1 NYT bestselling author of The Vanishing Half
 
"Profoundly moving ... With its abiding interest in the miracle of everyday love, Red at the Bone is a proclamation."  —The New York Times Book Review

"A spectacular novel that only [a] legend can pull off, one that wrenches us to confront the life-altering and life-pulling and life-subsuming facts of history, of love, of expectations, of status, of parenthood." – Ibram X. Kendi in The Atlantic
 
"A treasure awaits readers who encounter Red at the Bone….A universal American tale of striving, failing, then trying again." —Time

"Sublime….This short novel contains immense empathy for each member of its wide ensemble. Thus, as Woodson covers nearly a century, from the 1921 Tulsa race massacre to 9/11, her grasp of history's weight on individuals — and definitive feel for borough life, past and present — proves to be as emotionally transfixing as ever." —Entertainment Weekly

"A true spell of a book, Woodson is one of those rare writers who make you feel like you can do anything, should do anything. The story of family and young love are timeless human stories—but through Woodson's sentences, this novel offers us new ways to think and embody our burning world and, perhaps most mercifully, permission to dream—and to change."—Ocean Vuong, New York Times bestselling author of On Earth We're Briefly Gorgeous
 
"Red at the Bone is a narrative steeped in truth...Thank you, Ms. Woodson, for leading me home." —The Washington Post

"Red at the Bone is a slim novel that has all the heft of a family saga but reads like poetry... Woodson nailed the ending, leaving me thoroughly satisfied and awed by her talent." – Lynn Neary, NPR

"Lyrical, dreamy, and brimming with compassion for her characters." –Esquire

"[Red at the Bone] subtly explores the ways in which desire can reconfigure our best-laid plans, and its expansive outlook suggests how easily, in African-American life, hard-won privileges can be dissolved."—The New Yorker

"Vast emotional depth, rich historical understanding and revelatory pacing ... Woodson draws the profound magic out of the ordinary. She is unmatched in her ability to evoke emotion."—The San Francisco Chronicle
 
"A remarkable, intergenerational harmony of voices. At its center is hope for both individual and hereditary survival."—USA Today
 
"Gorgeous, moving…A story of love—romantic and familial—and alienation, grief and triumph, disaster and survival." —Nylon 
 
"Red at the Bone breaks down the ways in which parenthood changes people for both better and worse and what it means to find your true identity." —Parade 
 
"Slender miracle of a novel [that] performs a magic trick with time….Woodson skips back and forth between the decades so deftly that it feels like it all happens in a heartbeat." —Family Circle