This Time Tomorrow: A Novel (Hardcover)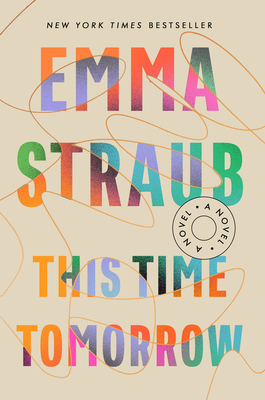 $28.00
Email or call for price.
Staff Reviews
---
My favorite this season (so far) is Emma Straub's new novel THIS TIME TOMORROW coming May 17, 2022.
A father/daughter love story, time travel, the book world, and friends that span the decades-what more can you ask for?
— Kathleen
Straub brings her trademark humor, insight, and disarming charm to a time-travel novel that is at its core a love letter to her real-life dad, novelist Peter Straub (who died after this book was published). Alice, a rudderless almost-40-year-old is not necessarily happy with her life, but is not sure of what her happy life might look like. When she stumbles into a time-travel portal she wakes again and again on the morning of her 16th birthday. Trapped in the 90s, she explores her own life decisions and struggles to find a way to change the fate of her beloved father who, somewhere in the future, is confined to a hospital bed.
— Sarah
June 2022 Indie Next List
---
"Time travel and 1990s teen angst and awkwardness with Emma Straub at the helm? Sign me up! This is the perfect blend of heartbreak and heartfelt laughter that we could all use a dose of right now."
— Javier Ramirez, Exile in Bookville, Chicago, IL
Description
---
#1 NATIONAL BESTSELLER

"The pages brim with tenderness and an appreciation for what we had and who we were. I could not have loved it more."—Ann Patchett

"One of the most moving and intelligent time travel novels I have ever read. Nostalgic, wise, funny, and filled with love."—Gabrielle Zevin

"The kind of book that will make you laugh, make you cry, and make you call the people you love. Exceptional."—Emily Henry

What if you could take a vacation to your past?

        With her celebrated humor, insight, and heart, beloved New York Times bestseller Emma Straub offers her own twist on traditional time travel tropes and a different kind of love story.

On the eve of her fortieth birthday, Alice's life isn't terrible. She likes her job, even if it isn't exactly the one she expected. She's happy with her apartment, her romantic status, and her independence, and she adores her lifelong best friend. But her father is ailing, and it feels to her as if something is missing. When she wakes up the next morning, she finds herself back in 1996, reliving her sixteenth birthday. But it isn't just her adolescent body that shocks her, or seeing her high school crush—it's her dad, the vital, charming, forty-something version of her father with whom she is reunited. Now armed with a new perspective on her own life and his, some past events take on new meaning. Is there anything that she would change if she could?
About the Author
---
Emma Straub is the New York Times–bestselling author of four other novels—All Adults Here, Modern Lovers, The Vacationers, and Laura Lamont's Life in Pictures—and the short story collection Other People We Married. Her books have been published in twenty countries. She and her husband own Books Are Magic, an independent bookstore in Brooklyn, New York.
Praise For…
---
Praise for This Time Tomorrow:

"What if you could go back in time to be with your elderly dying parent when they were young and healthy? Emma Straub turns this question into reality in her fifth and delightful novel. . . How do we talk with each other about things that really matter?. . .Straub is wise enough to know that despite having ample time, it's never enough." —Boston Globe

"Even if the premise of This Time Tomorrow is a flight from realism, the scope of Alice's concerns is human-scale and plausible. . .although her travels through time allow her to reconsider her romantic history, the person whose past she is most eager to set right is her father, a man whose imminent mortality deepens the novel's ambient nostalgia into something pressing and poignant."—The New York Times

"If you could be 16 again, would you? Emma Straub, the queen of the smart-girl summer read, takes that question literally in her light-footed latest about a Manhattanite… a breezy but surprisingly poignant meditation on romance, regret, and family."—Entertainment Weekly

"A touching take on time-travel books. . .This moving, heartbreaking book will have you calling your loved ones while you still can."—Reader's Digest
 
"Fans of '90s nostalgia will fall in love with Straub's This Time Tomorrow. . .The time travel aspect adds an unexpected twist on Straub's witty, character-driven examination of family dynamics, and she serves up a surprising, unique solution to Alice's troubles. The novel is also a heartfelt elegy to the disappearing landscapes of New York City." —Minneapolis Star Tribune
 
"Poignant, loving, humorous, and such a beautiful painting of New York City in those teenage years, Emma has brought you a really fun and extraordinary novel."—Real Simple

"As always, Straub creates characters who feel fully alive, exploring the subtleties of their thoughts, feelings, and relationships. . . . Combine Straub's usual warmth and insight with the fun of time travel and you have a winner."—Kirkus, STARRED review

"Known for her plucky voice and sweetly amusing ensemble comedies, Emma Straub returns with her most emotionally resonant work yet…Beneath the layers of '90s nostalgia and sci-fi portals to the past lies something even more satisfying: a complicated tale that doesn't feel the slightest bit complicated."—Vogue

"Dig out your old band T's and crack open this charming family saga . . . Unlike other time travel stories, this one's not about figuring out how to get back to the present but how to appreciate it when you do."  —Good Housekeeping

"Brimming with whimsy and humor, the story of a young woman's second chance at life is grounded by the unforced father-daughter relationship at its center. Come for the nostalgia, stay for the tenderness." –Elle

"A moving story about a father-daughter relationship. . .chronicles what happens when one 40-year-old woman wakes up and is suddenly 16 years old again. But it's not her youth she's riveted by—it's her father's."—Marie Claire

"Emma Straub is most famous for her wry, warm novels exploring how our relationships shape, delight, wound, and, ultimately, sustain us… [and] the tone of the book is pure Straub: a funny, moving look at the most important relationship in one woman's life… This Time Tomorrow is a case of come-for-the-wacky-time-warp/stay-for-the-timeless-wisdom … In the end, the most remarkable thing about This Time Tomorrow isn't that Straub manages to make us believe the main character is a time traveler; it's that she forces us to realize we all are."—Oprah Daily

"The always delightful, deeply beloved Emma Straub returns with a novel that seems like her take on 13-going-on-30…. It's Straub, so you know it's going to be funny, touching, and filled with family drama." —Glamour

"This addictive and lovely novel is Straub's 'smallest' so far, focusing ultimately on a single character and her most treasured relationship. Yet it contains no less of Straub's signature warmth and authenticity."—Booklist, STARRED review
 
"Has a lot of heart, some satisfying plot twists and a bittersweet, open-ended finale." —BookPage, Starred review

"Straub excels at capturing the essence of a specific place and time from Mallorca to the Hudson Valley. In doing that, she reflects back to us an image of the people we want to be. Within her sprawling cast of characters, there often is a better version of the person we want to be. Straub's novels are a bit of fun, comfort amidst the turmoil of the pandemic."—The Chicago Review of Books

"One of the most moving and intelligent time travel novels I have ever read. Nostalgic, wise, funny, and filled with love."—Gabrielle Zevin, New York Times bestselling author of Tomorrow and Tomorrow and Tomorrow

"If I could time travel, I'd go back just far enough to start Emma Straub's beautiful novel This Time Tomorrow again for the first time. The pages brim with tenderness and an appreciation for what we had and who we were. I could not have loved it more."—Ann Patchett, New York Times bestselling author of The Dutch House

"A beautifully made, elegant music box of a novel that sets in motion its clever clockwork of delight—then breaks your heart with its bittersweet, lingering song."—Michael Chabon, New York Times bestselling author of Moonglow

"I just finished This Time Tomorrow and I'm crying at its message and its honesty and its utter beauty. And now I have to go call my mom." —Jodi Picoult, New York Times bestselling author of Wish You Were Here

"This Time Tomorrow is that rare one-in-a-million novel that not only pulls you wholly into itself, but leaves a lasting mark when it finally releases you. Never has Straub's writing been more incisive, clever, and emotionally generous— which is really saying something. The kind of book that will make you laugh, make you cry, and make you call the people you love. Exceptional."—Emily Henry, New York Times bestselling author of People We Meet on Vacation

"So big-hearted and poignant, I could not bear to put it down. I laughed and cried. Wonderful." — Kate Baer, author of I Hope This Finds You Well