The Seed of Compassion: Lessons from the Life and Teachings of His Holiness the Dalai Lama (Hardcover)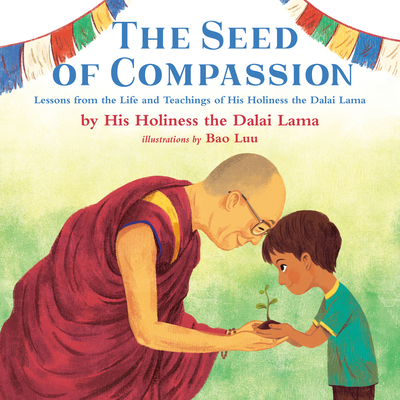 $18.99

Usually Ships in 1-5 Days
Staff Reviews
---
In the Introduction, best-selling author John Green explains that he used to be a book reviewer back in the pre-Internet days, when the content of the review--not a star rating system--was what mattered. Now, a star-rating system is ubiquitous...not just books but everything in our lives.  So, with tongue in cheek, the author sets out here to provide star ratings on topics as far-ranging as Canada geese (2 stars), the Lascaux cave paintings (4 1/2 stars), Halley's Comet (4 1/2 stars), and Piggly Wiggly (2 1/2 stars).  Along the way, we learn the fascinating history of a variety of topics, while simultaneously learning about the author's life. It's a good blend of nonfiction & memoir, and good for anyone who wants a fun, quick read that is easy to consume in chunks rather than one sitting. 
— Donna
Description
---
For the first time ever, Nobel Peace Prize Laureate His Holiness the Dalai Lama addresses children directly, sharing lessons of peace and compassion, told through stories of his own childhood.

One of today's most inspiring world leaders was once an ordinary child named Lhamo Thondup. In a small village in Tibet, his mother was his first great teacher of compassion. In everyday moments from his childhood, young readers begin to see that important lessons are all around us, and that they, too, can grow to truly understand them.

With simple, powerful text, the Dalai Lama shares the universalist teachings of treating one another with compassion, which Bao Luu illustrates beautifully in vibrant color. In an increasingly confusing world, The Seed of Compassion offers guidance and encouragement on how we all might bring more kindness to it.
About the Author
---
His Holiness the 14th Dalai Lama, Tenzin Gyatso, describes himself as a simple Buddhist monk. He is the spiritual leader of the Tibetan people and of Tibetan Buddhism. He was awarded the Nobel Peace Prize in 1989 and the US Congressional Gold Medal in 2007. Born in 1935 to a poor farming family, he was recognized at the age of two as the reincarnation of his predecessor, the 13th Dalai Lama. He has been a passionate advocate for a secular universal approach to cultivating fundamental human values. The Dalai Lama travels extensively, promoting kindness and compassion, interfaith understanding, respect for the environment, and, above all, world peace.

Bao Luu was born in Vietnam and currently lives in the United States. As an artist, he focuses on color and texture in his unique illustrations. He is honored to be illustrating The Seed of Compassion. Learn more at https://www.behance.net/baoluu.