The Anthropocene Reviewed (Signed Edition): Essays on a Human-Centered Planet (Hardcover)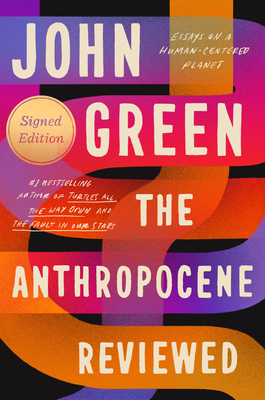 $28.00

Usually Ships in 1-5 Days
Staff Reviews
---
In the Introduction, best-selling author John Green explains that he used to be a book reviewer back in the pre-Internet days, when the content of the review--not a star rating system--was what mattered. Now, a star-rating system is ubiquitous...not just books but everything in our lives.  So, with tongue in cheek, the author sets out here to provide star ratings on topics as far-ranging as Canada geese (2 stars), the Lascaux cave paintings (4 1/2 stars), Halley's Comet (4 1/2 stars), and Piggly Wiggly (2 1/2 stars).  Along the way, we learn the fascinating history of a variety of topics, while simultaneously learning about the author's life. It's a good blend of nonfiction & memoir, and good for anyone who wants a fun, quick read that is easy to consume in chunks rather than one sitting. 
— Donna
Description
---
Instant #1 bestseller! A deeply moving collection of personal essays from John Green, the author of The Fault in Our Stars and Turtles All the Way Down.

"The perfect book for right now." –People

"The Anthropocene Reviewed is essential to the human conversation." –Library Journal, starred review

The Anthropocene is the current geologic age, in which humans have profoundly reshaped the planet and its biodiversity. In this remarkable symphony of essays adapted and expanded from his groundbreaking podcast, bestselling author John Green reviews different facets of the human-centered planet on a five-star scale—from the QWERTY keyboard and sunsets to Canada geese and Penguins of Madagascar.

Funny, complex, and rich with detail, the reviews chart the contradictions of contemporary humanity. As a species, we are both far too powerful and not nearly powerful enough, a paradox that came into sharp focus as we faced a global pandemic that both separated us and bound us together.

John Green's gift for storytelling shines throughout this masterful collection. The Anthropocene Reviewed is a open-hearted exploration of the paths we forge and an unironic celebration of falling in love with the world.

This is a signed edition.
About the Author
---
John Green is the award-winning, #1 bestselling author of books including Looking for Alaska, The Fault in Our Stars, and Turtles All the Way Down. His books have received many accolades, including a Printz Medal, a Printz Honor, and an Edgar Award. John has twice been a finalist for the LA Times Book Prize and was selected by TIME magazine as one of the 100 Most Influential People in the World. He is also the writer and host of the critically acclaimed podcast The Anthropocene Reviewed. With his brother, Hank, John has co-created many online video projects, including Vlogbrothers and the educational channel Crash Course. He lives with his family in Indianapolis, Indiana. You can visit John online at johngreenbooks.com.
Praise For…
---
Praise for The Anthropocene Reviewed

★ "The book is a review of humanity: how we grow, how we build, how we destroy, and how we observe ourselves. Many books succeed at making the personal universal, but this one also makes the universal personal.

"This is a book about culture, about science and medicine, about Green himself, but really it surpasses these designations. It is essential to the human conversation. John Green whispered the truth of humanity onto the page, and as with all good secrets, you'll need to lean in closely to hear." –Library Journal, starred review

"The Anthropocene Reviewed is the perfect book to read over lunch or to keep on your nightstand, whenever you need a reminder of what it is to feel small and human, in the best possible way." –San Francisco Chronicle

"There is something of the sermon in [Green's] essays as he mixes curiosity and erudition with confession, compassion, and wit, searching for illuminating life lessons amid life's dark chaos. His particular mix of irony and sincerity enables him to embrace both the sublime and the ridiculous." –Booklist

"Lyrical and beautiful, funny and hopeful, intricate and entertaining all at once.... Green may have made his name by writing fiction (and for good reason), but this first foray into nonfiction is his most mature, compelling, and beautifully written book yet." –Shondaland.com
 
"What Green is really telling us with these unexpected stories about Sycamore Trees, Canada Geese, and Dr Pepper is how much there is to love in the world and why that love is worth the effort." –NPR.com

★ "Each short review is rich with meaning and filled with surprises and together, they amount to a resonant paean to hard-won hope." –Publishers Weekly, starred review

★ "Each of the entries in The Anthropocene Reviewed: Essays on a Human-Centered Planet, is a small gem, polished to near perfection…. What unites them is [Green's] uncanny ability to structure each piece as both a critique of human foibles and an embracing of them." –Shelf Awareness, starred review

"If you're looking for a little hope this summer look no further than John Green's latest essay collection…. These personal essays explore humanity in every detail from funny and small to complex and powerful." –Isaac Fitzgerald, TODAY Show Summer Reading Recommendations

"In his novels, John Green conjures richly imagined, heartfelt drama that lovingly explores the human condition. With The Anthropocene Reviewed, John pulls off the same magic trick while writing about the largest ball of paint...and it is glorious. Every page is full of insight. I loved it." –Roman Mars, creator and host of 99% Invisible

"The Anthropocene Reviewed somehow satisfies all the contradictory demands I have for a book right now: it stimulates my brain while getting me out of my head while taking me to faraway places while grounding me in the wonders of my everyday. I'm so glad it's here. I need it." –Anna Sale, host of Death, Sex & Money and author of Let's Talk About Hard Things

"If loving something out loud takes courage, and I think it does, John Green is Evel Knievel and The Anthropocene Reviewed is a series of ever-more-impressive motorcycle jumps." –Latif Nasser, co-host of Radiolab