Fetch: How a Bad Dog Brought Me Home (Paperback)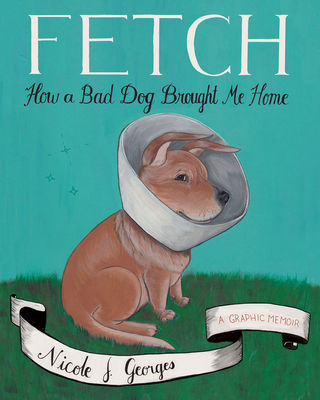 $17.95
Usually Ships in 1-5 Days
Staff Reviews
---
A must-have for anybody who has ever loved a "difficult" dog.
This is a graphic memoir. It's a category that doesn't always get the attention that graphic novels do... If you like memoirs but have never tried a graphic memoir, this is the place to start. It's a coming-of-age story, a coming-out story, and a love letter to a canine soulmate all wrapped up in one.
— Donna
Description
---
From an award-winning artist, a memoir of life with a difficult, beloved dog that will resonate with anybody who has ever had a less than perfectly behaved pet

When Nicole Georges was sixteen she adopted Beija, a dysfunctional shar-pei/corgi mix—a troublesome combination of tiny and attack, just like teenaged Nicole herself. For the next fifteen years, Beija would be the one constant in her life. Through depression, relationships gone awry, and an unmoored young adulthood played out against the backdrop of the Portland punk scene, Beija was there, wearing her "Don't Pet Me" bandana. 

Georges's gorgeous graphic novel Fetch chronicles their symbiotic, codependent relationship and probes what it means to care for and be responsible to another living thing—a living thing that occasionally lunges at toddlers. Nicole turns to vets, dog whisperers, and even a pet psychic for help, but it is the moments of accommodation, adaption, and compassion that sustain them. Nicole never successfully taught Beija "sit," but in the end, Beija taught Nicole how to stay.
About the Author
---
Nicole J. Georges is a professor, writer, and illustrator, who has been publishing her own zines and comics for twenty years. She is the author of the Lambda Award-winning graphic memoir Calling Dr. Laura and the diary comic Invincible Summer. She lives in Portland, Oregon.
Praise For…
---
"A touching, memorable dog tale bound to connect with animal lovers, graphic novel readers, memoir fans, and anyone intrigued with how pets and their owners reflect and sustain one another." --
Lambda Literary
"
Fetch
 is beautiful. Georges's artwork is inviting and frank as she tells a touching story of companionship and personal growth. A dog pack of two, she and Beija form a special bond, a friendship that hits home." --
Shelf Awareness
"This book is an homage to classic zine aesthetics that captures an incomparable friendship. An honest, moving portrayal of the essential bond between humans and animals."
–STARRED Publishers Weekly
"Touchingly, beautifully conveyed. Part grief memoir, part coming-of-age story, part feminist manifesto, this well-written, splendidly illustrated title…will stir the hearts of misunderstood riot grrrls, owners of unruly canines, and LGBTQ readers."
–
STARRED Library Journal
"Nicole Georges makes my favorite art about love and vulnerability. More than a tribute to a canine best friend,
Fetch
maps Georges's journey from teen to adult with heartbreaking honesty and tender joy. I am in awe of Georges's uncanny ability to transport me right into her world of moldy crusty punk houses and glorious vegan lesbian barbecues. Funny, gorgeous, and true."
—
Jill Soloway
, creator of
Transparent
"From feral child to leader of the pack, Nicole Georges comes to know a thing or two about dogs, and incidentally, about herself. Her luminous, lyrical drawings of animals are charged with strange insight, and add a potent nonverbal element to the narrative of Georges' youth.
Fetch
combines the best qualities of diary comics—particularity and granular detail—with the zoomed out view of someone who has completed an arduous, mythic, and expansive journey."
—
Alison Bechdel
, author of
Fun Home
and
Are You My Mother?
"Nicole's work always punches me in the guts with her unending longing for a home. Through constant disappointments and the challenges of owning a rescue dog and a rescue heart, she unflinchingly refuses to quit. A magical world so full of tenderness it might just break you, it's a place I love to visit and rarely want to leave. I want Nicole to draw the whole world, but her hands would fall off."
 —Sarah Shapiro
, co-creator of Unreal