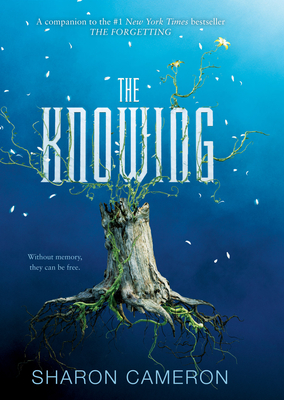 $18.99
Email or call for price.
Description
---
Sharon Cameron returns to the rich world of #1 New York Times bestseller The Forgetting with a companion novel as thrilling and intricately crafted as the first.Samara is one of the Knowing, and the Knowing do not forget. Hidden deep in the comfort and splendor of her underground city, a refuge from the menace of a coming Earth, Samara learns what she should have never known and creates a memory so terrible she cannot live with it. So she flees, to Canaan, the lost city of her ancestors, to Forget.Beckett has flown through the stars to find a dream: Canaan, the most infamous social experiment of Earth's antiquity. Beckett finds Samara in the ruins of the lost city, and uncovers so much more than he ever bargained for -- a challenge to all he's ever believed in or sworn to. When planets collide and memories clash, can Samara and Beckett save two worlds, and remember love in a place that has forgotten it?At once thought-provoking and utterly thrilling, this extraordinary companion novel to Sharon Cameron's #1 NEW YORK TIMES bestselling THE FORGETTING explores the truth and loss that lie within memory, and the bonds that hold us together.
About the Author
---
Sharon Cameron's debut novel The Dark Unwinding was awarded the Society of Children's Book Writers and Illustrators' Sue Alexander Award for Most Promising New Work and the SCBWI Crystal Kite Award, and was named a YALSA Best Fiction for Young Adults selection. Sharon is also the author of its sequel, A Spark Unseen; Rook, which was selected as an Indiebound Indie Next List Top Ten selection, a YALSA Best Fiction for Young Adults selection, and a Parents' Choice gold medalist; and The Forgetting, a #1 New York Times bestseller and an Indie Next Pick of the List selection, and its companion novel, The Knowing. She lives with her family in Nashville, Tennessee, and you can visit her online at sharoncameronbooks.com.
Praise For…
---
Praise for The Forgetting:A #1 New York Times bestsellerAn Autumn 2016 Kids' Indie Next List selection* "Effective worldbuilding and strong characterization . . . A well-crafted fable for our time." -- Kirkus Reviews, starred review* "This fantasy is a marvelous achievement." -- School Library Journal, starred review"[An] absorbing adventure." -- Publishers Weekly"The Forgetting is Sharon Cameron's fourth young adult novel, and she's grown adept at blurring the lines between fantasy, dystopian and science-fiction genres. Cameron reminds us, through Nadia's documented memories, that we must learn to appreciate the truth as much as question it, exploring the morality tucked within the fallacy of memory." -- Bookpage, Top PickPraise for Rook:A YALSA Best Fiction for Young Adults selectionAn Indiebound Indie Next Top Ten selectionWinner of the Parents' Choice Gold Award "The suspense kicks right off in this action-packed tale, quickly wrapping readers up in the drama." -- Romantic Times"Full of derring-do and double crosses, this romantic adventure is thoroughly engrossing." -- Kirkus Reviews"Cameron crafts a brilliant homage to The Scarlet Pimpernel yet also manages to make her telling unique, particularly in... the many twists, turns, betrayals, and lucky breaks [that] will keep readers breathless until the very end." -- Bulletin of the Center for Children's Books"Rook is sure to be a read all readers will remember." -- Portland Book ReviewPraise for The Dark Unwinding:A YALSA Best Fiction for Young Adults selectionWinner of the SCBWI Crystal Kite Award "Utterly original, romantic, and spellbindingly imaginative." -- USA Today"Haunting thrills unfurl..." -- Entertainment Weekly"Gripping twists, rich language, and an evocative landscape." -- Publishers Weekly"[A] singularly polished piece." -- The Horn Book"A strikingly original, twisty gothic tale that holds surprises around every dark corner." --Judy Blundell, author of What I Saw and How I LiedPraise for A Spark Unseen:"Gripping... [an] absorbing, intelligent adventure." -- Kirkus Reviews

Praise for The Forgetting:A #1 New York Times bestsellerAn Autumn 2016 Kids' Indie Next List selection* "Effective worldbuilding and strong characterization . . . A well-crafted fable for our time." -- Kirkus Reviews, starred review* "This fantasy is a marvelous achievement." -- School Library Journal, starred review"[An] absorbing adventure." -- Publishers Weekly"The Forgetting is Sharon Cameron's fourth young adult novel, and she's grown adept at blurring the lines between fantasy, dystopian and science-fiction genres. Cameron reminds us, through Nadia's documented memories, that we must learn to appreciate the truth as much as question it, exploring the morality tucked within the fallacy of memory." -- Bookpage, Top PickPraise for Rook:A YALSA Best Fiction for Young Adults selectionAn Indiebound Indie Next Top Ten selectionWinner of the Parents' Choice Gold Award "The suspense kicks right off in this action-packed tale, quickly wrapping readers up in the drama." -- Romantic Times"Full of derring-do and double crosses, this romantic adventure is thoroughly engrossing." -- Kirkus Reviews"Cameron crafts a brilliant homage to The Scarlet Pimpernel yet also manages to make her telling unique, particularly in... the many twists, turns, betrayals, and lucky breaks [that] will keep readers breathless until the very end." -- Bulletin of the Center for Children's Books"Rook is sure to be a read all readers will remember." -- Portland Book ReviewPraise for The Dark Unwinding:A YALSA Best Fiction for Young Adults selectionWinner of the SCBWI Crystal Kite Award "Utterly original, romantic, and spellbindingly imaginative." -- USA Today"Haunting thrills unfurl..." -- Entertainment Weekly"Gripping twists, rich language, and an evocative landscape." -- Publishers Weekly"[A] singularly polished piece." -- The Horn Book"A strikingly original, twisty gothic tale that holds surprises around every dark corner." --Judy Blundell, author of What I Saw and How I LiedPraise for A Spark Unseen:"Gripping... [an] absorbing, intelligent adventure." -- Kirkus Reviews