As Ever, Gordy (Paperback)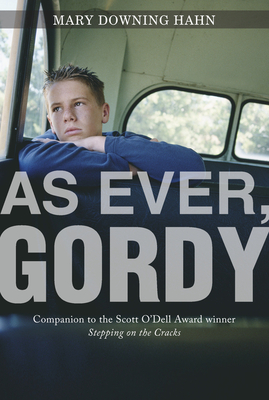 $7.99
Email or call for price.
Description
---
Gordy couldn't be more unhappy about moving back to his hometown of College Hill, where everybody knows his family's troubled history. In North Carolina, Gordy's life had finally seemed to be on the right track. But in College Hill, Gordy and his sister, June, move into a cramped apartment with their brother Stu and his new family. The principal at Gordy's school immediately has it in for him, his old pals encourage him to cause trouble, and his one-time nemesis, Elizabeth, hates him more than ever. It seems to Gordy as though the whole world is against him. Will he slip back into his old trouble-making ways for good, or will he be able to keep growing into the successful person he was striving to become?
About the Author
---
Mary Downing Hahn's many acclaimed novels include such beloved ghost stories as Wait Till Helen Comes, Deep and Dark and Dangerous, and Took. A former librarian, she has received more than fifty child-voted state awards for her work. She lives in Columbia, Maryland, with a cat named Nixi.
Praise For…
---
"Hahn expertly shows how the expectations of others influence Gordy's behavior, as he struggles to step away from his bad old self; in the end he takes that step, though not without a realistic amount of backsliding….While Gordy's anger is the dominant feeling here, flashes of humor and deftly inserted historical details of the postWW II era lighten the load."--Kirkus Reviews —