Radical Acceptance: Embracing Your Life With the Heart of a Buddha (Paperback)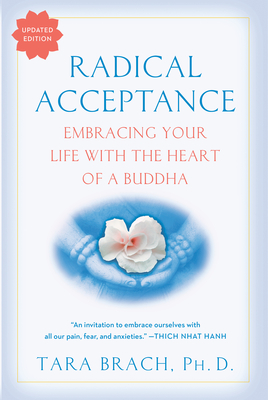 $18.00

Usually Ships in 1-5 Days
Description
---
In our current times of global crises and spiking collective anxiety, Tara Brach's transformative practice of Radical Acceptance offers a pathway to inner freedom and a more compassionate world.

This classic work now features an insightful new introduction, an exclusive bonus chapter, and additional guided meditations.

"Radical Acceptance offers us an invitation to embrace ourselves with all our pain, fear, and anxieties, and to step lightly yet firmly on the path of understanding and compassion."—Thich Nhat Hanh
 
"Believing that something is wrong with us is a deep and tenacious suffering," says Tara Brach at the start of this illuminating book. This suffering emerges in crippling self-judgments and conflicts in our relationships, in addictions and perfectionism, in loneliness and overwork—all the forces that keep our lives constricted and unfulfilled. Radical Acceptance offers a path to freedom, including the day-to-day practical guidance developed over Dr. Brach's forty years of work with therapy clients and Buddhist students.
 
Writing with great warmth and clarity, Tara Brach brings her teachings alive through personal stories and case histories, fresh interpretations of Buddhist tales, and guided meditations. Step by step, she shows us how we can stop being at war with ourselves and begin to live fully every precious moment of our lives.
About the Author
---
Tara Brach, Ph.D., is a clinical psychologist as well as a Buddhist lay priest and popular teacher of mindfulness (vipassana) meditation. She is the founder of the Insight Meditation Community in Washington, D.C., and has conducted workshops at Spirit Rock Center, Omega Institute, the New York Open Center, and other retreat centers nationwide. She lives in Bethesda, Maryland, with her teenaged son.
Praise For…
---
"An important, fresh voice from the ranks of modern dharma teacher-writers."—Yoga Journal

"A consoling and practical guide that can help people find a light within themselves."—Publishers Weekly

"A clear, practical and caring guide."—Sharon Salzberg, New York Times bestselling author of Faith: Trusting Your Own Deepest Experience and Lovingkindness

"Tara Brach, perhaps more than any other spiritual teacher of our time, deeply understands self-compassion: both why we need it and how to cultivate it. This classic is a must-read for anyone wanting to develop a healthier and more loving relationship with themselves."—Kristin Neff, Ph.D., author of Fierce Self-Compassion

"Radical Acceptance continues to be the wisdom for so many of us to tend to our fear of a rapidly changing world as well as offering us real tools to help build a new world grounded in fierce love and care for our communities."—Lama Rod Owens, author of The New Saints: From Broken Hearts to Spiritual Warriors

"An invitation to heal our pain by accepting our heart."—Rachel Naomi Remen, M.D., author of Kitchen Table Wisdom and My Grandfather's Blessing

"Through her deep experience as a therapist, buddhist meditation teacher, yogi, and mother, Tara Brach shines light upon the vital subject of learning to realise inner completeness, wholeness, and healing."—Lama Surya Das, author of Awakening the Buddha Within

"An insightful, warmhearted, and important contribution."—Tara Bennett-Goleman, author of Emotional Alchemy

"Overflows with wonderful characters whose struggles we recognize as our own. . . Tara Brach skillfully weaves together some of the most important new insights in contemporary psychotherapy with one of the central psychological insights of the Buddha: There is no part of ourselves we need to exile from our awareness and our love. Radical Acceptance is a book, and a practice, that we all need."—Stephen Cope, author of The Great Work of Your Life

"Radical Acceptance offers gentle wisdom and tender healing, a most excellent medicine for our unworthiness and longing. Breathe, soften, and let these compassionate teachings bless your heart."—Jack Kornfield, author of A Path with Heart and After the Ecstasy, the Laundry