The Children's Bach: A Novel (Hardcover)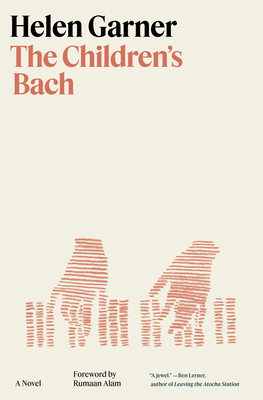 $25.00

Coming Soon - Available for Pre-Order Now
Description
---
Now in a new edition with a foreword by Rumaan Alam, a modern classic from one of Australia's greatest writers

"The Children's Bach is [Garner's] masterpiece."—Public Books

Set in suburban Melbourne in the early 1980s, The Children's Bach centers on Dexter and Athena Fox, their two sons, and the insulated world they've built together. Despite the routine challenges of domestic life, they are largely happy. But when a friend from Dexter's past resurfaces and introduces the couple to the city's bohemian underground—unbound by routine and driven by desire—Athena begins to wonder if life might hold more for her, and the tenuous bonds that tie the Foxes together start to fray.

A literary institution in Australia, Helen Garner's perfectly formed novels embody the tumultuous 1970s and 1980s. Drawn on a small canvas and with a subtle musical backdrop, The Children's Bach is "a jewel" (Ben Lerner) within Garner's revered catalogue, a beloved work that solidified her place among the masters of modern letters, a finely etched masterpiece that weighs the burdens of commitment against the costs of liberation.
About the Author
---
HELEN GARNER writes novels, stories, screenplays, and works of non-fiction. In 2006 she received the inaugural Melbourne Prize for Literature, and in 2016 she won the prestigious Windham–Campbell Literature Prize for Non-fiction. In 2019 she was honoured with the Australia Council Award for Lifetime Achievement in Literature. Her books include Monkey Grip, The Children's Bach, Cosmo Cosmolino, The Spare Room, The First Stone, This House of Grief, Everywhere I Look, and her diaries Yellow Notebook, One Day I'll Remember This, and How to End a Story.
Praise For…
---
"The Children's Bach is [Garner's] masterpiece." —Public Books

"Honest, unsparing, and brave."—New York Times

"Garner wears her mastery lightly―the novel never draws undue attention to its own modernist tricks. Unfolding, as the title suggests, like a halting piece of music, its effects are subtle and unexpected."―Harper's

"In this new edition of Garner's original 1984 Australian publication, American readers are afforded the opportunity to delve into the acclaimed Australian author's signature themes in which casually caustic worlds collide and middle-class morals are eviscerated with an economy of language but an abundance of clarity" ―Booklist

"The Children's Bach is one of the greatest family novels ever written." —Andrew Ridker, author of The Altruists and Hope

"There is simply no comparison in American letters to Helen Garner's range and depth. I could say, imagine a writer with Janet Malcom's tarantula-like sense of crime, Joan Didion's sensual grasp of place, and Lorrie Moore's dark and poignant humor, and it wouldn't be enough. Garner is also an ex-communitarian with a keen belief that society has a duty to protect its vulnerable. She is a jobbing journalist with an inky-stained respect for the writer's duty to bring the news. She is a wisecracking columnist you read and wish were your friend. She is a contrarian who has a fearless ability to question even the most sacred elements of the status quo. It's why when you read Helen Garner for the first time, for many the response is: I have to read everything this woman has ever written. I defy you to feel otherwise." —John Freeman, author of Dictionary of the Undoing
 
"Helen Garner has written two of the greatest novels of the twentieth-century, Monkey Grip and The Children's Bach. In both her fiction and non-fiction, her writing is startling and startlingly precise, intelligent, and unafraid to look directly at the darkness that hides in the world and in all of us." —Merve Emre, author of The Personality Brokers

"Helen Garner is literature's best kept secret, but one that deserves to be shared with the world. There is no greater observer and writer of human frailty and fallibility. Whether she is writing memoir, nonfiction, or novels, Garner transcends genre and age and time and manages in some magical, mysterious way to stand as close as possible to the heart of whatever she is writing about. You always remember where you were when you read your first Helen Garner and you always regret it has taken you so much time to get to her." —Fatima Bhutto, author of The Runaways
 
"I remember being mesmerized by the way Garner wrote… So real and so unsparing, and yet so heartfelt without the faintest whiff of sentimentality. It helped me get through a hard time as a writer and a person, to know that there was someone out there writing quiet, deep, serious, unpretentious, aesthetically impeccable stories about women's lives, and it also struck me how rare that still feels." —Lydia Kiesling, author of The Golden State