Tacos: Recipes and Provocations: A Cookbook (Hardcover)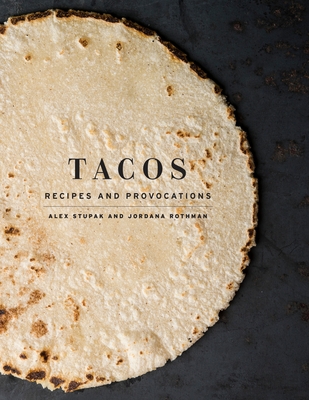 $32.50

Usually Ships in 1-5 Days
Description
---
Superstar chef Alex Stupak's love of real Mexican food changed his life; it caused him to quit the world of fine-dining pastry and open the smash-hit Empellón Taqueria in New York City. Now he'll change the way you make--and think about--tacos forever. 
 
Tacos is a deep dive into the art and craft of one of Mexico's greatest culinary exports. Start by making fresh tortillas from corn and flour, and variations that look to innovative grains and flavor infusions. Next, master salsas, from simple chopped condiments to complex moles that simmer for hours and have flavor for days. Finally, explore fillings, both traditional and modern--from a pineapple-topped pork al pastor to pastrami with mustard seeds. 
 
But Tacos is more than a collection of beautiful things to cook. Wrapped up within it is an argument: Through these recipes, essays, and sumptuous photographs by Evan Sung, the 3-Michelin-star veteran makes the case that Mexican food should be as esteemed as the highest French cooking.
About the Author
---
Alex Stupak earned recognition as one of the world's most innovative pastry chefs while leading teams at progressive cuisine icons Clio, Alinea, and wd-50. But innovation only counts, he figured, if you push yourself out of your comfort zone, and so he left that world to cook Mexican food, a cuisine that captured his head and his heart. His restaurant Empellón Cocina earned him a James Beard nomination for Best New Restaurant in the country, and Food & Wine magazine named him a Best New Chef in 2013. 

Jordana Rothman is a veteran of Time Out New York, where she held the reins as the magazine's Food & Drink editor for six years. She's a respected member of the national food writing community and a frequent contributor to print and digital publications such as Food & Wine, Bon Appétit, New York Magazine, Cherry Bombe, MadFeed, Grub Street and Conde Nast Traveler.