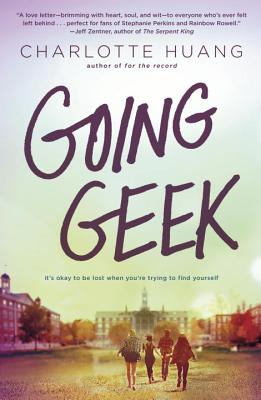 Description
---
A girl returns to her exclusive east coast boarding school and finds that she's no longer one of the cool kids on campus in this second novel from the author of For the Record.

It wasn't supposed to be this way. Skylar Hoffman's senior year at her preppy East Coast boarding school should have been perfect: 
   amazing boyfriend
   the coolest friends
   the most desirable dorm
But it's far from it. To her dismay, Skylar's not going to rule senior year because she's stuck in Abbot House, a tiny dorm known for, well, nothing. Living with a group of strangers everyone thinks is lame is bad enough. Worse is that Skylar wasn't exactly truthful about how she spent summer break in Los Angeles—and her little white lie is causing her once rock-solid romance to crumble fast. And when it turns out that Skylar's best friend is the one responsible for having her booted from Lincoln? It's an all-out war.

Stepping out of her comfort zone never felt so scary—or necessary. But everything is different now. Including, maybe, Skylar herself . . .

***

 "A love letter--brimming with heart, soul, and wit--to everyone who's ever felt left behind . . . perfect for fans of Stephanie Perkins and Rainbow Rowell." --Jeff Zentner, author of The Serpent King
About the Author
---
CHARLOTTE HUANG is the author of For the Record. She grew up in the Boston area and was a day student at a prestigious boarding school, where she didn't quite hit her stride but made great friends and got good at writing ten-page papers in one night. She lives in Los Angeles with her husband and two sons.

charlottehuangbooks.com
Follow Charlotte on Instagram & @charlottexhuang on Twitter.
Praise For…
---
"A coming-of-age story set against the socially cutthroat backdrop of a preppy East Coast boarding school . . . realistic fiction with a quickly moving plot."--SLJ

Praise for For the Record:

"This fast-paced and funny debut had me hooked from page one. Like your new favorite song, this is a story that stays with you!"—Morgan Matson,  New York Times bestselling author of The Unexpected Everything

"Whip-smart, romantic, and so perfectly cool. Welcome to your new obsession."—Becky Albertalli, author of Simon vs. the Homo Sapiens Agenda

"Going on tour with Chelsea and the Melbourne guys made me feel like I was on the best summer break of my life."—Leila Sales, author of This Song Will Save Your Life

"A fresh look at teenage stardom and the music industry that avoids gimmicks and clichéd plotlines in favor of realistic characters and a heartfelt love of the subject. I adored hanging out with Chelsea and the boys of Melbourne—when they felt the music, I felt it, and when they were off their game, so was I. Fun, fast, and colorful, this book isn't just for music lovers, it's for anyone who ever looked at a band onstage and thought, 'I wonder what that would be like.'"—Francesca Zappia, author of Made You Up

"A pitch-perfect and utterly addictive debut. Pure escapist fun!"—Michelle Krys, author of Hexed