Shades of Prophecy (Paperback)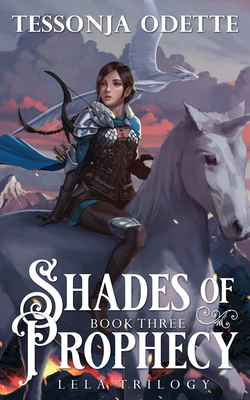 $14.99
Email or call for price.
Description
---
NOTE: The Lela Trilogy is unpublished as of Spring 2022 and is fully rewritten and released as the Prophecy of the Forgotten Fae trilogy. The fully updated version of Shades of Prophecy will be released as A Fate of Flame.
An ancient prophecyA vision of flameA war to end two worlds...
After years of turmoil, Cora has brought peace to her kingdom at last. Yet, she can't stop feeling like she's failed the Elvan and Faeran. Their realm is dying. If she can't be the woman the ancient prophecy needs, what can she possibly do?
You can't save everyone.
But maybe someone else can...
A surprising revelation brings new hope and a new threat bigger than anything Cora and her friends have faced before. An ancient enemy awakes. No one is safe, neither human nor fae.
Cora, Teryn, Mareleau, and Larylis each have a part to play to protect the human world and save the Ancient Realm from destruction. But how do you face an enemy that can walk between worlds?
Shades of Prophecy is the final book in the Lela Trilogy, with more romance, more adventure, and more metaphysical magic. If you love unicorns, dragons, and fae, you'll love this epic fantasy conclusion.
Start the Lela Trilogy with Book One, Shadows of Lela, followed by Book Two, Veil of Mist