Zest: Simple ways to elevate your favorite foods (Hardcover)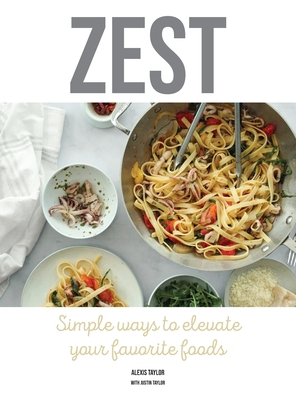 $25.95

Usually Ships in 1-5 Days
Description
---
In her debut cookbook, food blogging sensation, Alexis Taylor, shows home cooks how to make it with ZEST - Simple ways to elevate your favorite foods.
From indulgent breakfast fare to healthy salads. Sandwiches to sink your teeth into and everyday mains. Stellar entertaining ideas, easy cocktails, sweet treats and more. ZEST tops this year's list for those that like to cook and love to to eat.
Joined by her husband, Justin Taylor, this duo has created a masterpiece - as visually stunning as it is innovative. ZEST features 80 brand new recipes, plus tips and tricks, like achieving "pasta perfection at home", and "simple rules for better baking".
But what makes this cookbook so special and unique is what Alexis refers to as the Zest Factor - a truly novel concept in cookbook writing. In each recipe, directly above the title, she highlights the zesty ingredient, or new and innovative approach that makes that dish pop, then shares why.
Cooking with zest make flavors come alive. It may be as simple as a splash of sherry vinegar at the right time on roasted vegetables, or the addition of a sweet and sticky tomato jam on her killer kale panini - the hows and whys of zesty cooking are revealed.
A sampling of ZEST's most talked about recipes include:
Lemon Raspberry Muffins, made mouth-wateringly moist with the addition of almond flour
Breakfast Tacos with a Kick, amped up with chipotle chilis
Summertime Plum, Tomato & Blue Cheese Caprese, a fun twist on a classic
Brothy Tofu & Rice Noodle Soup, a comforting Asian-style broth brightened with lemon
Whipped Feta Dip with Mint Chili Oil, perfectly paired with a ginger bourbon cocktail for happy hour
Foolproof Cacio e Pepe, a restaurant-worthy pasta simplified for home cooks
Turkey Enchiladas with Maple-Roasted Butternut Squash, an addictive balance of sweet meets savory
Grilled Shrimp Basted with Peach Bourbon BBQ Sauce, a match made in heaven
Brownie Bars for Beach Days, made zesty with a rich tahini and raspberry jam swirl
Lime Spiked White Chocolate Macadamia Cookies, need I say more?
Real recipes that work - all delicious, and all made with ZEST