My Book with No Pictures (Paperback)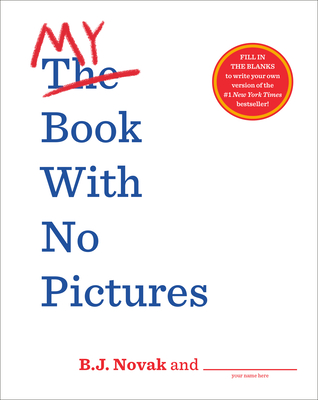 $9.99

Usually Ships in 1-5 Days
Staff Reviews
---
In the Introduction, best-selling author John Green explains that he used to be a book reviewer back in the pre-Internet days, when the content of the review--not a star rating system--was what mattered. Now, a star-rating system is ubiquitous...not just books but everything in our lives.  So, with tongue in cheek, the author sets out here to provide star ratings on topics as far-ranging as Canada geese (2 stars), the Lascaux cave paintings (4 1/2 stars), Halley's Comet (4 1/2 stars), and Piggly Wiggly (2 1/2 stars).  Along the way, we learn the fascinating history of a variety of topics, while simultaneously learning about the author's life. It's a good blend of nonfiction & memoir, and good for anyone who wants a fun, quick read that is easy to consume in chunks rather than one sitting. 
— Donna
Description
---
Have you or your child ever wanted to write your own version of the #1 New York Times bestseller THE BOOK WITH NO PICTURES? Now is your chance, in this fill-in-the-blanks book that puts the power of words directly into your hands. Bonus sheet of nonsense stickers included!

Words are amazing. They can be happy or sad, serious or goofy. And some of the best words of all are the ones that make you laugh--the ridiculous, preposterous words like those in THE BOOK WITH NO PICTURES.

Now YOU can create some of those amazing words. YOU can write a book that makes grown-ups have to say silly things. Just fill in the blanks with whatever unusual, nonsensical words come to mind (or use the sticker sheet with its funny options). Then ask your favorite adult to read your book to you, and laugh and laugh at YOUR book with no pictures!
About the Author
---
B. J. Novak is well known for his work on NBC's Emmy Award-winning comedy series The Office as a writer, actor, director, and executive producer. He is also acclaimed for his stand-up comedy; his performances in motion pictures; and his New York Times bestselling books, the children's book The Book With No Pictures and the short story collection One More Thing. A graduate of Harvard University with a degree in English and Spanish literature, he lives in Los Angeles, California.