Wreck This Picture Book (Hardcover)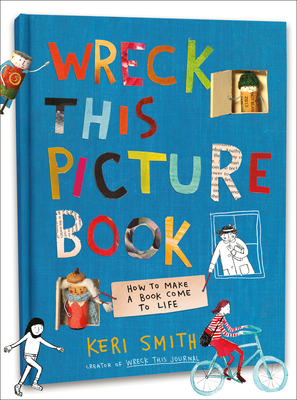 $17.99

Usually Ships in 1-5 Days
Staff Reviews
---
In the Introduction, best-selling author John Green explains that he used to be a book reviewer back in the pre-Internet days, when the content of the review--not a star rating system--was what mattered. Now, a star-rating system is ubiquitous...not just books but everything in our lives.  So, with tongue in cheek, the author sets out here to provide star ratings on topics as far-ranging as Canada geese (2 stars), the Lascaux cave paintings (4 1/2 stars), Halley's Comet (4 1/2 stars), and Piggly Wiggly (2 1/2 stars).  Along the way, we learn the fascinating history of a variety of topics, while simultaneously learning about the author's life. It's a good blend of nonfiction & memoir, and good for anyone who wants a fun, quick read that is easy to consume in chunks rather than one sitting. 
— Donna
Description
---
An Indie Next List Selection

Keri Smith, creator of the mega-bestselling Wreck This Journal, now brings her imagination and inspiration to children with this picture book that explores the very active experience of reading.

What if there were a book that changed every time you read it?

Actually, every book does this. We are all part of the books we read, because our individual reactions, ideas, and emotions make the book whole, and these things are changing all the time. Keri Smith has helped millions of people free their creativity and find their own voice with her interactive books, and now she brings that sensibility to children and to the act of reading. This picture book is an invitation to honor your own vision and to welcome imperfection. Kids will discover that reading can engage all five senses, and that what they themselves bring to a book is an important contribution. (And of course they'll be invited to do a bit of harmless "wrecking"!)
About the Author
---
Keri Smith is a bestselling author, illustrator, and thinker. Her books include Wreck This Journal, The Wander Society, This is Not a Book, How to Be an Explorer of the World, Mess, Finish This Book, The Pocket Scavenger, Wreck This Journal Everywhere, Everything Is Connected, and The Imaginary World of... as well as Wreck This App, This is Not an App, and the Pocket Scavenger app. She enjoys spending time with her husband, experimental musician Jefferson Pitcher, and two children.