The Mutual Friend: A Novel (Paperback)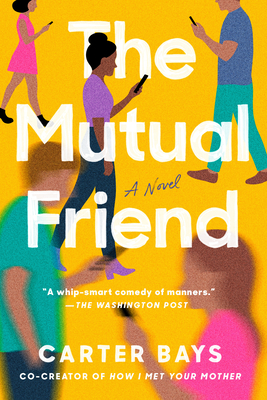 Staff Reviews
---
The Mutual Friend is for anyone who loves ensemble comedies. Packed with characters, Bays explores themes of grief, aging, searching for meaning, ethics, friendship, and love.  Bays deftly captures the role social media  and online personas play in enhancing and encumbering real life relationships. Dating and romance occur throughout, but parent/child, sibling relations, and friendships are also central to the story. Clever and funny, this is a quick read even at over 400 pages
— Amy
Description
---
"This is a rare thing: an original, intelligent novel that's not just a perfect summer beach read, but one that deserves serious awards consideration as well. Put down your phone and pick it up. . . . A major accomplishment."—Kirkus Reviews (starred review)

From the co-creator of How I Met Your Mother, a hilarious and thought-provoking debut novel set in New York City, following an unforgettable cast of characters as they navigate life, love, loss, ambition, and spirituality—without ever looking up from their phones
 
It's the summer of 2015, and Alice Quick needs to get to work. She's twenty-eight years old, grieving her mother, barely scraping by as a nanny, and freshly kicked out of her apartment. If she can just get her act together and sign up for the MCAT, she can start chasing her dream of becoming a doctor . . . but in the Age of Distraction, the distractions are so distracting. There's her tech millionaire brother's religious awakening. His picture-perfect wife's emotional breakdown. Her chaotic new roommate's thirst for adventure. And, of course, there's the biggest distraction of all: love.
 
From within the story of one summer in one woman's life, a tapestry of characters is unearthed, tied to one another by threads both seen and unseen. Filled with all the warmth, humor, and heart that gained How I Met Your Mother its cult following, The Mutual Friend captures in sparkling detail the chaos of contemporary life—a life lived simultaneously in two different worlds, the physical one and the one behind our screens—and reveals how connected we all truly are.
About the Author
---
Carter Bays is the co-creator of the Emmy-winning series How I Met Your Mother. The Mutual Friend is his first novel.
Praise For…
---
Praise for The Mutual Friend

"A whip-smart comedy of manners for the era of buzzing gadgets."
—The Washington Post

"Carter Bays is best known for the long-running sitcom How I Met Your Mother. His debut novel The Mutual Friend is like a sophisticated literary version, centering on a New York City–based ensemble with plenty to say about the discontents of modern life and the difficulty of connection."
—NPR

"The first book I've read that effectively captures social media's dominance in our love lives, and the humiliating experience of being online and yearning for attention. The Mutual Friend is gentle, warm, and the most I have laughed while reading this year." 
—BuzzFeed, "25 Book Recommendations for the Holiday Season"

"The co-creator of How I Met Your Mother delivers delightful, unputdownable and legen—wait for it!—dary love stories in his debut novel."
—E! News, "17 Books to Add to Your Beach Bag This June"

"This debut novel from the creator of How I Met Your Mother follows the intersecting lives of a few New Yorkers. A clever and all-seeing narrator (who is also a character) tells their stories, and it's worth reading the book just to experience the satisfying ending, with everything fitting together just so."
—Today.com, "30 of the Best Books to Sink into This Summer"

"Funny, sad, and deeply wise, this one-of-a-kind book will renew your faith in humanity—and make you really want to put down your phone."
—Real Simple

"The Mutual Friend is GREAT. Carter Bays is one of the funniest people I know. More importantly, though, he always finds the heart and truth in all of his humor. I just loved it. Put down the phones. Unless you're reading The Mutual Friend on it."
—Jason Segel

"I love this love story! The dialogue is so good, also it's very funny. What more could I want?"
—Mindy Kaling

"An ecstatic debut . . . A modern epic brimming with charm; it romps between multiple concurrent storylines, but everything coalesces masterfully as all the scattered puzzle pieces fit together."
—Emerson Malone, BuzzFeed

"This is a rare thing: an original, intelligent novel that's not just a perfect summer beach read, but one that deserves serious awards consideration as well. Put down your phone and pick it up. . . . A major accomplishment."
—Kirkus Reviews (starred review)

"An imaginatively tender and uncannily exact tale of life on the internet. . . . The Mutual Friend is vast in scope, startling in its precise capture of the reality of intertwined digital lives, and satisfies its ambition with an unexpected humanity and vulnerability."
—Booklist (starred review)

"The Mutual Friend is a stylized, laugh-out-loud funny social satire with devastating aim. . . . Like The Bonfire of the Vanities for the era of reality TV and social media . . . All told, it's riveting."
—BookPage (starred review)

"The How I Met Your Mother co-creator's first book is as heartfelt and funny as his beloved show. Bays strikes the perfect balance between the laughs and tender moments. This modern love/friendship/finding yourself story is the perfect way to beat the heat this summer."
—Debutiful

"The Mutual Friend is the most extraordinary and beguiling novel I've read in years. Carter Bays weaves together a huge, eclectic cast of messy, imperfect, and bewitching characters. . . . As soon as I put the book down, I wanted to start reading it all over again."
—Clare Pooley, New York Times bestselling author of The Authenticity Project

"I know it sounds like a bad joke or weird curse to wonder what would happen if Charles Dickens or Bonfire of the Vanities–era Tom Wolfe had Twitter, but the actual, happy result would be The Mutual Friend—a novel of New York in a strange time that probes its large and foibled cast with humor, real insight, and sparkling charm."
—John Hodgman, author of Vacationland and Medallion Status, and host of the Judge John Hodgman podcast

"The Mutual Friend is like a ten-course dinner party with your frankest, wittiest friends confiding all their secrets. It has plenty of full-on belly laughs, but also such granular emotional insight and sharp-eyed observations about modern life and love. This novel makes you feel wonderfully seen, at your best and at your worst, by somebody very kind and very, very funny, who points out all the foibles and fractures you thought nobody noticed and let's you know you're not alone."
—Elan Mastai, author of All Our Wrong Todays

"The Mutual Friend is a big, heart-squeezing ode to all that matters most, dressed up in the disguise of a fun, juicy ensemble story bubbling over with comically bad dates, career missteps, and awkward adult friendships. You'll laugh; you'll cry; you'll stare out the window and contemplate the meaning of life. I did, anyway."
—Mary Laura Philpott, author of I Miss You When I Blink and Bomb Shelter

"A hugely clever and thoroughly entertaining magic trick of a novel that shows the ways in which we're all connected, both virtually and in real life. This book—with all its wisdom and humor, its detours and surprises—was a total delight. I loved it!"
—Jennifer E. Smith, author of The Unsinkable Greta James

"Poignant, heartbreaking, and full of hope. This beautifully written book perfectly captures the connections and relationships that shape our lives. I couldn't put it down."
—Kate Spencer, author of In a New York Minute

"Through his tapestry of characters, Carter Bays beautifully and hilariously captures the connection and isolation at the heart of being a human being now. This book is like a modern-day War and Peace, without all the boring war parts."
—Raphael Bob-Waksberg, author of Someone Who Will Love You in All Your Damaged Glory

"A completely unique and addictive read with a captivating cast of characters, The Mutual Friend is a memorable, clever novel about connection and love and all the things that make us human. Charming and unforgettable, this story left an impression on my heart."
—Holly Miller, author of The Sight of You

"Original, modern, and charming."
—Heat