Lighter: Let Go of the Past, Connect with the Present, and Expand the Future (Hardcover)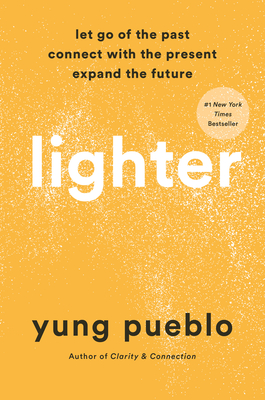 $24.00

Usually Ships in 1-5 Days
Description
---
#1 NEW YORK TIMES BESTSELLER • "An empathetic and wise book that will guide you on a journey toward a deeper understanding of self."—Nedra Glover Tawwab, LCSW, New York Times bestselling author of Set Boundaries, Find Peace
 
A radically compassionate plan for turning inward and lifting the heaviness that prevents us from healing ourselves and the world, from the New York Times bestselling author of Clarity & Connection

"During the years when I had abandoned myself, my mind felt undeniably heavy. I knew I needed to find a clear way to help me feel lighter."
 
yung pueblo's path to deep healing began only after years of drug abuse had taken a toll on his mind and body. Searching for a way forward, he found that by honestly examining and addressing the anxieties and fears that he had been running away from, he no longer felt like a stranger inside of his heart and mind. And once he dedicated himself to meditation and trusting his intuition, he started to finally feel mentally lighter, with more love emerging from within. This was not an easy journey, and it's one that he is still on, but it showed him that real healing is possible.

In Lighter, yung pueblo demonstrates how we can all move forward in our healing, from learning self-compassion to letting go to becoming emotionally mature. As the heaviness falls away, our minds will finally stop feeling overburdened with tension and we'll be able to reconnect with the present. And the world around us will hopefully become more inviting in crisp and newly vibrant ways. But these are just the first steps. As we grow stronger and expand our self-awareness, it's our responsibility—and also part of the healing journey—to take actions to support the health and harmony of all people. The final section of Lighter shows how we can and must contribute to building a world that is no longer structurally harmful but, instead, structurally compassionate. 

yung pueblo's hope is that as more of us heal, our actions will become more intentional, our decisions will become more compassionate, our thinking will become clearer, and the future will become brighter.
About the Author
---
yung pueblo is the pen name of the writer Diego Perez and means "young people." The name is meant to convey that humanity is entering an era of remarkable growth and healing, when many will expand their self-awareness and release old burdens. He lives in western Massachusetts.
Praise For…
---
"yung pueblo is the real deal—a modern sage and guiding light. In his new book, he beautifully illustrates how finding harmony within is the key to creating a progressive society built on com­passion, clarity, and understanding. This is a book everyone must read, many times over."—Vex King, #1 Sunday Times bestselling author of Healing Is the New High

"yung pueblo teaches how to heal with compassion as the driving force. Lighter is an empathetic and wise book that will guide you on a journey toward a deeper understanding of self and help you make impactful changes within and in the world. yung pueblo created a core curriculum on how to heal despite your experi­ences with suffering."—Nedra Glover Tawwab, LCSW, New York Times bestselling author of Set Boundaries, Find Peace

"A beautiful encouragement for tending your own heart: for learning and healing, for finding well-being, and being part of the solution for all you care about."—Jack Kornfield, author of A Path with Heart

"To learn of yung pueblo's beginnings in this intimate book is a gift. Lighter helps us understand the daily ways in which his deep­ening practice has impacted an entire generation of seekers. His words leave an indelible mark—his struggle with self-abandon­ment and his personal process of compassionate self-connection have quietly inspired millions of us. yung pueblo's humble, po­tent teachings help us prioritize our emotional maturity in the face of constant change, a vital understanding in these turbulent times."—Elena Brower, bestselling author of Practice You, Being You, and Art of Attention

"yung pueblo offers insight into daily practices and choices that can remove the burdens of habitual reaction to reveal the free­dom of wise reflection. In Lighter, we see that knowing the mind can transform a person, and also transform society."—David Simas, CEO of the Obama Foundation

"Lighter is the story of one man and of all of us as we seek to be­coming lighter, to walk through our lives freely, unencumbered by the weight of the past or the future. It is as inspirational as it is a practical guide."—Mark Hyman, MD, New York Times bestselling author of The Pegan Diet

"A rare and insightful journey into the author's own healing jour­ney will inspire you to let go of the past and find a lighter path forward. As always, yung pueblo speaks truth in such an eloquent way. This book is a true gem."—Sheleana Aiyana, author of Becoming the One

"Facing a pivotal moment, yung pueblo turned inward and learned that through investigation he could build a new way to think and live. He learned that true love of self is possible. Lighter shares his journey in a way that will touch you deeply, as he offers hope that peace is possible for ourselves and the world."—Sharon Salzberg, author of Lovingkindness and Real Happiness