The Dog of the North: A Novel (Hardcover)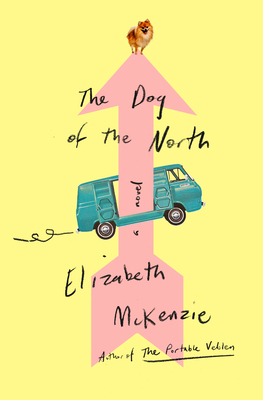 $28.00

Usually Ships in 1-5 Days
Description
---
* A New Yorker Best Book of the Year * A New York Times Book Review Editors' Choice * Nominated for the Women's Prize for Fiction *

"I'm in love with a grieving misfit driving around with a donkey-shaped piñata in an old van held together by duct tape…the great miracle of McKenzie's writing… is how she manages to transform misery into gentle humor…darkly hilarious." —The Washington Post

"An addictive read with an ultimately hopeful core that recalls Haruki Murakami, Sayaka Murata, Richard Brautigan, and Miranda July" – Sanjena Sathian, author of Gold Diggers

Penny Rush has problems. Her marriage is over; she's quit her job. Her mother and stepfather went missing in the Australian outback five years ago; her mentally unbalanced father provokes her; her grandmother Dr. Pincer keeps experiments in the refrigerator and something worse in the woodshed. But Penny is a virtuoso at what's possible when all else fails.
 
Elizabeth McKenzie, the National Book Award–nominated author of The Portable Veblen, follows Penny on her quest for a fresh start. There will be a road trip in the Dog of the North, an old van with gingham curtains, a piñata, and stiff brakes. There will be injury and peril. There will be a dog named Kweecoats and two brothers who may share a toupee. There will be questions: Why is a detective investigating her grandmother, and what is "the scintillator"? And can Penny recognize a good thing when it finally comes her way?
 
This slyly humorous, thoroughly winsome novel finds the purpose in life's curveballs, insisting that even when we are painfully warped by those we love most, we can be brought closer to our truest selves.
About the Author
---
Elizabeth McKenzie is the author of the novel The Portable Veblen, which was longlisted for the National Book Award and shortlisted for the Baileys Women's Prize; a collection, Stop That Girl, shortlisted for The Story Prize; and the novel MacGregor Tells the World, a Chicago Tribune, San Francisco Chronicle, and Library Journal Best Book of the Year. Her work has appeared in The New Yorker, The Atlantic, The Best American Nonrequired Reading, and was recorded for NPR's Selected Shorts.
Praise For…
---
"The plot gallops along . . . As the caper wanes, McKenzie allows Penny a modicum of closure. This is the sweet, yet cautionary note the book ends on. The past is a sinkhole, it seems to say. It'll swallow you, if you're not careful, and your Land Cruiser, too." —Erin Somers, The New York Times Book Review
 
"I'm in love with a grieving misfit driving around with a donkey-shaped piñata in an old van held together by duct tape. Her name is Penny Rush . . . The great miracle of McKenzie's writing . . . is how she manages to transform misery into gentle humor . . . The irresistible sound of The Dog of the North is Penny's voice, composed of mingled strains of good cheer and naked lament . . . darkly hilarious." —Ron Charles, The Washington Post

"A vibrant novel that combines slapstick comedy with poignancy." —The New Yorker

"Gloriously entertaining. An exuberant comedy of human behaviour at its nuttiness. It is so engaging that I read it in great gulps, immersed in the sheer eccentricity of her world." —Kate Saunders, The Times (London)

"[A] delightful narrative...Sadly, no matter how many times you try to pause so it won't be over, it still ends—with a decent outcome for its protagonist, thank heaven, because by that time you will be fully in love with Penny. McKenzie has created a wonderful addition to the crew of damaged characters beloved by readers, so very endearing and real." —Kirkus (starred)

"Endearing and quirky . . . With the anxious and well-meaning Penny at the helm, McKenzie brings sincerity to the otherwise zany proceedings. This whirlwind tale has heart to spare." —Publishers Weekly

"Zany and fun . . . Penny is always sharp, ready for the other shoe to drop, and lovable. This spinning, upside-down rollercoaster of a novel is a delightful portrait of the definitive chaos of love and family and perfect for fans of Carl Hiassen and George Saunders." —Booklist

"For readers who like their books odd, haunting, strange and surprising . . . Through Penny's eyes, we see the beauty in the seemingly broken, in the flawed stories we tell ourselves—and what happens when those stories delightfully shatter." —Freya Sachs, BookPage

"What a wonderfully weird yet deeply familiar world Elizabeth McKenzie has sketched in The Dog of the North! These pages are full of the absurdly funny alongside the absurdly tragic—hairpieces, talking fish, disappeared parents, a scalpel-happy grandmother, gastrointestinal disasters—the strangeness is not mere quirk. McKenzie's brilliance lies in her deadpan gaze and cool wit, which shows us how inherently odd reality itself is. Families are odd. Homes are odd. California is odd. Dogs and hair and steak and trout are odd. Look up from this book and feel understood in your own inexplicable oddity. A joy, a pleasure, and an addictive read with an ultimately hopeful core that recalls Haruki Murakami, Sayaka Murata, Richard Brautigan, and Miranda July." —Sanjena Sathian, author of Gold Diggers

"Elizabeth McKenzie has a unique gift for turning the messiness of families and their unfinished business into poignant comedy. You will fall in love with this extended clan of misfits, even after they break your heart." —Charlie Jane Anders, author of Victories Greater than Death

"Darkly absurd and slyly insightful, Elizabeth McKenzie's The Dog of the North charms and delights even as it wrestles with childhood trauma, bodily indignity, and sudden death. This is a whirlwind picaresque, a genuinely comic novel, and—most surprising and most satisfying—a potent, poignant investigation into grief and the myriad ways we flailingly, failingly attempt to avoid the pains of loss." —Miranda Popkey, author of Topics of Conversation

"Sometimes the modern world seems like an inescapable hellscape. Then I remember that Elizabeth McKenzie is writing novels, and I feel better again. The Dog of the North is exactly as much fun as The Big Lebowski or one of Charles Portis's comic jaunts, filled with dialogue so fun you'll want to say it aloud and a blissful parade American eccentrics. Trust me—there's a guy who tries to invent something called Steak in a Trout™." —Ed Park, author of Personal Days

"The Dog of The North filled me with joy, a glorious feeling in these times. I laughed out loud on every page and underlined most of the book—passages to return to.  The novel in several different dimensions is about caretaking, a role that most people stumble into, don't plan on, and suddenly, wham, there you are doing this task for which you may or may not be prepared.  Each person in the book in her/his own way is taking care at some level, even if he/she is wrong headed (or insane) in the approach.  Thank you, thank you, Elizabeth McKenzie!"—Jane Hamilton, author of The Excellent Lombards
 
"Compassionate, funny, quirky, and beautifully written, Elizabeth McKenzie's The Dog of the North is a novel of our moment. McKenzie spins an exquisitely-wrought tale about the contemporary precariat, health woes, fraying relationships, and the durability of friendship, which she sets within the early midlife walkabout. A triumph!"—Yxta Maya Murray, author of Art Is Everything

"Even funnier, even more romantic than McKenzie's wonderful last, The Portable Veblen, this is a screwball comedy worthy of a Preston Sturgis screenplay.  You will be surprised, delighted, and grateful to be aboard The Dog of the North with the admirable Penny Rush as she faces every challenge her wild and crazy family can throw at her. A book that lifts the spirits." —Karen Joy Fowler, author of Booth