Commitment: A novel (Hardcover)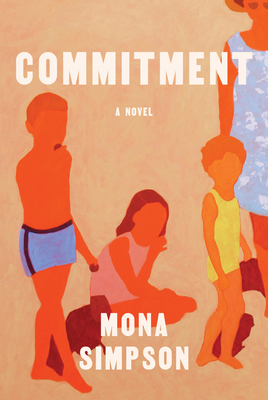 Staff Reviews
---
Commitment begins with Walter, the oldest of three children, leaving home in Southern California to start college at UC Berkeley.  It is clear his single mother is more fragile than most.  The three siblings navigate their transitions to college and adulthood as their mother's mental health reaches a crisis.  The impact her illness has on their lives is profound as is the support they receive from others along the way.  Simpson's portrayal of institutional mental health treatment diverges from negative stereotypes. Highly recommend
— Amy
Reading COMMITMENT thrilled and nourished me in so many ways. All the love, pain, and wrenching friction that make the Aziz family who they are, the way Simpson locates plot and structure in the accumulations of the everyday: even now, weeks after finishing it, just thinking of the characters and their stories stirs me. And her head-to toe-portrait of California is wonderful too! A fabulous new novel.
— Carol
Description
---
ONE OF THE MOST ANTICIPATED BOOKS OF THE YEAR—a masterful and engrossing novel about a single mother's collapse and the fate of her family after she enters a California state hospital in the 1970s.

"A sweeping family epic that took me from one American coast to another…Simpson is so attuned to the family heart." —Weike Wang, author of Joan Is Okay

When Diane Aziz drives her oldest son, Walter, from Los Angeles to college at UC Berkeley, it will be her last parental act before falling into a deep depression. A single mother who maintains a wishful belief that her children can attain all the things she hasn't, she's worked hard to secure their future in caste-driven 1980s Los Angeles, gaining them illegal entry to an affluent public school. When she enters a state hospital, her closest friend tries to keep the children safe and their mother's dreams for them alive.

At Berkeley, Walter discovers a passion for architecture just as he realizes his life as a student may need to end for lack of funds. Back home in LA, his sister, Lina, who works in an ice-cream parlor while her wealthy classmates are preparing for Ivy league schools, wages a high stakes gamble to go there with them. And Donny, the little brother everybody loves, begins to hide in plain sight, coding, gaming, and drifting towards a life on the beach, where he falls into an escalating relationship with drugs.

Moving from Berkeley and Los Angeles to New York and back again, this is a story about one family trying to navigate the crisis of their lives, a crisis many know first-hand in their own families or in those of their neighbors. A resonant novel about family and duty and the attendant struggles that come when a parent falls ill, Commitment honors the spirit of fragile, imperfect mothers and the under-chronicled significance of friends, in determining the lives of our children left on their own. With Commitment, Mona Simpson, one of the foremost chroniclers of the American family in our time, has written her most important and unforgettable novel.
About the Author
---
MONA SIMPSON is the author of Anywhere But Here, The Lost Father, A Regular Guy, Off Keck Road, My Hollywood, and Casebook. She has received a Whiting Writer's award, a Hodder Fellowship at Princeton, an NEA fellowship, a Guggenheim grant, a Lila Wallace Prize, a Literature Award from the American Academy of Arts and Letters, and the Mary McCarthy Prize. Off Keck Road was a finalist for the PEN/Faulkner Award and won the Heartland Prize from the Chicago Tribune. She was recently elected to the American Academy of Arts and Letters and is the publisher of The Paris Review, where she worked as an editor in her twenties. She lives in Santa Monica, California. She's on the faculty at UCLA, where she often teaches Middlemarch.
Praise For…
---
"A minimalist masterpiece, exploring the large and small ways that a diagnosis of mental illness affects a family. In a story utterly devoid of car crashes, murders, abductions and explosions, Simpson bears down on the truly important questions about life — home, work, love and family. … Commitment makes the case in a quiet but insistent voice that our lives do matter, even if other people think they are broken."
—Ann Levin, Associated Press / The Washington Post
 
"Vivid . . . Excellent . . . An absorbing, moving portrait of a Los Angeles family as they navigate financial troubles, addiction and, centrally, mental illness . . . As Simpson follows the kids into adulthood, where their lives and careers split and intersect, the reverberations of their childhoods ripple forward, too . . . [Commitment captures] the pain and joy and strangeness of being a person in a family."
—Keziah Weir, Vanity Fair

"A novel full of wisdom, strength, and humanity."
—Los Angeles Times

"Simpson's latest is an astute tale of family trauma and resilience."
—People Magazine

"Commitment manages to be both a model of the intricate network of familiar coordinates—love, money, art, work—and an intimate portrait of each individual caught, for better or worse, in its web . . . Larger social, cultural and emotional strains [are] sharply and movingly conveyed . . . Commitment does seem to take [George Eliot's Middlemarch] for a template of sorts—updated for a world where 'commitment' is forever being redefined, but love abides."
— Ellen Akins, The Minneapolis Star-Tribune

"A heartbreaker . . . Deeply felt . . . Detailing the lives of a single mother who falls into a deep depression, and her three children, who suddenly must cope on their own."
—Jim Kelly, Air Mail

"The questions [Simpson] explores throughout Commitment are nuanced. How much are we in control of our own stories? How much of our lives do we spend chasing the security we think we knew as children, and how futile is that effort? . . . Simpson's affinity for [stories about American families] hasn't waned. Nor has her skill at exploring it in various modes."
— Mark Athitakis, Alta

"Simpson is a national treasure. Commitment is a sweeping family epic that took me from one American coast to another, through a difficult but unforgettable time period, and through the growing pains of three remarkable siblings. I was immersed in their world and in Simpson's masterful vision for  them. Simpson is so attuned to the family heart and oh dear Walter, Lina, and Donnie, have you forever moved mine."
—Weike Wang, author of Joan Is Okay

"Few novelists write about America as Mona Simpson does, with her acute understanding of the tension between external forces—economy, technology, society—and individual dreams, between nostalgia and the future, between yearning and deception. Commitment is a majestic novel about an American family and an American century, its vision and scope bringing to mind the work of Tolstoy, Stendahl, and Balzac."
—Yiyun Li, author of The Book of Goose 

"A powerful family love story propelled by Simpson's profound understanding of people tested by that which could destroy them. Here are three children whose loyalty is divided for years between what might be best for their depressive mother and the paths that could allow them to have meaningful lives. In this beautifully written novel, the constant emotional and financial struggles make their hard-won triumphs, large and small, that much more glorious."
—Amy Hempel, author of Sing to It

"The tale of these three siblings and their troubled mother unfolds with such subtle wisdom, such stately grace, that it's easy to take for granted the artistry of the telling. Mona Simpson offers in small, absorbing increments a family's encounters with hardship and grief, and ambition, avoiding as she does any hackneyed response—rancor, for instance, or indictment—and providing instead, with utter honesty, a paean to the resilience of familial love."
—Alice McDermott, author of The Ninth Hour

"Simpson is an artist of the family saga, the multigenerational narrative . . . A kaleidoscopic portrait of a clan of outsiders remaking itself again and again . . . Simpson beautifully explores the sacrifices that keep a family together even when it's coming apart."
—Kirkus, starred (One of Kirkus's 20 Best Books to Read in March)

"Acclaimed novelist Simpson's latest is a vast and multifaceted tale of one family's mutual dedication and loyalty that powerfully demonstrates the importance of community."
—Booklist

"Deep and tender . . . Fans of family chronicles will not be disappointed."
—Publishers Weekly