The Whalebone Theatre: A novel (Hardcover)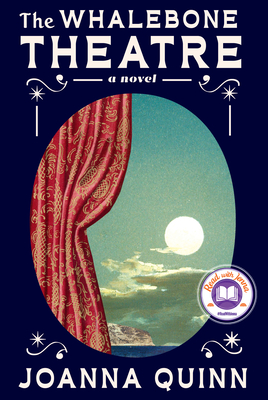 $29.00

Usually Ships in 1-5 Days
Staff Reviews
---
The Whalebone Theatre by Joanna Quinn is my favorite book of 2022. The setting, the coast of England after WWI and through WWII, is one of my favorite for historical fiction. Quinn's gorgeous use of language takes the already compelling story and complex characters into another realm. I couldn't put it down, yet I didn't want it to end.
— Genevieve
October 2022 Indie Next List
---
"Best friends putting on Shakespeare plays in the bones of a whale! Secret agents fighting Nazis! Joanna Quinn has given us fearless and fearsome Cristabel Seagrave, a heroine for the ages. The Whalebone Theatre is a magical adventure."
— Chantel McCray, Rainy Day Books, Fairway, KS
Description
---
NEW YORK TIMES BEST SELLER • A TODAY SHOW #ReadWithJenna BOOK CLUB PICK • A transporting, irresistible debut novel that takes its heroine, Cristabel Seagrave, from a theatre made of whalebones to covert operations during World War II—a story of love, family, bravery, lost innocence, and self-transformation.

"Absolute aces...Quinn's imagination and adventuresome spirit are a pleasure to behold." —The New York Times

"Utterly heartbreaking and joyous." —Jo Baker, author of Longbourn

One blustery night in 1928, a whale washes up on the shores of the English Channel. By law, it belongs to the King, but twelve-year-old orphan Cristabel Seagrave has other plans. She and the rest of the household—her sister, Flossie; her brother, Digby, long-awaited heir to Chilcombe manor; Maudie Kitcat, kitchen maid; Taras, visiting artist—build a theatre from the beast's skeletal rib cage. Within the Whalebone Theatre, Cristabel can escape her feckless stepparents and brisk governesses, and her imagination comes to life.

As Cristabel grows into a headstrong young woman, World War II rears its head. She and Digby become British secret agents on separate missions in Nazi-occupied France—a more dangerous kind of playacting, it turns out, and one that threatens to tear the family apart.
About the Author
---
JOANNA QUINN was born in London and grew up in Dorset, in the southwest of England, where her debut novel, The Whalebone Theatre, is set. She has worked in journalism and the charity sector. She is also a short story writer, published by The White Review and Comma Press, among others. She lives in a village near the sea in Dorset.
Praise For…
---
A Best Book of the Year: New York Times Notable, Washington Post, Sydney Morning Herald, Vox, Book Riot, Geek Girl Authority • A Best Gift Book: Seattle Times, Broadway Direct • A TODAY SHOW #ReadWithJenna BOOK CLUB PICK, in collaboration with the Queen Consort Camilla's Royal Reading Room

"Gorgeous . . . Delightful . . . Absolute aces . . . Reading it is like plunging into a tub of clotted cream while (or whilst) enrobed in silk eau-de-Nil beach pajamas . . . Quinn's imagination and adventuresome spirit are a pleasure to behold, boding more commanding work to come." —The New York Times

"What's remarkable, especially for a first novel, is Quinn's deft way of depicting this lost world—whether a subsiding seaside aristocracy or a training school for British agents or a Parisian theater in wartime . . . Her vision is so fine and fully realized that it's hard to imagine her doing anything else—and hard to have to wait to see what that might be." —Washington Post
 
"An immersive, capacious delight . . . The pages fly by . . . The Whalebone Theatre is a supremely accomplished feat of storytelling. . . Quinn excels with the nuts and bolts of her craft—characterization, pace, plotting, and well-calibrated humor and suspense—and brilliantly depicts the rugged beauty of her county 'on the crumbling bottom edge of England.'" —Minneapolis Star Tribune

"The story is just as imaginative as its protagonist, involving spycraft, World War II, and Dickensian children carving wondrous worlds out of the mundane."
—Seattle Times (Bookseller Approved Giftable Books)

"This is a book that will be loved unreasonably and life-long, I believe, like I Capture The Castle." —Francis Spufford, author of Light Perpetual

"Honestly, I want to sound a trumpet and put out some flags. It is pure heaven from first word to last. It's a debut novel, incredibly for something so assured and fully realised . . . Generous, filling, deeply satisfying funny-sad, every page crammed with life and experience . . . The Whalebone Theatre is one of those books that has you hooting with laughter one minute and feeling absolutely floored the next . . . Quinn is one of those writers who has her finger on humanity's pulse. An absolute treat of a book, to be read and reread." —The Sunday Times (London)

"The Whalebone Theatre has all the makings of a classic. And Cristabel Seagrave is the most gratifying hero. The war scenes often left me breathless: they are as good as you will ever read . . . A tour de force." —Sarah Winman, author of Still Life

"In an astonishing debut, Quinn creates an enchanting world and a cast of thoroughly endearing characters whom readers will be sorry to leave behind . . . A genre-bending delight." —Booklist (starred)

"Destined to become a classic . . . Elegantly written and totally immersive, this is escapism fiction at its very best . . . Quinn's debut is a wonder." —Daily Mail

"The Whalebone Theatre gives you wings . . . Slightly alarmingly, it is Joanna Quinn's debut—how on earth is she this good? . . . Full of brilliant set pieces that pop and crackle with tension . . . Quinn handles her sprawling cast with ease and compassion . . . Reading contemporary fiction is rarely that fun . . . Just dive in and slurp it up." —The Times (London)

"Quinn has a sublime touch: Cristabel and her troupe are unforgettable, as riotous in comedy as they are heart-breaking in tragedy." —Frances Liardet, author of We Must Be Brave

"My ideal novel . . . Quinn creates a world so rich with observation, detail, humanity, and heart that you are incapable of doing anything but drinking it in with greedy delight." —YOU magazine

"It's astonishing to discover that this beguiling story is Joanna Quinn's first novel . . . If you loved Elizabeth Jane Howard's Cazalet series and Dodie Smith's I Capture the Castle you'll absolutely adore this. It's touching, enthralling, and superbly written—an extraordinary book that deserves to be read and re-read." —Independent, #1 Best Overall of "10 Best Books to Read This Summer"

"Far and away my favourite novel of the year . . . It's a gorgeous book, following the lives of three half-siblings from the '20s and through World War II, the same canvas Kate Atkinson has used to such great effect. Love, grief, and comedy in perfect balance: it's hard to believe that this accomplished novel comes from a first-timer."
—Sydney Morning Herald

"Just absolutely wonderful . . . It is so doggone readable, and you really care about these characters . . . The book just really keeps you reading."
—Public Radio Tulsa

"I was swept away by this compelling, beautifully written debut and its plucky heroine." —Good Housekeeping

"Dazzling and imaginative . . . Peacetime whimsy gracefully segues into scenes of unbearable tension and heart-wrenching suspense . . . Combining elements of I Capture the Castle, Brideshead Revisited, and Charlotte Gray, this is a reading experience to be long cherished." —Publishers Weekly (starred)

"Utterly heartbreaking and joyous . . . I just disappeared into The Whalebone Theatre and didn't want to leave." —Jo Baker, author of Longbourn

"Playful, inventive, sharp, funny, The Whalebone Theatre offers the sort of reading experience that is remarkably rare, even for those of us whose happiest hours are spent with books: sheer, undiluted delight from start to finish . . . It breathes fresh, bracing air into the lungs of the multi-generational saga—and the very form of the novel itself . . . Most importantly of all, perhaps, Quinn gives us Cristabel, the sort of intelligent heroine that has been sorely missing from every other classic since Middlemarch . . . It's impossible not to be charmed by this book." —Susan Elderkin, author of Voices
 
"Magnificent. As capacious, surprising and magical as the whale that lends its bones to Cristabel's theatre: a tale of intertwined lives and braided fates as deftly managed and heartbreaking as a Dickens novel." —Rebecca Stott, author of Ghostwalk

"Utterly captivating. An epic romp with characters you cannot help but fall in love with and a plot that takes you in all sorts of unexpected directions. Written with great heart, humour and humanity, it's the kind of book you want to escape normal life to read at every available opportunity." —Elizabeth Day, author of The Party