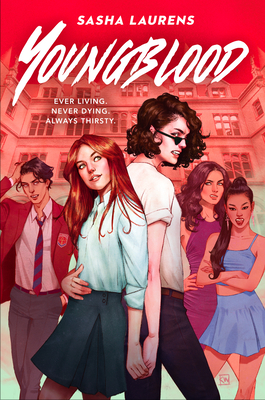 $19.99

Usually Ships in 1-5 Days
Description
---
High school sucks. Especially for the undead.

"This is the lesbian vampire boarding school story I've always needed, but it's smarter, nastier, and more fun than I ever could have dreamed." —Kylie Schachte, author of You're Next


Kat Finn and her mother can barely make ends meet living among humans. Like all vampires, they must drink Hema, an expensive synthetic blood substitute, to survive, as nearly all of humanity has been infected by a virus that's fatal to vampires. Kat isn't looking forward to an immortal life of barely scraping by, but when she learns she's been accepted to the Harcote School, a prestigious prep school that's secretly vampires-only, she knows her fortune is about to change.
 
Taylor Sanger has grown up in the wealthy vampire world, but she's tired of its backward, conservative values—especially when it comes to sexuality, since she's an out-and-proud lesbian. She only has to suffer through a two more years of Harcote before she's free. But when she discovers her new roommate is Kat Finn, she's horrified. Because she and Kat used to be best friends, a long time ago, and it didn't end well.
 
When Taylor stumbles upon the dead body of a vampire, and Kat makes a shocking discovery in the school's archives, the two realize that there are deep secrets at Harcote—secrets that link them to the most powerful figures in Vampirdom and to the synthetic blood they all rely on.
About the Author
---
Sasha Laurens is originally from Northern California and has lived in Michigan, New York, and St. Petersburg, Russia. She has a PhD in political science and lives in Brooklyn. Her first novel, A Wicked Magic, was published in 2020.
 
Find her on Twitter @sasha_laurens.
Praise For…
---
"Prepare to fall in love with a whole new kind of vampire. Equal parts swoony and mysterious,
Youngblood
is so, so, so much fun."
—Jessica Goodman, New York Times bestselling author of They'll Never Catch Us and The Counselors


"This book bites – in the best possible way! Seeped in vampire lore but existing in its own fresh, new world, Youngblood delivers a slow-burn boarding school romance while its central mystery has the pages almost turning themselves."
—Kelly deVos, author of Eat Your Heart Out and Go Hunt Me

"A fresh new take on vampires, with a compelling mystery and a romance that will keep you turning pages long into the night. I was immediately hooked by Kat and Taylor's story—ex-best friends forced together as roommates, fighting their feelings at a school full of secrets, drama, and the undead.
Youngblood
is everything you could ever want in a boarding school book—plus vampires!"
—Cameron Lund, author of The Best Laid Plans and Heartbreakers and Fakers

"
Youngblood
is an achingly sweet queer romance, a creepy as hell mystery, and a thoughtful, chilling portrayal of how vampirism might exist in the modern age of capitalism. This is the lesbian vampire boarding school story I've always needed, but it's smarter, nastier, and more fun than I ever could have dreamed."
—Kylie Schachte, author of You're Next


"A boarding school mystery with family drama, deep secrets, and an unyielding social conscience—
Youngblood
is the new generation of vampires you've always needed!
" —Andrea Contos, author of Tell Me No Lies


"What a book!
Youngblood
is mesmerizing and original, with tightly-drawn characters, a mystery that had me obsessively turning the pages and a romance that had me screaming: now kiss! This is the queer vampire boarding school book of your dreams.
—Cale Dietrich, bestselling author of The Love Interest
and
If This Gets Out.
"The mystery elements in this fun spin on boarding school stories and vampire lore are exciting, but the messy relationship drama creates the most intrigue...Frothy, angst-y fun." –
Kirkus Reviews

★ "[A] vibrant, voice-driven paranormal romance....Laurens elevates this fresh look at vampire society, which is briming with classic boarding school tropes, by astutely tackling timely issues, including homophobia and classism." – Publishers Weekly (starred review)