The Unsinkable Greta James: A Novel (Paperback)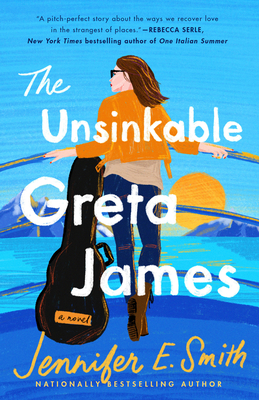 $17.00

Coming Soon - Available for Pre-Order Now
Staff Reviews
---
THE UNSINKABLE GRETA JAMES by Jennifer E. Smith is just plain AWESOME!
Greta is a rising indie musician who finds herself on an Alaskan cruise with her dad after her mom dies unexpectedly, she splits with her music producer boyfriend, and had a major meltdown at her last public appearance three months prior.
Greta needs a reset.
She has to decide what is most important to her-whether she really can make her dreams come true.
Add in Ben, the visiting Jack London scholar, and you have a novel with the perfect combo of an unexpected romance and family angst.
Pick up your copy today-trust me, you'll thank me.
— Kathleen
March 2022 Indie Next List
---
"Greta James and her father, grieving her mother's sudden death, become unlikely companions on an Alaskan cruise. With a rocky relationship, grief, and Greta's onstage breakdown, can they start fresh? I was hooked from the start!"
— Kathy Morrison, Newtown Bookshop, Newtown, PA
Description
---
An indie musician reeling from tragedy and a public breakdown reconnects with her father on a weeklong cruise in "a pitch-perfect story about the ways we recover love in the strangest places" (Rebecca Serle, bestselling author of In Five Years)

"The characters are drawn with a generosity that allows them to be wrong but also right, loving but also prone to missteps, and ultimately deserving of a resolution that's full of hope."—Linda Holmes, New York Times bestselling author of Flying Solo

ONE OF THE BEST BOOKS OF THE YEAR: She Reads

Just after the death of her mother—her first and most devoted fan—and weeks before the launch of her high-stakes sophomore album, Greta James falls apart on stage. The footage quickly goes viral and she stops playing, her career suddenly in jeopardy—the kind of jeopardy her father, Conrad, has always predicted.

Months later, Greta—still heartbroken and very much adrift—reluctantly agrees to accompany Conrad on the Alaskan cruise her parents had booked to celebrate their fortieth anniversary. It could be their last chance to heal old wounds in the wake of shared loss. But the trip will also prove to be a voyage of discovery for them both, and for Ben Wilder, a charming historian struggling with a major upheaval in his own life. As Greta works to build back her confidence and Ben confronts an uncertain future, they find themselves drawn to and relying on each other.

It's here in the unlikeliest of places—at sea, far from the packed city venues where she usually plays and surrounded by the stunning Alaskan wilderness—that Greta will have to decide what her path forward might look like—and how to find her voice again.
About the Author
---
Jennifer E. Smith is the author of nine books for young adults, including The Statistical Probability of Love at First Sight and Hello, Goodbye and Everything in Between, both of which have been adapted for film. She earned a master's degree in creative writing from the University of St. Andrews in Scotland, and her work has been translated into thirty-three languages. She currently lives in Los Angeles.
Praise For…
---
"Beautiful, moving, hopeful: I loved this book from beginning to end, and will be thinking about it for a long time. It's a total triumph."—Emily Stone, author of Always, In December

"Warm, funny, and bursting with heart, [it's] exactly the book you want to read: a pitch-perfect story about the ways we recover love in the strangest of places."—Rebecca Serle, New York Times bestselling author of In Five Years

"Filled with music, passion, and love of all kinds . . . a fast-paced, emotional novel and an unforgettable exploration of family and the choices we make that shape our lives."—Jill Santopolo, New York Times bestselling author of Everything After

"I burst into tears at the end of Jennifer E. Smith's gorgeous, heartfelt The Unsinkable Greta James—tears of surprised happiness. I loved traveling to Alaska with the wild and tender Greta, and found her escape an addictive journey. I will miss her—and her music—now that I've turned the final beautiful page."—Amanda Eyre Ward, New York Times bestselling author of The Lifeguards

"Thoughtful and tender and true . . . perfectly captures the messiness of loving and being loved . . . Smith has written a gripping relationship story that's also a perceptive exploration of what it means to dream. I devoured it."—Janelle Brown, New York Times bestselling author of I'll Be You

"This novel is unabashedly sentimental in the best possible way. It's about how family can misunderstand us, grief can undo us, and our dreams can save us. It's a total delight, as transporting and diverting as the Alaskan cruise Greta herself is on in these pages."—Christine Pride, co-author of We Are Not Like Them

"Smith has crafted a story about mothers and daughters, fathers and children, grief, happiness, and healing—and also about the music industry, hard work, dreams, and relationships both old and new. . . . Readers of Evvie Drake Starts Over will enjoy this book. A well-told story with evocative prose that bares—and bears—the ragged emotions that accompany a journey to healing."—Kirkus Reviews (starred review)