Trapped: Book Five of The Iron Druid Chronicles (Paperback)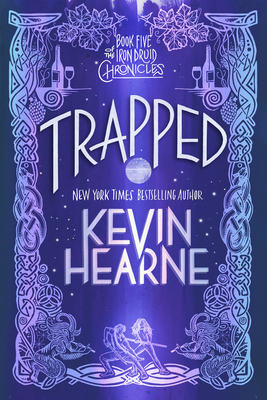 $17.00

Usually Ships in 1-5 Days
Other Books in Series
This is book number 5 in the The Iron Druid Chronicles series.
Description
---
In the fifth novel in the New York Times bestselling Iron Druid Chronicles, two-thousand-year-old Druid Atticus O'Sullivan will at last bind a new Druid to protect the earth—but first he must go toe-to-toe with the Roman god Bacchus, the Norse pantheon, and an ancient vampire, all hell-bent on ensuring his demise.

"[Kevin] Hearne is a terrific storyteller with a great snarky wit. . . . Neil Gaiman's American Gods meets Jim Butcher's Harry Dresden."—SFFWorld

The downside to faking your own death is that people tend to get upset when they find out they've been had. In Atticus O'Sullivan's case, they're upset enough to come after him to make sure he dies for real this time. Yet he can't remain in hiding anymore: He has to bind his apprentice, Granuaile, to the earth so that she can become the first new Druid in centuries.

But the Roman god Bacchus wants mortal revenge for a slight against him, and he proceeds to act on the principle that Atticus should hate his life until it can be ended. Members of the Norse pantheon aren't particularly pleased with Atticus either—especially one who had languished in darkness, slowly going mad, and is now free to work his mischief again.

On top of that, an ancient vampire, who'd like to remove Atticus and Granuaile as threats to his kind, is working on his own plan for their destruction.

Forced to work at the base of Mount Olympus, Atticus and Granuaile must survive the three-month process of her binding and escape the many traps set for them. It's fortunate that they have Oberon the Irish Wolfhound on their side—but is one good dog going to be enough to see them through it?

Don't miss any of The Iron Druid Chronicles:
HOUNDED | HEXED | HAMMERED | TRICKED | TRAPPED | HUNTED | SHATTERED | STAKED | SCOURGED | BESIEGED
About the Author
---
Kevin Hearne hugs trees, pets doggies, and rocks out to heavy metal. He also thinks tacos are a pretty nifty idea. He is the New York Times bestselling author of The Iron Druid Chronicles, the Ink & Sigil series, and the Seven Kennings series, and is co-author of The Tales of Pell with Delilah S. Dawson.
Praise For…
---
Praise for The Iron Druid Chronicles

"[Kevin] Hearne is a terrific storyteller with a great snarky wit. . . . Neil Gaiman's American Gods meets Jim Butcher's Harry Dresden."—SFFWorld

"[The Iron Druid books] are clever, fast-paced and a good escape."—Boing Boing

"Hearne understands the two main necessities of good fantasy stories: for all the wisecracks and action, he never loses sight of delivering a sense of wonder to his readers, and he understands that magic use always comes with a price. Highly recommended."—The Magazine of Fantasy & Science Fiction

"Superb . . . plenty of quips and zap-pow-bang fighting."—Publishers Weekly (starred review)

"Celtic mythology and an ancient Druid with modern attitude mix it up in the Arizona desert in this witty new fantasy series."—Kelly Meding, author of Chimera

"[Atticus is] a strong modern hero with a long history and the wit to survive in the twenty-first century. . . . A snappy narrative voice . . . a savvy urban fantasy adventure."—Library Journal

"A page-turning and often laugh-out-loud funny caper through a mix of the modern and the mythic."—Ari Marmell, author of The Warlord's Legacy

"Outrageously fun."—The Plain Dealer

"Kevin Hearne breathes new life into old myths, creating a world both eerily familiar and startlingly original."—Nicole Peeler, author of Tempest Rising