Tales to Keep You Up at Night (Paperback)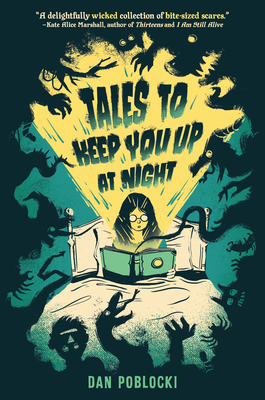 $8.99

Usually Ships in 1-5 Days
Description
---
From the co-author of the #1 New York Times bestselling series The Magic Misfits comes a spectacularly creepy novel that will keep you up way past bedtime.

Perfect for fans of Scary Stories to Tell in the Dark!

Amelia is cleaning out her grandmother's attic when she stumbles across a book: Tales to Keep You Up at Night. But when she goes to the library to return it, she's told that the book never belonged there. Curious, she starts to read the stories: tales of strange incidents in nearby towns, of journal entries chronicling endless, twisting pumpkin vines, birthday parties gone awry, and cursed tarot decks. And at the center of the stories lies a family of witches. And witches, she's told, can look like anyone...

As elements from the stories begin to come to life around her, and their eerie connections become clear, Amelia begins to realize that she may be in a spooky story of her own...

With hair-raising, spine-chilling prose, Dan Poblocki delivers a collection of interconnected stories that, if you're anything like Amelia, is sure to keep you up late in the night.
About the Author
---
Dan Poblocki is the co-author with Neil Patrick Harris of the #1 New York Times bestselling series The Magic Misfits (writing under the pen-name Alec Azam). He's also the author of The Stone Child, The Nightmarys, and the Mysterious Four series. His books, The Ghost of Graylock and The Haunting of Gabriel Ashe, were Junior Library Guild selections and made the American Library Association's Best Fiction for Young Adults list in 2013 and 2014. Dan lives in Saugerties, New York, with two scaredy-cats and a growing collection of very creepy toys.

Marie Bergeron was born and raised in Montreal. After studying cinematography, she attended École de Design. Her style is inspired by many things, including films and games, contrasting a more graphic approach with organic strokes. Her clients have included Marvel Studios, Paramount Pictures, Warner Bros., Fox Entertainment, and more.
Praise For…
---
"Tales to Keep You Up at Night is a delightfully wicked collection of bite-sized scares, with stories that are magical, strange, and downright unsettling—the perfect treat for a young reader looking for a properly spooky read."–Kate Alice Marshall, author of Thirteens and I Am Still Alive

"This book is magnificently frightening! It is this delicious blend of old timey folktales and creepy weirdness that kept me riveted to every single page and then, as promised, kept me up all night. Absolute horror story perfection!"—Ellen Oh, author of Spirit Hunters
 
"Poblocki is the middle-grade Crypt Keeper, spinning yarns that are devilishly inventive and genuinely unsettling. This is the book to reach for during the witching hour."—Daniel Kraus, New York Times bestselling author of The Teddies Saga

"Grab a flashlight and a blanket—this lives up to its titular claim... Alternating between Amelia's storyline and the contents of the book she's reading, Poblocki's delightfully constructed offering is somewhere between a literary matryoshka and an ouroboros as the vignettes twine perilously around each other, rewarding close readers and demanding rereads. It includes well-established genre tropes like creepy clowns and being buried alive, making it a fun distillation of elements from crowd pleasers by authors like R.L. Stine and Alvin Schwartz."—Kirkus Reviews

"The novel's framework, which alternates between Amelia's real life and the scary stories' contents, slowly builds tension, intricately weaving classic and supernatural horror elements to deliver an immersive experience drenched in ominous atmosphere."—Publishers Weekly


"… a masterful, hair-raising work, start to finish."—Books to Borrow, Books to Buy