52 Ways to Walk: The Surprising Science of Walking for Wellness and Joy, One Week at a Time (Hardcover)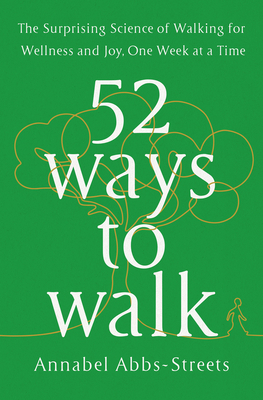 $24.00

Usually Ships in 1-5 Days
Description
---
52 Ways to Walk is a short, user-friendly guide to attaining the full range of benefits that walking has to offer--physical, spiritual, and emotional--backed by the latest scientific research to inspire readers to develop a fulfilling walking lifestyle.

We think we know how to walk. After all, walking is one of the very first skills we learn. But many of us are stuck in our walking routines, forever walking in the same place, in the same way, for the same time, with the same people. With its thought-provoking and evidence-backed weekly walk routine, 52 Ways to Walk will encourage everyone to improve how they walk, while also encouraging them to seek out new locations (many on their own doorsteps), new walking companions (our brains age better when we mix up our fellow walkers), new times of the day and night, and new skills to acquire while walking.

Inspirational, backed by science, illuminated with human anecdote, and bolstered with how-to tips, 52 Ways to Walk will inspire, challenge, support, and encourage everyone to become more ambitious with their walking practice, revealing how walking may be the best-kept secret of the supremely healthy and happy, the creative and well-slept--those with the best posture and sharpest memories. Just about everything, it appears, can be improved and enhanced by clever and judicious walking. It turns out you actually can get more from life, one step at a time.
About the Author
---
Annabel Abbs-Streets is the award-winning author of seven books, most recently Windswept: Walking the Paths of Trailblazing Women (voted a Top Ten 2021 Travel book) and 52 Ways to Walk (an Amazon best seller). Her work has been translated into 30 languages. She is a Fellow of the Brown Foundation, writes regularly for a wide variety of media and often appears on radio, TV, and podcasts. She lives in London and Sussex with her family.
Praise For…
---
One of AARP's 22 of 2022's Top New Books (So Far)

"Annabel Streets tackles the boredom that might creep into a well-worn fitness routine." —The Wall Street Journal

"Annabel Streets delves into the science and romanticism of walking and explores the good things that can happen with this one small act."—Reader's Digest

"52 Ways to Walk takes readers on an eclectic series of journeys." —LA Daily News

"This short, enthusiastic guide extolling walking's mental and physical benefits, and will motivate you to get outside and move, step by step, all year." —AARP

"A delightfully original love letter to an activity humans were designed to do throughout the course of each day. Modern life has rendered walking an optional pursuit, but Streets makes a compelling, evidence-based case for the benefits of a daily stroll… A gift for walking enthusiasts as well as those who need a little nudge to put on their walking shoes, 52 Ways to Walk will render redundant all of the usual excuses by presenting creative, weather-conscious options for every type of walker." —Shelf Awareness

"Though the prose glides right along, a reader may find that it takes her quite a long time to finish this book due to the fact that every time she picks it up she will be inspired to put it down and go for a yomp. From practical tips on improving one's gait to exploring new areas without a map, Streets offers dozens of innovative ways to get anyone at any age or fitness level walking." —Spirituality & Health

"Spiritual, educational, and informative." —Booklist

"Streets carefully breaks down the psychological and physical benefits of [walking], and makes a solid case that getting some movement in outside can help one 'appreciate the exquisitely complicated and beautiful world we inhabit.' Readers ready to hit the pavement will find plenty of inspiration and information here." —Publishers Weekly

"A delightful balance of ideas, inspiration and science. The short punchy chapters fit well between walks and make them even more enjoyable." —Tristan Gooley, author of The Walker's Guide to Outdoor Clues & Signs

"Walking adds greatly to our lives, and this insightful and wise book adds greatly to our walking. Page after page, it's a pleasure to follow in the author's footsteps." —Duncan Minshull, author of Sauntering and Where My Feet Fall