Nora Goes Off Script (Hardcover)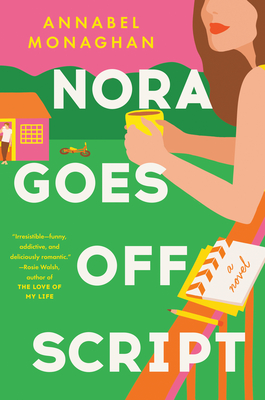 $27.00

Usually Ships in 1-5 Days
Staff Reviews
---
I ABSOLUTELY loved this book! 
Nora writes scripts for movies on the romance channel-until her life blows up, her self-centered husband walks out leaving her with a mountain of debt and two kids to raise. She then writes a script about her life and it becomes a big budget film starring two of Hollywoods best. When they arrive for a two day shoot she doesn't expect to find an obvious spark with star Leo Vance who's life is at a crossroads also.
Can they overcome their baggage to find what they're both looking for? 
— Kathleen
June 2022 Indie Next List
---
"This breezy, well-written novel found me at a time when I really, really needed it. It's hard to get the tone right with kids in books, but Annabel Monaghan nailed it. I was rooting for Nora and thoroughly enjoyed my time with her!"
— Chelsea Bauer, Union Avenue Books, Knoxville, TN
Description
---
"The perfect escape." —USA Today

"Readers who loved Emily Henry's Book Lovers are sure to savor Nora Goes Off Script." —Shelf Awareness

Named one of the Best Beach Reads of Summer 2022 by The Washington Post • USA Today • Cosmopolitan • Southern Living • Country Living • Business Insider • Buzzfeed • Book Riot • The Augusta Chronicle

Nora's life is about to get a rewrite…

Nora Hamilton knows the formula for love better than anyone. As a romance channel screenwriter, it's her job. But when her too-good-to work husband leaves her and their two kids, Nora turns her marriage's collapse into cash and writes the best script of her life. No one is more surprised than her when it's picked up for the big screen and set to film on location at her 100-year-old-home. When former Sexiest Man Alive, Leo Vance, is cast as her ne'er do well husband Nora's life will never be the same.

The morning after shooting wraps and the crew leaves, Nora finds Leo on her porch with a half-empty bottle of tequila and a proposition. He'll pay a thousand dollars a day to stay for a week. The extra seven grand would give Nora breathing room, but it's the need in his eyes that makes her say yes. Seven days: it's the blink of an eye or an eternity depending on how you look at it. Enough time to fall in love. Enough time to break your heart.

Filled with warmth, wit, and wisdom, Nora Goes Off Script is the best kind of love story—the real kind where love is complicated by work, kids, and the emotional baggage that comes with life. For Nora and Leo, this kind of love is bigger than the big screen.
About the Author
---
Annabel Monaghan is the author of two Young Adult novels and Does This Volvo Make My Butt Look Big?, a selection of laugh-out-loud columns that appeared in the Huffington Post, The Week, and The Rye Record. Nora Goes Off Script is her adult debut novel. She lives in Rye, New York, with her family.
Praise For…
---
One of the Washington Post's 10 Noteworthy Books for June 2022
One of USA Today's Top Rom Coms for June 2022
One of Cosmopolitan's 15 Best Romance Novels of 2022 That'll Give You All the Feels
One of Amazon's Best Romance Books of 2022 So Far
One of Southern Living's Beach Reads Perfect for Summer 2022
One of Buzzfeed's 27 New Romance Books Releasing in June, July, and August That Will Heat Up Your Summer
One of The Augusta Chronicle's Newest Beach Reads Inspired by Hallmark Movies

"A witty and poignant roller coaster that springs a delightful surprise." —People

"Monaghan's witty adult debut novel perfectly captures the apprehension and excitement of infatuation blended with life's complications." —Washington Post

"The perfect escape from reality…In the best way." —USA Today

"Who is ready for their next stellar and sparkling beach read? Nora Goes Off Script is a freaking delight. Charming, funny, uplifting and completely captivating, I devoured it in three days." —Elin Hilderbrand, author of The Hotel Nantucket

"[A] delightful work of fiction…A perfect blend between quotidian life and the fairytale magic possible only in the best Hollywood endings. Readers who loved Emily Henry's Book Lovers or Linda Holmes's Evvie Drake Starts Over are sure to savor Nora Goes Off Script." —Shelf Awareness

"Filled with swoon-worthy moments and hilariously lovable characters." —Woman's World

"Nora Goes Off Script by Annabel Monaghan is funny and smart, with a Nancy Meyers–movie quality you'll love and a main character you'll want to befriend. This is the perfect easy-breezy, feel-good read." —Real Simple

"Absolutely irresistible—funny, addictive and deliciously romantic, this is exactly the sort of book we all need right now. I loved every word."—Rosie Walsh, author of The Love of My Life

"Funny and good-hearted—a romance for romantics, a blending of the real and the deliciously unreal." —Linda Holmes, author of Evvie Drake Starts Over

"This perfectly-scripted love story left me feeling the way all the best romances do: filled with hope and the feeling that true love always wins. Nora Goes Off Script will be a reread, for sure."—Jill Santopolo, New York Times bestselling author of The Light We Lost

"I loved this book with my whole heart. It's smart, fresh and romantic, full of humor and warmth. I didn't want to put it down." —Beth O'Leary, author of The Flatshare

"[A] funny, clever, and joyful rom-com." —Business Insider

"Likable characters, smart humor and a didn't-see-it-coming ending makes this novel a must-read for summer." —The Augusta Chronicle

"Irresistible…With pitch-perfect characters full of foibles and flaws, the work taps into genuine feelings as the characters fall in love. This is a winner." —Publishers Weekly, starred review

"Five starry-eyed stars for Nora Goes Off Script!...I honestly didn't know how it would end. Pins and needles! I loved the small-town setting, Nora's chance to start over after a bad marriage, and Nora's children and best friends. Highly recommend!" —The Southern Bookseller Review

"Brimming with compelling characters….Readers will connect with the warmth and humor of this relationship-fiction gem." —Booklist, starred review

"Warm, witty and wise, Nora Goes Off Script tells the truth about all of love's ups and downs: family love, friendship love, romantic love that comes to a wrenching end—and love that triumphs so beautifully, you'll still be smiling over it long after you've put the book down." —BookPage

"This funny and charming new novel tells the story of a divorced screenwriter who pens a script about her failed marriage and finds that it might just provide the fresh start she's looking for." —Southern Living

"Monaghan's warm, accessible prose will draw readers right into this novel about a romance-channel screenwriter whose script based on her marriage's demise gets picked up for the big screen." —Woman's Day

"Hallmark meets Hollywood in this gorgeous, fast, and poignant read that will keep you invested from the second you pick it up. A book to savor!" —Abby Jimenez, USA Today bestselling author of The Friend Zone

"Funny, heartwarming, dreamy—everything I crave in a Hollywood rom-com is right here. I loved it so much I had to read the ending twice—once to see what happened and again to savor it."—KJ Dell'Antonia, author of The Chicken Sisters

"With Nora Ephron-level wit and smarts, Annabel Monaghan performs something of a literary hat trick in Nora Goes Off Script. While sending-up the romance industry, she chronicles the very romantic (and oddly believable) love affair between a handsome film star and a divorced suburban mom and she turns tradition on its head. Because in this wise and funny novel, it's the Hollywood hero who needs rescuing and a grounded single mom who saves the day. Nora Goes Off Script is sexy, heart-warming, and intelligent, and I loved it!" —Karen Dukess, author of The Last Book Party