The Freedom Clause: A Novel (Paperback)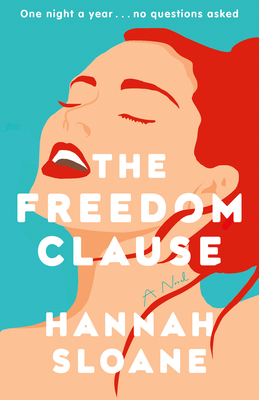 Staff Reviews
---
When Daphne and Dominic begin to investigate their outwardly "perfect" marriage, they leap into the unknown by opening up their relationship with a few rules: one night a year, no one they know and no repeats.  What could possibly go wrong?  Or right?  This saucy, sexy novel goes in some surprising directions and uses hilarious recipes to add a delicious layer to Daphne's journey of discovery.     
— Samantha
Description
---
What happens if you find your true love too soon? Could one night off a year save your marriage—or destroy it? In this bold and sexy debut, a young couple discovers that a little freedom has surprising consequences.

"A delicious novel . . . Nora Ephron fans will delight in this debut."—Amanda Eyre Ward, New York Times bestselling author of The Jetsetters

Dominic and Daphne met in their first week of college, and they've been happily married for three years. They love each other deeply but perhaps have become too comfortable, and their sex life isn't what anyone would call thrilling. So, on New Year's Day, Dominic blurts out a suggestion before it's fully worked out in his mind: what if they open up their marriage?

Daphne reluctantly agrees—with conditions. They can sleep with one other person, one night a year, and the agreement has a five-year expiration date. It's not a total free-for-all on their vows, but an amendment. They call it the Freedom Clause.

It isn't long before Daphne and Dominic find themselves—and their marriage—altered in unexpected ways. Embracing the spirit of the Clause, Daphne pushes herself to be more assertive in asking for what she wants. She begins chronicling her journey of self-discovery in an anonymous newsletter, sharing recipes inspired by her conquests, and soon realizes that one night off a year isn't a small change . . . it's a seismic one.

Eventually, Daphne and Dominic are reconsidering everything—each other, their relationship, and themselves. Can they survive the Freedom Clause? Do they even want to?
About the Author
---
Hannah Sloane was born and raised in England. She read history at the University of Bristol. She moved to New York in her twenties and she lives in Brooklyn with her partner, Sam. The Freedom Clause is her debut novel.
Praise For…
---
"The Freedom Clause is a delicious novel featuring rich, complex characters exploring deep questions: How can we love fully and remain true to ourselves? What happens when lovers bound by marriage try one night of freedom per year? I couldn't put the book down and cheered at the perfect conclusion. Nora Ephron fans will delight in this debut."—Amanda Eyre Ward, New York Times bestselling author of The Jetsetters

"You'll want second helpings of this delectable, sexy debut about a woman learning how to prioritize her pleasure. I ate it right up."—Courtney Maum, author of The Year of the Horses

"A raw and propulsive portrait of a marriage on the brink, Sloane's novel is fun, surprising, and nuanced. The Freedom Clause will expand your perspective on what true fulfillment can look like with an exciting, unique bonus: delicious recipes!"—Caitlin Barasch, author of A Novel Obsession

"An honest, empowering, and sexy tale of a young woman finding her voice, finding her strength, and finding great orgasms along the way."—Taylor Hahn, author of The Lifestyle

"The Freedom Clause is a bold, honest examination of a young marriage that hooked me from its first page. Creative in concept, rich in self-discovery, and written with warmth and nuance, Sloane's is a saucy and smart debut you won't want to miss."—Carola Lovering, author of Tell Me Lies and Can't Look Away

"As surprising as the proposal itself, The Freedom Clause is a beautifully written deep dive into marriage and the critical importance of finding one's own voice. This novel is an emotional journey that reads like a thriller—I couldn't put it down."—Annabel Monaghan, author of Nora Goes Off Script