Natural Beauty: A Novel (Hardcover)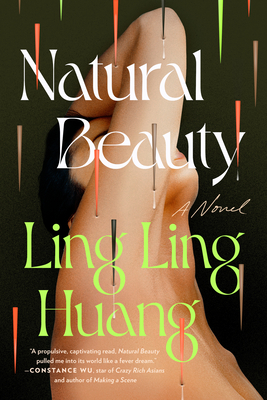 $27.00

Usually Ships in 1-5 Days
Staff Reviews
---
I finished NATURAL BEAUTY a few weeks ago and it is still haunting me! In her debut novel, Huang has created a commentary on the Asian American immigrant story and a critique of the beauty industry that verges into dystopian horror. The unnamed narrator is the child of Chinese immigrants searching for the American dream. Her ability on the piano seems to be the ticket to success— she is even sponsored to attend a prestigious music conservatory. But she is always an outsider, bullied not just for being different but for being better.  When the novel starts, she has stopped playing piano and is scraping by until she chances into a job at a beauty spa providing groundbreaking treatments to wealthy clients. As the treatments become more extreme, the novel becomes a horror story, and we are forced to wonder how far are we are willing to go for beauty, and on a bigger scale, to fit in. A unique and thought-provoking book on many levels!
— Beth
Description
---
Sly, surprising, and razor-sharp, Natural Beauty follows a young musician into an elite, beauty-obsessed world where perfection comes at a staggering cost.

Our narrator produces a sound from the piano no one else at the Conservatory can. She employs a technique she learned from her parents—also talented musicians—who fled China in the wake of the Cultural Revolution. But when an accident leaves her parents debilitated, she abandons her future for a job at a high-end beauty and wellness store in New York City.
 
Holistik is known for its remarkable products and procedures—from remoras that suck out cheap Botox to eyelash extensions made of spider silk—and her new job affords her entry into a world of privilege and gives her a long-awaited sense of belonging. She becomes transfixed by Helen, the niece of Holistik's charismatic owner, and the two strike up a friendship that hazily veers into more. All the while, our narrator is plied with products that slim her thighs, smooth her skin, and lighten her hair. But beneath these creams and tinctures lies something sinister.
 
A piercing, darkly funny debut, Natural Beauty explores questions of consumerism, self-worth, race, and identity—and leaves readers with a shocking and unsettling truth.
About the Author
---
Ling Ling Huang is a writer and violinist. She plays with several ensembles, including the Oregon Symphony, Grand Teton Music Festival Orchestra, ProMusica, Chamber Orchestra, and the Experiential Orchestra, with whom she won a Grammy Award in 2021. Natural Beauty is her first novel.
Praise For…
---
A Good Morning America Buzz Pick

A New York Times Editors' Choice

An April LibraryReads Pick

One of Bustle's "36 Best New Books Of Spring & Summer 2023"

Featured in Book Riot's "25 Best Horror Books of 2023"

One of Katie Couric Media's "13 Books by AAPI Authors To Read This May and Beyond."

"Her talents…harmonize most seamlessly when she writes about music, managing the near-impossible feat of crafting descriptions of the compositions that are as airy and adroit as the melodies themselves. And she is at her best when she skewers the narcissistic, corrosive version of self-care that can be mistaken for empowerment…The novel is a meditation on vanity, the ways in which the pursuit of physical beauty can betray the other sources of beauty in one's life, and how horror can lurk beneath the surface of even the most poreless skin." –Jazmine Hughes, The New York Times Book Review

"Absorbing . . . Natural Beauty starts out frothy, offering an enticing dip into how tech could beautify and perfect our bodies and faces in the near future . . . It quickly veers into subversive horror, turning into a cautionary tale on societal themes we're currently seeing IRL." –Vogue

"A thriller mixed with horror and laced with a biting dose of social commentary, Natural Beauty is a book you won't be able to stop thinking about"—Glamour, "New Thriller Books of Summer 2023"

"This is a darkly absurd and hilarious skewering of the luxury beauty industry, as well as a heart-wrenching story of a woman left alone in the world. It's definitely not one to miss." —Buzzfeed, "30 Books Coming Out This Spring That You'll Love"

"Goopcore body horror…Natural Beauty is a delightfully baroque grotesque. It can achieve a folkloric power in its creepiest moments—a scary story you'd tell in a posh spa's sauna instead of around a campfire." –Kate Knibbs, WIRED

"Natural Beauty is a cautionary tale about wellness…intriguing from page one…great for book clubs, prompting discussions of beauty standards, where to draw the line and how the growing industry is unregulated." —Associated Press

"Natural Beauty is a horror novel that digs deep into the evils of exploitative industries." –Shondaland

"A propulsive, captivating read, Natural Beauty pulled me into its world like a fever dream. A prescient look at the dirty underbelly of society's beauty standards, it also carries a moving reminder that true beauty is often found in the very things we've been taught to abandon." —Constance Wu, star of Crazy Rich Asians and author of Making a Scene

"Insidious Western standards, fears about bodily autonomy, and queer desire intersect as Huang's precise and subtle portrayal of the beauty industry builds to an explosive climax. Alternatingly poignant and deeply unsettling, this is an outstanding first outing for an immensely talented author." —Publishers Weekly, *starred review*
 
"Haunting and immersive . . . The novel seamlessly blends sci-fi, literary fiction, suspense, and body horror while also exploring the oppression of the beauty industry and the Chinese immigrant experience in America. The writing is lyrical even when plot events are profoundly tragic, and the protagonist's journey will captivate readers throughout. Highly recommended." —Booklist, *starred review*

"This is a smart, savage book about the horrors of the modern beauty and wellness industry, and how capitalism can twist anything to look like a good idea. Written by a musician with immigrant parents, the novel's visceral depiction of growing up poor and musical feels absolutely lived in, as does the examination of what our protagonist needs to do to survive living in the big city."—Criminal Element

"Precise, unflinching, and utterly unforgettable, Natural Beauty is both a razor-sharp critique of the beauty industry and a startlingly tender story of family and sacrifice. This book will swallow you whole." —Grace D. Li, New York Times bestselling author of Portrait of a Thief

"A surreal, dreamlike thriller where art and darkness are woven together in unexpected ways. The main character is tortured and brilliant, and possesses immense appeal and heartbreak. The cinematic storytelling shows what happens when businesses trade on the most extreme levels of human desires. Gripping!" —Frances Cha, author of If I Had Your Face

"A modern-day Picture of Dorian Gray shot through a Cronenbergian lens, Ling Ling Huang's Natural Beauty has big things to say about art, society, and the obsessive pursuit of youth. Huang's writing is as austere as a flawless arpeggio, but there is great warmth in Huang's portrayal of her characters." —Nick Cutter, author of The Troop, The Deep, and Little Heaven

"Huang frets the 'fine line between beauty and ugliness, ripeness and rot' in this alluring tale of estrangement, body horror, and possibly a new genre, Dark Wellness—pierced through by a daughter's love for her immigrant parents. Ardent and unsettling." —Lisa Hsiao Chen, author of Activities of Daily Living
 
"Eerie and entertaining, Natural Beauty intertwines a terrifying critique of the beauty industry with a poignant ode to the power of music and the devotion of immigrant families. Ling Ling Huang is a fearless storyteller, and this book is as luminous as it is thrilling." —Pik-Shuen Fung, author of Ghost Forest

"Ling Ling Huang amplifies and expands the future of horror fiction with a book so riveting it is impossible to put down." —Rikki Ducornet, author of Phosphor in Dreamland

"Natural Beauty uses elements of sci-fi, fantasy, and body horror to cut to bone-deep truths about consumerism, race, identity, appearance, and the exhausting pursuit of perfection." —Jessica DeFino, The Unpublishable