Signal Fires: A novel (Hardcover)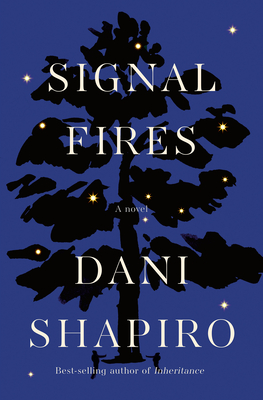 $28.00

Usually Ships in 1-5 Days
Staff Reviews
---
My first Dani Shapiro book and she's now one of my favorite authors! Signal Fires delves into family bonds, family secrets, and relationships across generations. It opens with a flashback of a fatal car crash that shatters and then haunts the life of the Wilf family, whose teens survived the crash and their physician father, Ben, who is first at the scene. The story then switches to the present-when the teens are adults, their mother has dementia, and Ben is an old man who strikes up an unexpected friendship with the genius, misfit boy living across the street. Stretching from the 80's to the beginning of the pandemic, the story of the Wilf family story hits on universal truths about family relationships, aging, individuality, and acceptance.
— Beth
November 2022 Indie Next List
---
"This book will most likely be my favorite of the year! Dani Shapiro weaves together two families' lives, telling their stories and secrets in nonlinear time. Between the gorgeous writing and perfect plotting, I didn't want this to end."
— Sue Kowalski, The Bookstore of Glen Ellyn, Glen Ellyn, IL
Description
---
NATIONAL BEST SELLER • A "gripping" new novel (People) from the best-selling author of Inheritance • "A haunting, moving, and propulsive exploration of family secrets." —Meg Wolitzer, best-selling author of The Interestings • On a summer night in 1985, three teenagers have been drinking. One of them gets behind the wheel of a car, and, in an instant, everything changes.

A TIME Best Fiction Book of the Year • A Washington Post Notable Work of Fiction • A Real Simple Best Book of the Year

Signal Fires opens on a summer night in 1985. Three teenagers have been drinking. One of them gets behind the wheel of a car, and, in an instant, everything on Division Street changes. Each of their lives, and that of Ben Wilf, a young doctor who arrives on the scene, is shattered. For the Wilf family, the circumstances of that fatal accident will become the deepest kind of secret, one so dangerous it can never be spoken.

On Division Street, time has moved on. When the Shenkmans arrive—a young couple expecting a baby boy—it is as if the accident never happened. But when Waldo, the Shenkmans' brilliant, lonely son who marvels at the beauty of the world and has a native ability to find connections in everything, befriends Dr. Wilf, now retired and struggling with his wife's decline, past events come hurtling back in ways no one could ever have foreseen.

In Dani Shapiro's first work of fiction in fifteen years, she returns to the form that launched her career, with a riveting, deeply felt novel that examines the ties that bind families together—and the secrets that can break them apart. Signal Fires is a work of haunting beauty by a masterly storyteller.
About the Author
---
DANI SHAPIRO is the author of eleven books, and the host and creator of the hit podcast Family Secrets. Her most recent novel, Signal Fires, was named a best book of 2022 by Time Magazine, Washington Post, Amazon, and others, and is a national bestseller. Her most recent memoir, Inheritance, was an instant New York Times Bestseller, and named a best book of 2019 by Elle, Vanity Fair, Wired, and Real Simple. Dani's work has been published in fourteen languages and she's currently developing Signal Fires for its television adaptation. Dani's book on the process and craft of writing, Still Writing, is being reissued on the occasion of its tenth anniversary in 2023. She occasionally teaches workshops and retreats, and is the co-founder of the Sirenland Writers Conference in Positano, Italy.
Praise For…
---
A TIME Best Book of the Year • A Washington Post Notable Work of Fiction • A Real Simple Best Book of the Year • An NPR Favorite Book of the Year by Maureen Corrigan

ONE OF MOST EAGERLY ANTICIPATED BOOKS OF THE YEAR: L.A. Times, TIME, Vanity Fair, LitHub, The Millions

"Powerful work that delves into the consequences of a long-hidden lie . . . Signal Fires doesn't shy away from loss but seeks to balance grief with grace. Shapiro's novel offers the comfort of a view from the stars." —The Washington Post

"[Shapiro] is adept at juxtaposing the magical (not magical realism) and the modern, showing how locations can be the same and not the same, and that a place can be right for some and not for others but that life can still turn out all right . . . Yes, Shapiro goes deep in Signal Fires, but it pays off. Her crisp prose propels the reader onward: I wanted to know what was going to happen to the characters and I was simultaneously fascinated by the metaphysics. It's definitely a novel worth your time —whatever your sense of that is." —Minneapolis Star Tribune

"In this meditative portrait of tragedy's long-lasting effects, Shapiro, also a bestselling memoirist, peers into the decades that follow to find the passages, ideas and unexpected connections that gradually, somehow, heal." —People

"Shapiro is one of the grand masters of family stories, and her first novel in 15 years further cements that status." —Good Housekeeping

"Signal Fires is at its heart a family story, told in the gorgeous, evocative language [Shapiro] is known for." —BookPage

"Lay­ered and fine­spun . . . It's a testament to Shapiro's abilities as a writer that we never feel whiplashed when being conveyed from one time period to another. Instead, the non­linear narrative immerses us in the five main characters' most transformative moments . . . Ele­gant writ­ing, sup­port­ed by a clever plot, relat­able char­ac­ters, and brisk pac­ing." —Jewish Book Council

"[A] gorgeous new novel . . . The families' lives intertwine in poignant ways, showing how relationships—between siblings, parents and children, spouses, even neighbors—change over time. Have your tissues ready." —Real Simple

"Signal Fires is an exquisitely-written, propulsive drama . . . Shapiro instills all of her characters with a generous humanity . . . one of my top reads of the year." —Elin Hilderbrand, author of 28 Summers

"Signal Fires is an urgent and compassionate meditation on memory, time, and space. Shapiro has created a world that's as wrenching as it is wondrous." —Ruth Ozeki, author of A Tale for the Time Being

"Signal Fires cuts a gleaming window into our alternate lives so meticulously and gloriously that it is quite nearly a primer on how to live not only in the present, but in the past and future as well. Shapiro has crafted a stunning future classic." —Lisa Taddeo, author of Three Women

"Signal Fires is a haunting, moving, and propulsive exploration of family secrets." —Meg Wolitzer, author of The Female Persuasion

"I don't know of anyone who writes about family with the same generous understanding and gem-cut sentences as Dani Shapiro. Signal Fires confirms her as an artist of the highest order." —Gary Shteyngart, author of Super Sad True Love Story

"Wise, deeply perceptive, suffused with light in spite of life's darkness, Dani Shapiro's Signal Fires is an amazing novel. Shapiro inhabits her characters with lucidity and compassion, and renders their ordinary lives transcendent." —Claire Messud, author of The Woman Upstairs

"Signal Fires could only be written by Dani Shapiro—and only now, when she's undoubtedly at the height of her powers. One gets the sense this is the story she has been building toward all these years: a parabolic family drama about the way certain moments echo through time. I'll never stop thinking about it." —Mary Laura Philpott, author of I Miss You When I Blink

 "Gripping, unexpected, heartbreaking, and beautiful . . . Shapiro explores life's terms in a profound way." —Jamie Lee Curtis

"The celebrated memoirist returns to fiction with a lyrical and propulsive novel in which a horrific crash leaves a young woman dead and the driver's family closing ranks around him. The secrets and cover-ups that result will haunt the family for generations to come, but it's the richly drawn characters and moody atmospheric that make the book hard to put down." —Oprah Daily

"Stunning in depth and breadth, this luminous examination of loss and acceptance, furtiveness and reliability, abandonment and friendship ultimately blazes with profound revelations . . . Like creating an intricate origami puzzle, Shapiro folds together the events that define these lives over decades, focusing on specific interludes to divulge old secrets or bury new ones. Returning to fiction after touching readers with her courageous and probing memoirs, including Inheritance, Shapiro delivers keen perceptions about family dynamics via fictional characters that exude a rare combination of substance and delicacy." —Booklist [starred review]

"A beautiful exploration of the connections between two families and the reverberations from a teenager's lie . . . Shapiro imagines in luminous prose how each of the characters' lives might have gone if things had turned out differently." —Publishers Weekly

"[Shapiro's] well-developed characters and their interesting careers seal the deal." —Kirkus Reviews

"Acclaimed novelist/memoirist Shapiro (Inheritance) writes with compassion and a deep understanding of the damage that secrets wreak. Shapiro's first novel in 15 years was well worth the wait." —Library Journal

"A beautiful exploration of the connections between two families and the reverberations from a teenager's lie . . . Shapiro imagines in luminous prose how each of the characters' lives might have gone if things had turned out differently . . . an intriguing meditation." —Publishers Weekly