Nightcrawling: A novel (Large Print / Paperback)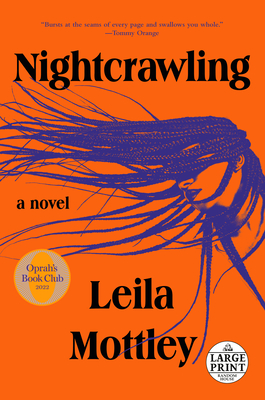 $30.00

Usually Ships in 1-5 Days
Staff Reviews
---
At 17, Kiara has had more difficulties than most. Forced to drop out of high school to find work to avoid eviction, she finds getting a job next to impossible.  She falls into sex work, which leads her to a sex trafficking ring run by the Oakland police. Mottley presents these circumstances without flinching or hand wringing.  Her astute observations of Oakland and the people Kiara encounters reveal a deep understanding of human nature. There are no heroes in this story, Kiara survives by focusing on her chosen family and learning to disregard those who don't reciprocate her love. 
— Amy
Oakland's own Leila Motley is the youngest person to be nominated for a Booker Prize. She began writing the Nightcrawling, a novel loosely based on the OPD trafficking scandal, when she was attending Oakland School for the Arts, and it was published before she turned 20. The triumph of this story is the way that Mottley manages to present the brutal realities facing Kiara, a young girl who turns to sex work to try hold her family together, without getting caught up in morality, pity, or sentimentality. This is a clear-eyed debut from a promising talent.
— Sarah
June 2022 Indie Next List
---
"Leila Mottley's brilliant debut blazes a path through a dark world, illuminating the dangers that young women of color experience daily and just how close to the precipice many find themselves — even in the daylight. Unforgettable!"
— Aaron Cance, The Printed Garden, Sandy, UT
Description
---
NEW YORK TIMES BEST SELLER • AN OPRAH BOOK CLUB PICK • A dazzling novel about a young Black woman who walks the streets of Oakland and stumbles headlong into the failure of its justice system. This debut of a blazingly original voice "bursts at the seams of every page and swallows you whole" (Tommy Orange, author of There There).

A BEST BOOK OF THE YEAR: The New Yorker, The Washington Post, Los Angeles Times, San Francisco Chronicle, TIME, GOODREADS

Kiara and her brother, Marcus, are scraping by in an East Oakland apartment complex optimistically called the Regal-Hi. Both have dropped out of high school, their family fractured by death and prison

But while Marcus clings to his dream of rap stardom, Kiara hunts for work to pay their rent—which has more than doubled—and to keep the nine-year-old boy next door, abandoned by his mother, safe and fed. One night, what begins as a drunken misunderstanding with a stranger turns into the job Kiara never imagined wanting but now desperately needs: nightcrawling. Her world breaks open even further when her name surfaces in an investigation that exposes her as a key witness in a massive scandal within the Oakland Police Department.

Rich with raw beauty, electrifying intensity, and piercing vulnerability, Nightcrawling marks the stunning arrival of a voice unlike any we have heard before.
About the Author
---
LEILA MOTTLEY is the author of the novel Nightcrawling, an Oprah's Book Club Pick and New York Times best seller. She is also the 2018 Oakland Youth Poet Laureate. She was born and raised in Oakland, where she continues to live.
Praise For…
---
A Best Book of the Year: The New Yorker, The Washington Post, Los Angeles Times, San Francisco Chronicle, TIME, GOODREADS

BOOKER PRIZE NOMINEE • A New York Times Writer to Watch • THE CENTER FOR FICTION'S FIRST NOVEL PRIZE NOMINEE • Lambda Literary Award Finalist
 
"Astonishing . . . Nightcrawling heralds a bold new voice in fiction." —Associated Press
 
"Mottley writes with a lyrical abandon." —New York Times Book Review

"Nightcrawling really is a powerful, poignant story worth your attention . . . Revelatory . . . My god—that voice. It's sometimes too painful to keep reading, but always too urgent to stop." —Ron Charles, Washington Post
 
"Dazzling and electrifying . . . A spellbinding story and a Catcher in the Rye for a new generation."
—Booker Prize Judges 2022

"I would sell my soul to read this book again for the first time."
—Jack Edwards, Booktok Influencer via TikTok @jackbenedwards

"A lyrical page-turner [by] that rare young phenom who isn't a product of privilege."
—Los Angeles Times, Gift Guide

 "Nightcrawling bursts at the seams of every page and swallows you whole." —Tommy Orange, author of There There
 
"Unflinching . . . Essential to understanding how maddeningly elusive justice can be." —San Francisco Chronicle
 
"Nightcrawling is a scorching, incredibly readable book . . . Get ready. Or don't. It doesn't matter. Leila Mottley is here." —Kiese Laymon, author of Heavy

"Nightcrawling marks the dazzling arrival of a young writer with a voice and vision you won't easily get out of your head . . . When asked how to write in a world dominated by a white culture, Toni Morrison once responded: 'By trying to alter language, simply to free it up, not to repress or confine it . . . Tease it. Blast its racist straitjacket.' At a time when structural imbalances of capital, heath, gender, and race deepen divides, the young American Leila Mottley's debut novel is a searing testament to the liberated spirit and explosive ingenuity of such storytelling." —The Guardian

"Mottley accesses the feelings one sometimes has while reading Dickens, the breathless sense that some massive unfairness is being inflicted on a good and innocent person . . . Kiara's true outlet for hope is in the makeshift family of friends and relatives she manages to hold together. From such connections Mottley's seemingly fatalistic book finds its buoyant humanity." —Sam Sacks, Wall Street Journal

"Leila Mottley's commanding debut, inspired by the life events of one woman's struggle for body and soul against crushing exploitation, is fierce and devastating, rendered with electrifying urgency by this colossal young talent." —Ayana Mathis, author of The Twelve Tribes of Hattie

"A searing indictment of an unjust system."
—TIME

"Mottley's writing is electric and stylish, which makes her subject matter especially chilling." —Teen Vogue
 
"Kiara's voice—simultaneously childlike, lyrical, and fierce—is the most unforgettable element of Nightcrawling." —Mother Jones

"Fast money, crooked cops, and dire consequences are at the forefront of Mottley's electric debut novel . . . A shocking page-turner." —Elle

"With its powerful poetry and courageous, unsparing vision, Nightcrawling is more than just a magnificent debut novel. It is a bid, by this prodigiously gifted young writer, to heal a broken world." —Ruth Ozeki, author of The Book of Form and Emptiness

"Leila Mottley has an extraordinary gift. She writes with the humility and sparkle of a child, but with the skill and deft touch of a wizened, seasoned storyteller." —James McBride, author of Deacon King Kong
 
"Electric . . . Not to be missed." —Shondaland

"So compelling that one cannot put it down . . . Through Kiara, Mottley gives voice to countless Black women and girls who remain invisible, vulnerable, and dehumanized by a system that deems them disposable . . . We need Kiara's story, but more importantly, we need young writers like Leila Mottley . . . A testimony to hope, resilience, and love." —Liber: A Feminist Review

"Leila Mottley is a name to pay attention to . . . Nightcrawling will make you desperate, it will make you awed, it will make you read anything that Mottley should ever choose to write." —CrimeReads

"Leila Mottley has a poet's delicate touch when she tells us the most brutal, heart-crushing truths. This is an electrifying debut." —Dave Eggers, author of The Every
 
"A remarkable debut novel . . . Incendiary . . . The captivating, distinctively voiced Kiara is a young black American who can shoot hoops and skateboard, but her literary antecedents are Zola's Thérèse Raquin, Victor Hugo's Fantine, and Elizabeth Gaskell's Ruth." —The Sunday Times (U.K.)
 
"This is an accomplished first novel with a remarkable heroine whom the reader wills on every step of the way . . . Both a searing depiction of sexual exploitation and a gripping account of a struggle for survival . . . Hard-hitting but never heavy-handed." —The Economist

"Unflinching, poetic, and deeply resonant, this stunning debut from Oakland teen Leila Mottley marks the arrival of an extraordinary new voice." —Woman's Own (U.K.)

"Feels vital in this cultural moment . . . Fires on all cylinders." —Sydney Morning Herald  

"Stunning . . . Kiara is an unforgettable dynamo, and her story brings critical human depth to conversations about police sexual violence." —Booklist (starred)
 
"A work of devastating social realism . . . executed with relentless momentum . . . A powerful discourse on the dehumanizing effects policing can have on marginalized communities, bodies, and minds (and especially on Black women)." —Library Journal (starred)
 
"Bold and beautiful . . . This heartrending story makes for a powerful testament to a Black woman's resilience." —Publishers Weekly (starred)
 
"Lush, immersive." —Kirkus Reviews (starred)

"Moved me to tears . . . Mottley is a master at describing scenes." —iNews