The Creative Act: A Way of Being (Hardcover)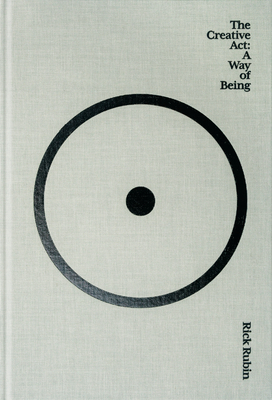 $32.00

Usually Ships in 1-5 Days
Staff Reviews
---
The Creative Act by Rick Rubin is a wise and inspiring discussion of what it means to be an artist, a maker. He emphasizes that creativity is a way of being in the world—open, attentive, accepting of awe. And makes the case that each of us has a unique vantage onto the world and that expressing how life looks and feels to us is worth communicating, and that those exchanges are vital to our human project.
— Carol
Description
---
The #1 New York Times bestseller.

"A gorgeous and inspiring work of art on creation, creativity, the work of the artist. It will gladden the hearts of writers and artists everywhere, and get them working again with a new sense of meaning and direction. A stunning accomplishment." —Anne Lamott

From the legendary music producer, a master at helping people connect with the wellsprings of their creativity, comes a beautifully crafted book many years in the making that offers that same deep wisdom to all of us.

"I set out to write a book about what to do to make a great work of art. Instead, it revealed itself to be a book on how to be." —Rick Rubin

Many famed music producers are known for a particular sound that has its day. Rick Rubin is known for something else: creating a space where artists of all different genres and traditions can home in on who they really are and what they really offer. He has made a practice of helping people transcend their self-imposed expectations in order to reconnect with a state of innocence from which the surprising becomes inevitable. Over the years, as he has thought deeply about where creativity comes from and where it doesn't, he has learned that being an artist isn't about your specific output, it's about your relationship to the world. Creativity has a place in everyone's life, and everyone can make that place larger. In fact, there are few more important responsibilities.

The Creative Act is a beautiful and generous course of study that illuminates the path of the artist as a road we all can follow. It distills the wisdom gleaned from a lifetime's work into a luminous reading experience that puts the power to create moments—and lifetimes—of exhilaration and transcendence within closer reach for all of us.
About the Author
---
Rick Rubin is a nine-time GRAMMY-winning producer, named one of the 100 most influential people in the world by Time and the most successful producer in any genre by Rolling Stone. He has collaborated with artists from Tom Petty to Adele, Johnny Cash to the Red Hot Chili Peppers, Beastie Boys to Slayer, Kanye West to the Strokes, and System of a Down to Jay-Z.
Praise For…
---
"A work of transcendent literature, one that suggests the universe still smiles upon us despite all indications to the contrary." —The Wall Street Journal

"It really feels to me like the rare book that's evergreen...It's a book I wish I would have had on my shelf when I was 25. It's a book I would give to people who are 25. Maybe it will be the ultimate graduation gift." — Steve Levitt, People I (Mostly) Admire

"To Rubin, art is the ultimate form of self-actualization, a noble calling that enriches the soul . . . So, how does an artist move from conception to creation? Rubin methodically lays out the process, offering a mixture of encouragement, inspiration and tips . . . Rubin has written a fascinating book infused with deep thoughts, insight and, yes, lots and lots of creativity." —Los Angeles Times

"A beautiful rumination on the creative process. Guiding readers through '78 areas of thought,' Rubin shares his outlook on creativity, which in turn reflects the way in which he views the world . . . The book does a remarkable job of explaining these deep, philosophical ideas in a way that's easy to understand." —Complex

"The legendary producer of artists from Adele to Black Sabbath, Johnny Cash to Jay-Z, distills the insights of a glittering career to reveal how to get the best out of musicians—and offers useful lessons for the rest of us in the process." —Financial Times

"A distillation of the wisdom Rubin has accrued over decades of bringing records to fruition...[To] creatives in need of a spur – or anyone in proximity to a client, or loved one, approaching a deadline – The Creative Act has just the right level of confident loftiness to provide succour and useful ways of recontextualising problems." —The Guardian

"An existential enquiry into the nature of creativity, art and being part of the human race . . . a deep look at the most fundamental of human impulses." —Big Issue

"This is a gorgeous and inspiring work of art on creation, creativity, the work of the artist. It will gladden the hearts of writers and artists everywhere, and get them working again with a new sense of meaning and direction. A stunning accomplishment." —Anne Lamott

"In this extraordinary book, Rick beautifully captures the sacred but commonplace practice of creating.  I find it so powerful when someone gives voice or form to what we know but perhaps don't understand.  Designers from any discipline will find Rick's words profoundly encouraging and inspiring." —Jony Ive

"Rick Rubin is the definition of a creative genius and he has put his wisdom in one place and it is possibly the most inspiring book on creativity I have ever read. The Creative Act is up there with Anne Lamott's Bird by Bird and Stephen King's On Writing . . . The advice in here is brilliant . . . For those wanting to feel some new life and confidence in their creative bones, this book is a godsend." —Matt Haig

"A gorgeous, delicious and wildly practical interrogation of the creative process. A master of his craft, Rubin supplies rich insights, sound advice, helpful suggestions and supreme comfort to anyone living to create, or endeavoring to live creatively." —JJ Abrams

"I am reading Rick's book and truly loving it. I want my kids to read it, want everyone to read it. It is a manual for creativity and creative thinking. A reference book for now and will continue to be of service in the future." —Mike D

"Rick Rubin created genres. He is like Oppenheimer; a destroyer and creator of worlds, a true genius. Read this fantastic book The Creative Act: A Way of Being." —Russell Brand
 
"You'll probably read this extraordinary book four times. The first time, you'll gobble it up. The second time, you'll savour it. The third time, you'll take notes in the margins. But the fourth time, the fourth time it will be part of you as you create the work you were ready to ship." —Seth Godin

"This book is a companion to anyone on the creative path; for me, Rick Rubin's attention, consideration, ideas have dug themselves down deep into my consciousness and grown with my work, so that over time, I have found myself in the shelter of a huge resplendent tree, and remembered that it all started with a word or two from a person who really, really listened. May it start something similar in you." —Kae Tempest

"What makes Rick Rubin's The Creative Act: A Way of Being great (and it IS great) is not so much the content (though that is extraordinary for sure) as Rick's own personality and his essence as a man and an artist. What I would call the Muse, Rick calls Source. Source in Rick's view is infinite and constant, a nonstop, 24/7/365 trade wind of ideas and inspiration that flow through all of us—not just artists, not just 'creative' types. Rick's whole life and philosophy are about opening himself and others (from the Beastie Boys to Run-D.M.C. to LL Cool J to Metallica and a thousand more) to that cosmic radio station. The Creative Act comes from the pure dojo of Rick Rubin's heart. A lot of the book is technical, there's tons of practical wisdom and nuts-and-bolts throughout, but the essence of the work is love—a belief in Source, of that which cannot be known or defined but that we live our lives by, and most importantly, a tremendous respect and honor toward all artists and toward the process and the mystery itself." —Steven Pressfield, author of The War of Art

"Enlightening . . . You can imagine Rubin in the studio gently reassuring an artist of all the insight he shares here." —Pigeons & Planes