Speech Team: A Novel (Hardcover)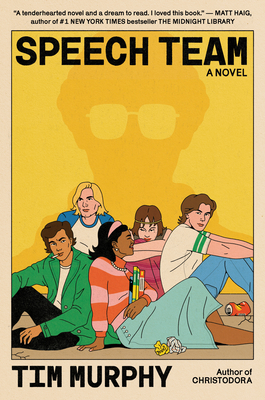 Staff Reviews
---
An entertaining story of four GenX friends, who met in high school while members of the speech team.  Another former teammate's recent suicide leads the four to reconnect and they recognize quickly their coach had made inappropriate remarks to each of them so they set out to confront him. Along the way they resolve conflicts among themselves and make peace with their own successes and failures.  Four small town outsiders becoming friends through the high school speech team resonated, as did the casual cruelty of the coach.
— Amy
Description
---
"A tender-hearted novel and a dream to read. I loved this book." -- Matt Haig #1 New York Times bestselling author of The Midnight Library

"so so so so good…[Speech Team] is a MUST…It has all the feels and brilliant writing to boot."  -- Elin Hilderband (on Instagram) #1 New York Times bestselling author of The Five Star Weekend

A funny, gossipy and ultimately poignant novel about four Gen X teen friends turned 21st-century adults who awkwardly come back together to confront an influential teacher whose brutal remarks have haunted them all for years.

In his early forties, nonprofit writer Tip Murray is just getting past the wreckage of his youth and settling into semi-humdrum married New England domesticity. Things take an unusual turn when he receives shocking news from his high school best friend, hippie farmer Natalie, that one of their former teammates from speech team, Pete, has committed suicide. Surprisingly mentioned in Pete's final Facebook post?  A devastating comment made to him by their speech team coach, Gary Gold.

Feeling nostalgic for their 80s adolescence, Tip and Nat decide to reconnect with two long lost friends from the team, haughty menswear designer Anthony and tightly wound college professor Jennifer. The reunited quartet quickly discover an unsettling thread: all were quietly wounded by Mr. Gold's deeply cutting remarks. The silver lining? Gold is still alive, and a quick Google search shows that he has retired to Florida. There's only one thing left to do: fly down to a posh resort to confront him. What happens next is far from what any of them could have imagined.

Fueled by cringe-y confrontations and 80s nostalgia, a literary mashup of The Breakfast Club and The Big Chill, Speech Team explores what it means to take account of the pain that can suffuse a life and what it means, years on, to move forward.

"Tim Murphy is a genius at sweeping, character-driven stories that suck you in until the very last page, and Speach Team is no exception." —Andy Cohen
About the Author
---
Tim Murphy is the author of Correspondents and Christodora, which was long-listed for the 2017 Andrew Carnegie Medal for Excellence in Fiction and named a Best Book of the Year by The Guardian. He has also been a journalist for the past twenty-five years.
Praise For…
---
"A hugely absorbing and deeply heartfelt tale about friendship, unhealed scars and second chances." —Star Tribune

"Touching"—The Washington Post

"Tim Murphy is a genius at sweeping, character-driven stories that suck you in until the very last page, and Speech Team is no exception." —Andy Cohen

"It is a dream to read and Tim Murphy cares so much for his characters that you absolutely believe they live. Which, thanks to snappy dialogue and emotional characterization, they do. Ultimately, it is a book about growing up and how we do it. I am a total newbie to the world of Speech Teams but I loved this book." —Matt Haig author of the #1 New York Times bestseller, The Midnight Library

"Murphy, a longtime journalist and author of the novels Christodora (2016) and Correspondents (2019), again brings his finely tuned ability to portray subtle group dynamics to bear in this semiautobiographical update of the Big Chill trope...Misfit kids of the 1970s and '80s—here's the class reunion you were waiting for." —Kirkus

"Bittersweet, witty, and rife with '80s nostalgia, Speech Team tells the story of old friends on a mission for accountability and closure." —Bustle

"Hopeful, darkly comic, and brimming with nostalgia, Speech Team follows a plucky cast of misfits as they reckon with how the past haunts their present. Twenty-five years after graduating high school and growing apart, a shocking event reunites four friends to confront the teacher who both saved and tormented them as teenagers. Their quest is compelling on its own, but it's Tim Murphy's tender, compassionate prose that hooked me—that, and all the delicious messiness. Like the juiciest gossip, you'll laugh, you'll cry, you'll want to call a friend and scream. This book gives new meaning to what it means to forgive and forget." —Edgar Gomez, author of High Risk Homosexual

"Very few novelists can write with such daring, hilarity, and heartbreak as Tim Murphy. Speech Team is so wildly entertaining you don't realize its punch until it knocks you flat. The novel is an ode to growing up in the '80s and reliving those messy, uncouth years in relatively wiser adulthood. But its real subject is the wounds inflicted in our youth that become both our making and unmaking. Murphy creates characters so vivid we don't want to let them go." —Christopher Bollen, author of The Lost Americans and A Beautiful Crime

"Speech Team is irresistible: a poignant, funny, achingly relatable tale of youth, aging, and friendship—and the universal process of untangling the past to stitch together the present and future. This is one of those rare novels that's both illuminating and delightful; I swallowed it whole."—Lauren Acampora, author of The Hundred Waters and The Paper Wasp

"Speech Team is a page-turning pleasure, with a clear-eyed exploration of rediscovered friendships, the unruly passage of time and the extreme unlikeliness of ever truly growing up. Tim Murphy's writing is joyously specific and acerbically moving, with a deep affection for every sort of character. Readers will cherish this book." —Paul Rudnick, author of Farrell Covington and the Limits of Style

"How Tip, Anthony, Nat and Jenn confront their tormentor, and what happens, is unexpected and surprising. A page turning, often funny caper that is also a smart exploration of Gen X characters caught between Old Guard Baby Boomer power and today's hyper-awareness of trauma and identity. Speech Team asks: Can we ever liberate ourselves from the past?" —Mike Albo, author of Another Dimension of Us

"Like the oratory of its misfit gang of multi-culti characters, Speech Team grabs your attention, holds on tight, makes you laugh, makes you think, and might change your mind about a thing or two along the way. First place!" —James Hannaham, author of Delicious Foods and Didn't Nobody Give a Shit What Happened to Carlotta

"A high school revenge fantasy disguised as a romp, shot through with longing and loss, narrated by a gimlet-eyed gay ringleader? Please and thank you, Tim Murphy." —Christopher Castellani, author of Leading Men

"Tim Murphy's riveting Speech Team bravely and beautifully wrestles with two of the fiercest taboos in today's contentious zeitgeist — nuance and forgiveness." —Blair Fell, author of The Sign For Home

"Speech Team is a provocative look at how words matter, how they can shape our whole lives. This book left me contemplating the hope we seek in relationships, the courage it takes to face the past, and the power of simply being loved. Told with sharp humor and deep insight, this is an important story for where we are today." —Maulik Pancholy, award winning author and actor