The Guest: A Novel (Large Print / Paperback)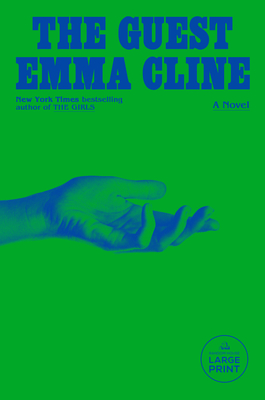 $30.00

Usually Ships in 1-5 Days
Staff Reviews
---
Alex, a young grifter, runs from some of her troubles only to create more, bouncing from one situation to the next in the late summer Hamptons. An unreliable narrator, it's never clear why Alex has chosen her path, but Cline allows glimmers of a deeper struggle within her.  It's unsettling to be in the mind of a person so self-destructive and who cares little for anyone else.  Yet, I enjoyed it because Cline draws a vivid portrait of the Hamptoms, makes keen class observations, and even her minor characters are fully drawn and absolutely believable. 
— Amy
June 2023 Indie Next List
---
"I love everything from Emma Cline! Delightfully uncomfortable, her writing perfectly balances lethargy and desperation. You're pushed to the edge of your seat with one hand, while gently pushed back and given a drink with the other."
— Nikki Siclare, Newtonville Books, Newton Centre, MA
Description
---
NATIONAL BESTSELLER • A young woman pretends to be someone she isn't in this "spellbinding" (Vogue), "smoldering" (The Washington Post) novel by the New York Times bestselling author of The Girls.
 
"Under Cline's command, every sentence as sharp as a scalpel, a woman toeing the line between welcome and unwelcome guest becomes a fully destabilizing force."—The New York Times

A BEST BOOK OF THE YEAR: The New Yorker, Time, NPR, The Washington Post, Financial Times, Harper's Bazaar, Elle, Vogue, Newsweek, Good Housekeeping, Slate, Chicago Public Library

"Alex drained her wineglass, then her water glass. The ocean looked calm, a black darker than the sky. A ripple of anxiety made her palms go damp. It seemed suddenly very tenuous to believe that anything would stay hidden, that she could successfully pass from one world to another."

Summer is coming to a close on the East End of Long Island, and Alex is no longer welcome.

A misstep at a dinner party, and the older man she's been staying with dismisses her with a ride to the train station and a ticket back to the city.

With few resources and a waterlogged phone, but gifted with an ability to navigate the desires of others, Alex stays on Long Island and drifts like a ghost through the hedged lanes, gated driveways, and sun-blasted dunes of a rarefied world that is, at first, closed to her. Propelled by desperation and a mutable sense of morality, she spends the week leading up to Labor Day moving from one place to the next, a cipher leaving destruction in her wake.

Taut, propulsive, and impossible to look away from, Emma Cline's The Guest is a spellbinding literary achievement.
About the Author
---
Emma Cline is the New York Times bestselling author of The Girls and the story collection Daddy. The Girls was a finalist for the Center for Fiction's First Novel Prize, the National Book Critics Circle's John Leonard Prize, and the Los Angeles Times Book Prize. It was a New York Times Editors' Choice and the winner of the Shirley Jackson Award. Cline's stories have been published in The New Yorker, Granta, The Paris Review, and The Best American Short Stories. She received the Plimpton Prize from The Paris Review and an O. Henry Award, and was chosen as one of Granta's Best Young American Novelists.
Praise For…
---
"Cline's writing at its very best—hypnotically propulsive, viscerally disquieting, and moving in the most unpredictable ways."—Financial Times

"Sultry and engrossing, with a note of menace, [The Guest] [is a] gorgeously smart affair whose deceptive lightness conceals strange depths and an arresting originality."—The Guardian

"Cline confirms her reputation as the literary prophet of women on the brink."—Esquire

"Pitch-perfect . . . Full of suspense and subterfuge . . . Cline has written a thriller about trying to
get by, a summer read for the precariat."—The Nation

"Cline quietly continues to be one of the best and most discomfiting young writers working today."—Entertainment Weekly

"Cline generates an impressive amount of intrigue . . . The descriptions are frequently bracing and acute, sharpened to icepicks by a stance of amoral neutrality."—The Wall Street Journal

"A wonderfully suspenseful examination of luxury, delusion, class and fear."—Minneapolis Star-Tribune

"Young, beautiful Alex is . . . a grifter wandering through a pricey, dreamlike summer playground looking for her next mark. Cline's exquisite writing makes us care in spite of ourselves."—People

"Enthralling . . . Who needs living when you've got The Guest in your bag?"—Jezebel

"Emma Cline serves glitz and unease."—Vanity Fair

"In her first novel since 2016's runaway hit The Girls Emma Cline returns with another story of sex and manipulation . . ."—Philadelphia Inquirer

"A smoldering thriller that explores desire and deception.'"—The Washington Post

"[Cline has] skill with language . . . [and] shimmering insights into complexities of womanhood and desire."—Los Angeles Review of Books

"Cline is a master of depicting the nefarious and atmospheric menace that often lurks adjacent to our most glittery environments, and she does so here with subdued but no less cutting aplomb."—Vogue

"Eerily captivating."—Elle

"Cline weaves through settings and characters with intentional disorientation, shifting ever darker, ever more suspenseful . . . Cline proves herself to be one of the boldest, most complicated writers working today."—San Francisco Chronicle

"Emma Cline's The Guest . . . offers a sharp, nuanced approach to an outwardly frothy premise, submerging her readers in an anxiety-ridden world where class struggle seethes under the surface. . ." —TIME

"An intoxicating, sun-drunk work that tells the story of a hand-to-God grifter, one whose head you're both terrified of and want to bask in forever, until you wake up sunburnt to a crisp."—Nylon

"Galvanizing and so utterly readable. The reader, who ingests the novel's sumptuous atmosphere and the thrill of trespass captured in Cline's sharp, tense prose, is implicated alongside the protagonist."—The Millions

"Her odyssey of desperation and misadventures feels like Barry Lyndon for Gen Z."—BuzzFeed

"Will keep your blood pressure as high as if you were following a serial killer stalking their next victim."—Paste

"I loved every moment of The Guest: the intensity, the control, the atmosphere, the psychological escalation . . . the way it lets nobody off the hook and yet is not without deep humanity."—Sam Lipsyte

"The pathology brilliantly observed by The Guest would not feel so edgy if it were not perilously close to an aspirational ideal."—Geoff Dyer