Blood Meridian: Or the Evening Redness in the West (Vintage International) (Paperback)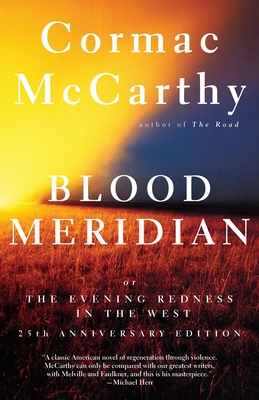 $18.00

Usually Ships in 1-5 Days
Description
---
25th ANNIVERSARY EDITION • From the bestselling author of The Passenger and the Pulitzer Prize–winning novel The Road: an epic novel of the violence and depravity that attended America's westward expansion, brilliantly subverting the conventions of the Western novel and the mythology of the Wild West.

Based on historical events that took place on the Texas-Mexico border in the 1850s, Blood Meridian traces the fortunes of the Kid, a fourteen-year-old Tennesseean who stumbles into the nightmarish world where Indians are being murdered and the market for their scalps is thriving.

Look for Cormac McCarthy's latest bestselling novels, The Passenger and Stella Maris.
About the Author
---
The novels of the American writer, CORMAC McCARTHY, have received a number of literary awards, including the Pulitzer Prize, the National Book Award, and the National Book Critics Circle Award. His works adapted to film include All the Pretty Horses, The Road, and No Country for Old Men—the latter film receiving four Academy Awards, including the award for Best Picture. He died in 2023.
Praise For…
---
"A classic American novel of regeneration through violence. McCarthy can only be compared to our greatest writers, with Melville and Faulkner, and this is his masterpiece."
—Michael Herr

"McCarthy is a writer to be read, to be admired, and quite honestly—envied."
—Ralph Ellison

"McCarthy is a born narrator, and his writing has, line by line, the stab of actuality. He is here to stay."
—Robert Penn Warren