A Proud Taste for Scarlet and Miniver (Hardcover)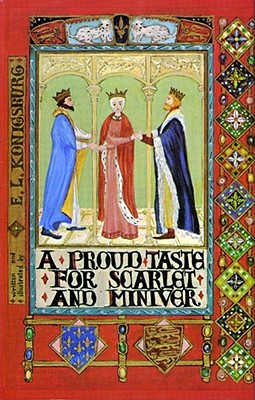 $19.99
Email or call for price.
Description
---
Eleanor of Aquitaine is in Heaven, waiting to learn whether or not her second husband, King Henry II of England, will be able to join her. Henry had died even before Eleanor, but he still had not won admission into Heaven. Waiting with Eleanor are Henry's mother, Matilda-Empress, and William the Marshal. A chance encounter with Abbot Suger, an old friend of Eleanor's from the time of her first marriage, starts the four of them remembering times past. Each person in turn tells a part of Eleanor's life, vividly illustrating the excitement of living in twelfth-century England and France, and especially the excitement of being Eleanor. Wife of two kings, mother of two others, Richard the Lion Heart and John, she set the tone of court life for her times, sponsored poets and musicians, established the legend of King Arthur as a romantic feature of English literature, set the Rules of Courtly Love, and helped rule a kingdom that spanned from Scotland to the Pyrenees. And she did all this in a time when a king could keep his queen a prisoner -- and did!
This book is a novel, fiction, fantasy even. But everything in it about Eleanor and her family and her times is true.
About the Author
---
E.L. Konigsburg is the only author to have won the Newbery Medal and a Newbery Honor in the same year. In 1968, From the Mixed-Up Files of Mrs. Basil E. Frankweiler won the Newbery Medal and Jennifer, Hecate, Macbeth, William McKinley, and Me, Elizabeth was named a Newbery Honor Book. Almost thirty years later she won the Newbery Medal once again for The View from Saturday. Among her other acclaimed books are Silent to the Bone, The Outcasts of 19 Schuyler Place, and The Mysterious Edge of the Heroic World.