Harry Potter and the Deathly Hallows (CD-Audio)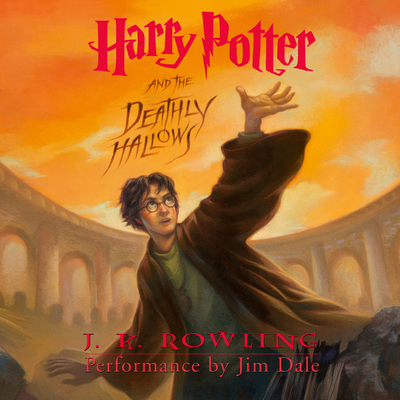 $80.00
Email or call for price.
Other Books in Series
This is book number 7 in the Harry Potter series.
Description
---

It all comes down to this - a final faceoff between good and evil. You plan to pull out all the stops, but every time you solve one mystery, three more evolve. Do you stay the course you started, despite your lack of progress? Do you detour and follow a new lead that may not help? Do you listen to your instincts, or your friends?

Lord Voldemort is preparing for battle and so must Harry. With Ron and Hermione at his side, he's trying to hunt down Voldemort's Horcruxes, escape danger at every turn, and find a way to defeat evil once and for all. How does it all end? Find out in Harry Potter and the Deathly Hallows.
About the Author
---
J. K. Rowling
was born in the summer of 1965 at Yate General Hospital in England and grew up in Chepstow, Gwent. She left Chepstow for Exeter University, where she earned a French and Classics degree. As a postgraduate she moved to London to work at Amnesty International, doing research into human rights abuses in Francophone Africa. She started writing the Harry Potter series during a Manchester to London King's Cross train journey, and during the next five years, outlined the plots for each book and began writing the first novel. She then moved to northern Portugal, where she taught English as a foreign language. She married in October 1992 and gave birth to her daughter Jessica in 1993. When her marriage ended, she returned to the UK to live in Edinburgh, where 
Harry
Potter & the Philosopher's Stone
 was eventually completed and in 1996 she received an offer of publication. The following summer the world was introduced to Harry Potter. The Harry Potter series is distributed in over 200 territories and has been translated into 65 languages.
Jim Dale
 has won a record ten Audie Awards, two Grammy Awards, and seven Grammy nominations
as a narrator. As an actor, he has received a British Academy Award nomination, a Tony Award, five Tony nominations, and four Drama Desk Awards. As a writer, he has received an Academy Award nomination for the song "Georgy Girl."
Dale is perhaps most famous for being the voice of all the Harry Potter audio books, in which he notably performs hundreds of distinct individual character's voices. He also voices the Harry Potter video games, as well as the interactive extra features on the Potter DVD releases.
Awarded an MBE by Queen Elizabeth II in 2003, chiefly for his work promoting the work of chldren's literature, Dale was also inducted into the American Theater Hall of Fame in 2009.