Don't Kiss Them Good-bye (Paperback)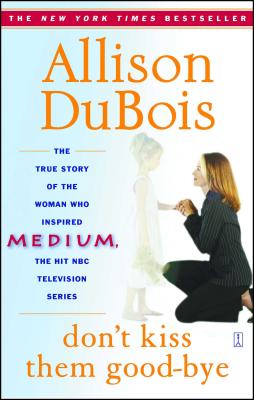 $17.99

Usually Ships in 1-5 Days
Description
---
Allison DuBois, inspiration for the hit TV show Medium, shares fascinating stories of encounters with the dead and adventures as a criminal profiler.

Her visions have helped solve crimes; her instincts have helped find missing people.

She can predict future events and read your mind.

When she was six years old, Allison's deceased great-grandfather came to her with a message for her mother: "I am okay, I am still with you. Tell your mom there's no more pain." Allison shared his comforting words with her mother and thus began a lifetime of creating connections between loved ones and those they have lost.

In this stunning book, Allison shares fascinating stories of her encounters with people who have passed and her adventures as a profiler for various law enforcement organizations. With wit and compassion, Allison shows us what it is like to live with these special gifts and talents and also tells about her struggle to live a normal life as a devoted wife and mother. She shows how learning to accept her own gifts has helped her accept the unique gifts of others and how her compelling desire to relieve the pain of others has helped to define her own life, a life committed to the search for ultimate truth.
About the Author
---
Allison Dubois's unique story, the inspiration for the hit NBC TV series Medium, started during her senior year at Arizona State University while she was interning at the D.A.'s office. Soon after, researchers at the University of Arizona validated her ability through a series of tests. Allison continues to support research as a medium, as a member of the Veritas Research Program Mediums Committee, and as a member of the Forever Family Foundation's Medium Advisory Board. In her short career, Allison has conducted over 1,200 personal readings. Allison donates her time to missing-persons and criminal cases for agencies across the country.
Praise For…
---
"Allison is an engaging and inspirational young woman -- her gifts are exceptional and I count myself privileged both to work with her and to call her friend."
-- Kelsey Grammer, star of the hit TV series Frasier, executive producer of the NBC television series Medium