Driving the Deep (The Finder Chronicles #2) (Hardcover)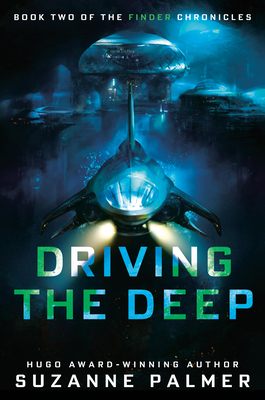 $27.00

Usually Ships in 1-5 Days
Other Books in Series
This is book number 2 in the The Finder Chronicles series.
Description
---
From a Hugo Award-winning author comes the second book in this action-packed sci-fi caper, starring Fergus Ferguson, interstellar repo man and professional finder.

As a professional finder, Fergus Ferguson is hired to locate missing objects and steal them back. But it is rarely so simple, especially after his latest job in Cernee. He's been recovering from that experience in the company of friends, the Shipmakers of Pluto, experts at crafting top-of-the-line AI spaceships.
 
The Shipmakers have convinced Fergus to finally deal with unfinished business he's been avoiding for half his life: Earth. Fergus hasn't been back to his homeworld since he was fifteen, when he stole his cousin's motorcycle and ran away. It was his first theft, and nothing he's stolen since has been anywhere near so easy, or weighed so heavily on his conscience. Many years and many jobs later, Fergus reluctantly agrees that now is the time to return the motorcycle and face his family.
 
Unfortunately, someone has gotten to the motorcycle before him. And before he can figure out where it went and why the storage unit that held it is now filled with priceless, stolen art, the Shipyard is attacked. His friends are missing, presumably kidnapped.
 
Accompanied by an untrustworthy detective who suspects Fergus is the art thief and the sole friend who escaped the attack, Fergus must follow the tenuous clues to locate and save his friends. The trail leads them to Enceladus, where Fergus plans to go undercover to the research stations that lie beneath the moon's thick ice sheet deep in a dark, oppressive ocean.
 
But all movement and personnel are watched, and the limited ways through the thick ice of the moon's surface are dangerous and highly monitored. Even if Fergus can manage to find proof that his friends are there and alive, getting out again is going to be a lot more complicated than he bargained for.
About the Author
---
Suzanne Palmer is an award-winning and acclaimed writer of science fiction. In 2018, she won a Hugo Award for Best Novelette for "The Secret Life of Bots". Her short fiction has won readers' awards for Asimov's, Analog, and Interzone magazines, and has been included in the Locus Recommended Reading List. Her work has also been features in numerous anthologies, and she has twice been a finalist for the Theodore Sturgeon Memorial Award and once for the Eugie M. Foster Memorial Award. Palmer has a Fine Arts degree from the University of Massachusetts at Amherst, where as a student she was president and head librarian of the UMass Science Fiction Society. She currently lives in western Massachusetts and is a Linux and database system administrator at Smith College. You can find her online at zanzjan.net and on Twitter at @zanzjan.
Praise For…
---
Praise for Finder

"Wicked, fast-paced, and fun. This is a total romp, and I loved it." —Elizabeth Bear, Hugo-Award winning author of Ancestral Night

"Fergus Ferguson makes an excellent lead in this fast-paced hard-sf repo adventure set in space opera's sweeping scale and balanced on the heart of one very finely wrought character. Suzanne Palmer's writing is delightful." —Hugo-, Nebula-, and World-fantasy finalist Fran Wilde, author of the award-winning Bone Universe trilogy

"Finder is a raucous good time! Suzanne Palmer's Fergus Ferguson is charming, imperfect, always in trouble, and a most resourceful rogue. I can't wait for his next adventure. Characterization at its finest. Firecracker dialogue." —W. Michael Gear, New York Times-bestselling author of Outpost

"Finder proves hard SF, done brilliantly, is passionate, powerful, and brimming with humanity. Be it daily life or war in zero g, realistic communities in space or making us laugh at what clever beings we humans are, Suzanne Palmer nails it. I cannot wait for more. Highly recommended." —Julie E. Czerneda, author of Search Image

"Finder is a breathless ride." —Jacey Bedford, author of Empire of Dust

"A breakneck-paced and action-packed science-fiction adventure featuring an endearing con artist whose current mission to retrieve a stolen spaceship ignites a war.... A nonstop SF thrill ride until the very last page." —Kirkus

"Palmer makes short-distance space travel feel as comfortable as riding a bicycle, and concludes this entertaining caper with a clever resolution and a hint of intrigue. Fans of space adventure will find this a fine example of the form." —Publishers Weekly

"This will please anyone who embraces outer-space yarns." —Library Journal

"A fun, fast-moving jaunt into the zippier, zanier side of space opera." —B&N Sci-Fi & Fantasy Blog

"If you're looking for a fun, little jaunt into a believable backwater with lots of intrigue, fun, and unsettling reminders of how fragile we all can be, this is one book that manages to encapsulate that mixture quite well." —Fanbase Press