Mezcal: The History, Craft & Cocktails of the World's Ultimate Artisanal Spirit (Hardcover)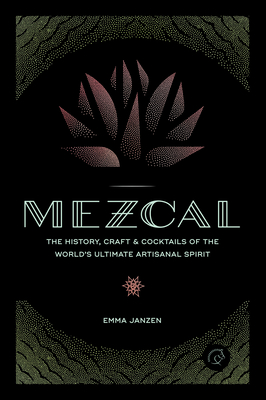 $26.99

Usually Ships in 1-5 Days
Description
---
In Mezcal, 2022 James Beard Award–winning author Emma Janzen explores what sets this cousin of tequila apart from the rest of the pack.
*Nominated for the 2018 James Beard Foundation Book Award in the Beverage category*
Produced in Mexico for centuries but little known elsewhere until recent years, mezcal has captured the imagination of spirits enthusiasts with its astonishing complexities. And while big liquor is beginning to jump aboard the bandwagon, most mezcal is still artisanal in nature, produced using small-batch techniques handed down for generations, often with agave plants harvested in the wild.
Join author Emma Janzen as she presents an engaging primer on all things mezcal that includes:
Mezcal's long and captivating history in Mexican culture
The craft of distilling mezcal, from growing and harvesting the agave to roasting and grinding it, all the way to distilling and aging
A thorough guide to many of the most common agaves used in production and how they shape the resulting spirit
A selection of nearly 50 cocktails that accentuate mezcal's distinguishing qualities, contributed by top mezcal bars across the United States and Mexico

With lush photography, an elegant design featuring a foil-debossed cover, and authoritative yet enthralling text, Mezcal is the definitive guide to exploring and unraveling the mysteries of this extraordinary handcrafted spirit.
About the Author
---
Emma Janzen started writing about mezcal, cocktails, beer, and other spirits as the Liquid Austin columnist for the Austin American-Statesman in 2010. Her work has since been published in Bon Appetit, PUNCH, Food Republic, Serious Eats, and more. Her first book, Mezcal: The History, Craft & Cocktails of the World's Ultimate Artisanal Spirit, was nominated for a James Beard Award in 2018. With Julia Momosé of Michelin-starred bar Kumiko, she co-authored The Way of the Cocktail, which won the James Beard Foundation Book Award in the Beverage with Recipes category in 2022. She's currently Digital Content Editor for Imbibe Magazine, working from her home in Chicago. She prefers her mezcal neat, her cocktails made with gin, and her stouts served year-round.
Praise For…
---
Long overdue, the mezcal boom has erupted in bars across America. You're going to want to learn all about this glorious spirit, and Emma Janzen's Mezcal: The History, Craft & Cocktails of the World's Ultimate Artisanal Spirit tells you what you need to know. - Rick Bayless