Henshin!, Volume 1: Blazing Phoenix (Saturday AM TANKS / Henshin! #1) (Paperback)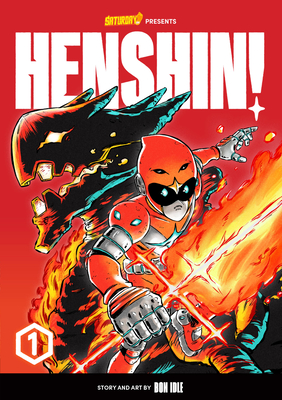 $13.99

Coming Soon - Available for Pre-Order Now
Description
---
Alex must balance becoming a superhero tasked with defeating Kaiju, making it as a journalism student, and navigating life as a gay man in modern Europe.
Nine years after a mysterious ecological disaster, journalism students Alex and Rosalia investigate the strange company that rebuilt their city and turned it into a vision of the future—that is, until Alex's world is turned upside down by a chance encounter with a gigantic monster from another world, a Kaiju, and the mysterious masked hero fighting it! Inheriting the masked hero's power,
Alex must now take on these powerful Kaiju when he transforms into the hero Blaze
.
As a gay man, Alex never imagined his cozy college life becoming deadly, but that's just what happens as his battles uncover an unholy connection between his city, the most powerful company in Europe, and the Kaiju. Can he uncover the secret before it's too late?
Henshin!, a new, action-packed take on tokusatsu drama, features fiery fights, mysterious conspiracies, and LGBTQ romance for fans of classic Power Rangers and Kamen Rider stories.
Henshin! is rated T for Teen, recommended for ages 13 and up.

Saturday AM, the world's most diverse manga-inspired comics, are now presented in a new format! Introducing Saturday AM TANKS, the new graphic novel format similar to Japanese Tankobons where we collect the global heroes and artists of Saturday AM. These handsome volumes have select color pages, revised artwork, and innovative post-credit scenes that help bring new life to our popular BIPOC, LGBTQ, and/or culturally diverse characters.
Join in even more adventures with the other action-packed Saturday AM TANKS series:Apple Black, Clock Striker, Gunhild, Hammer, The Massively Multiplayer World of Ghosts, Oblivion Rouge, Saigami, Soul Beat, Titan King, Underground, and Yellow Stringer.
About the Author
---
Bon Idle (Mitch Proctor) is the creator of Henshin! and a graphic designer from Nottingham, UK. A graduate of the University of Lincoln, he has worked in the marketing industry and published several small-press titles before joining Saturday AM as a creator and Head of Design. You can follow him on Twitter and Instagram at @iambonidle.
Saturday AM is a unique digital comics brand featuring an ever-growing catalog of popular, exclusive, and diverse action manga-style webcomics by independent creators from around the world. Among the nearly 50 visionary artists on the Saturday AM team are @WhytManga (Apple Black), @JeyOdin (Hammer), and @saigaimiproject (Saigami). To learn more about Saturday AM, visit saturday-am.com, or find them on Instagram (@saturday_am), YouTube (youtube.com/user/MyFutprint), and Twitter (@saturday_am).