Lies, Knives, and Girls in Red Dresses (Hardcover)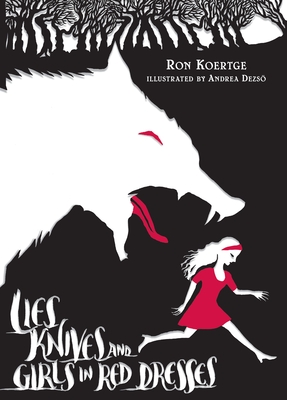 $17.99
Email or call for price.
Summer 2012 Kids' Next List
---
"These 23 classic fairy tales are retold in a way that at once makes them fresh and contemporary and returns the stories to their original darkness. Dezso's fantastic illustrations are reminiscent of Kara Walker's silhouettes, and Koertge flips everything you've come to expect from 'ever after' -- including a Red Riding Hood who wants to be swallowed up and a former Beast who longs for his fangs. A wicked little read, indeed!"
— Alise Hamilton, Andover Bookstore, Andover, MA
Description
---
Writing in free verse honed to a wicked edge, the incomparable Ron Koertge brings dark and contemporary humor to twenty iconic fairy tales.

Once upon a time, there was a strung-out match girl who sold CDs to stoners. Twelve impetuous sisters escaped King Daddy's clutches to jiggle and cavort and wear out their shoes. A fickle Thumbelina searched for a tiny husband, leaving bodies in her wake. And Little Red Riding Hood confessed that she kind of wanted to know what it's like to be swallowed whole. From bloodied and blinded stepsisters (they were duped) to a chopped-off finger flying into a heroine's cleavage, this is fairy tale world turned upside down. Ron Koertge knows what really happened to all those wolves and maidens, ogres and orphans, kings and piglets, and he knows about the Ever After. So come closer — he wants to whisper in your ear.
About the Author
---
Ron Koertge is the author of many award-winning novels, including Stoner & Spaz and its sequel, Now Playing: Stoner & Spaz II; Shakespeare Bats Cleanup; Strays; Deadville; Margaux with an X; The Brimstone Journals; and The Arizona Kid. A two-time winner of the PEN Literary Award for Children's Literature, he lives in South Pasadena, California.

Andrea Dezsö is a visual artist and writer who works across a broad range of media. She is a full-time faculty member at the Maryland Institute College of Art and lives in New York City.
Praise For…
---
The language here is modern, brutal and sharp as a carving knife. The cut-paper silhouette illustrations, rendered by Andrea Dezso in black and red, are haunting and perfect.
—The New York Times

With sardonic wit and a decidedly contemporary sensibility, Koertge retells 23 classic fairy tales in free verse, written from the perspectives of iconic characters like Little Red Riding Hood, as well as maligned or minor figures such as the Mole from Thumbelina and Cinderella's stepsisters... A fiendishly clever and darkly funny collection.
—Publishers Weekly (starred review)

A much-honored poet and novelist retells, in free verse and from various points of view, twenty-three familiar tales (mostly Grimm, Andersen, and Perrault). With a contemporary sensibility and voice, Koertge pitches directly to teenagers. . . Dezsö's choice of cut-paper illustrations is brilliant, a nod to Hans C. Andersen's skill in that medium despite the radically different tone.
—The Horn Book (starred review)

The poems beg to be shared aloud, like the best gossip. The sensibilities are wry, often dark, and the language is occasionally earthy... This slim volume is at once simple and sophisticated, witty and unnerving.
—School Library Journal

Sharp, ironic, and often darkly funny free verse.
—Bulletin of the Center for Children's Books

Written in free verse, 23 fairy tales are explained by those "leftover" characters still hanging around in Ever After. This would be a wonderful supplement to a lesson about fairy tales, or an independent read if you still wonder if Little Bear really likes porridge. B&W illustrations add a unique sense of rawness to each tale.
—Library Media Connection (highly recommended)

These twenty-three contemporized fairy tales are darkly sophisticated and meant for older teens, likely already familiar with the popular originals and able to recognize and appreciate their humor and irony. Narrated by various characters in several formats, including blank verse, monologues, author accounts, or rhymes; a wickedly gruesome black-and-white illustration accompanies each witty retelling... All retellings hold surprises and are darker than the originals, but their uniqueness is shared poignancy; all sadly, and often chillingly, convey that each character's first supposed "happily ever after" ending was merely a high-priced illusion.
—VOYA

Amputating the "happily" from "ever after," Koertge's collection of free-verse poems wrings 23 old favorites into terse puddles of queasiness, grim endings, and ambiguous moral takeaways (which, to be fair, means they're not that far off from many of the originals)... Dezsö's distinctive cut-paper silhouettes are dripping with grotesquery but also beautiful in their own indelible fashion. And they're a perfect match for Koertge's gritty, druggy, sexed-up visions.
—Booklist

Many authors have hammered fairy tales into something wicked, but after reading this collection, the words "Once upon a time . . ." will never sound the same again.
—BookPage

A dark retelling of classic fairy tales including Little Red Riding Hood and Rumpelstiltskin in free verse with a dash of gore and horror that updates the stories for a YA crowd.
—The Los Angeles Times

This entire book was like a box of the darkest chocolates. They held surprises inside and you simply can't stop reading them.
—Waking Brain Cells blog

These illustrations are bold, haunting (in more ways than one), and bone-chilling in spots.
—Seven Impossible Things blog