The Alloy of Law: A Mistborn Novel (The Mistborn Saga #4) (Mass Market)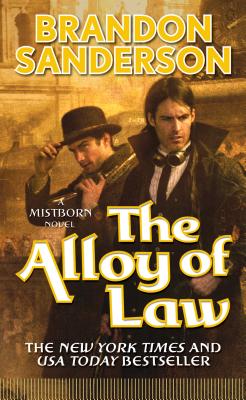 $9.99

Usually Ships in 1-5 Days
Other Books in Series
This is book number 4 in the The Mistborn Saga series.
Description
---
From #1 New York Times bestselling author Brandon Sanderson, the Mistborn series is a heist story of political intrigue and magical, martial-arts action.

Three hundred years after the events of the Mistborn trilogy, Scadrial is now on the verge of modernity, with railroads to supplement the canals, electric lighting in the streets and the homes of the wealthy, and the first steel-framed skyscrapers racing for the clouds.

Kelsier, Vin, Elend, Sazed, Spook, and the rest are now part of history—or religion. Yet even as science and technology are reaching new heights, the old magics of Allomancy and Feruchemy continue to play a role in this reborn world. Out in the frontier lands known as the Roughs, they are crucial tools for the brave men and women attempting to establish order and justice.

One such is Waxillium Ladrian, a rare Twinborn, who can Push on metals with his Allomancy and use Feruchemy to become lighter or heavier at will. After twenty years in the Roughs, Wax has been forced by family tragedy to return to the metropolis of Elendel. Now he must reluctantly put away his guns and assume the duties and dignity incumbent upon the head of a noble house. Or so he thinks, until he learns the hard way that the mansions and elegant tree-lined streets of the city can be even more dangerous than the dusty plains of the Roughs.

Other Tor books by Brandon Sanderson

The Cosmere

The Stormlight Archive
The Way of Kings
Words of Radiance
Edgedancer (Novella)
Oathbringer

The Mistborn trilogy
Mistborn: The Final Empire
The Well of Ascension
The Hero of Ages

Mistborn: The Wax and Wayne series
Alloy of Law
Shadows of Self
Bands of Mourning

Collection
Arcanum Unbounded

Other Cosmere novels
Elantris
Warbreaker

The Alcatraz vs. the Evil Librarians series
Alcatraz vs. the Evil Librarians
The Scrivener's Bones
The Knights of Crystallia
The Shattered Lens
The Dark Talent

The Rithmatist series
The Rithmatist

Other books by Brandon Sanderson

The Reckoners
Steelheart
Firefight
Calamity
About the Author
---
Brandon Sanderson grew up in Lincoln, Nebraska. He lives in Utah with his wife and children and teaches creative writing at Brigham Young University. He is the author of such bestsellers as the Mistborn® trilogy and its sequels, The Alloy of Law, Shadows of Self, and The Bands of Mourning; the Stormlight Archive novels The Way of Kings and Words of Radiance; and other novels, including The Rithmatist, Steelheart, and Skyward. In 2013, he won a Hugo Award for Best Novella for The Emperor's Soul, set in the world of his acclaimed first novel, Elantris. Additionally, he was chosen to complete Robert Jordan's Wheel of Time® sequence.
Praise For…
---
"Sanderson continues to show that he is one of the best authors in the genre." —Library Journal, starred review

"Part Sherlock Holmes, Part X-Men, this exciting stand-alone adventure is full of close shaves, shootouts, and witty banter." —Publishers Weekly

"Rive with laugh-out-loud moments, religious and philosophical ponderings, and plenty of crime-fighting action, this book fits nicely in any gun-holster." —Booklist on The Alloy of Law

"An engaging and fun romp of a read. The characters really shine." —RT Book Reviews on The Alloy of Law

"Sanderson's fresh ideas on the source and employment of magic are both arresting and original." —Kirkus Reviews on The Alloy of Law

"[The Hero of Ages] brings the Mistborn epic fantasy trilogy to a dramatic and surprising climax…. Sanderson's saga of consequences offers complex characters and a compelling plot, asking hard questions about loyalty, faith, and responsibility." —Publishers Weekly

"Sanderson is an evil genius. There is simply no other way to describe what he's managed to pull off in this transcendent final volume of his Mistborn trilogy." —RT Book Reviews (Gold Medal, Top Pick!) on The Hero of Ages

"Mistborn utilizes a well thought-out system of magic. It also has a great cast of believable characters, a plausible world, an intriguing political system and, despite being the first book of a trilogy, a very satisfying ending. Highly recommended to anyone hungry for a good read." —Robin Hobb

" It's rare for a fiction writer to have much understanding of how leadership works and how love really takes root in the human heart. Sanderson is astonishingly wise." —Orson Scott Card