The Magic Engineer (Saga of Recluce #3) (Paperback)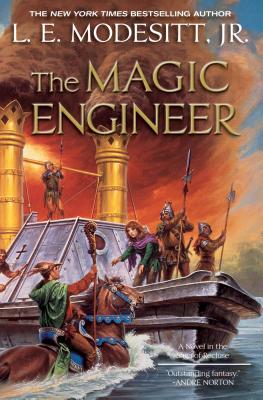 $22.99

Usually Ships in 1-5 Days
Other Books in Series
This is book number 3 in the Saga of Recluce series.
Description
---
In L. E. Modesitt, Jr.'s The Magic Engineer, Dorrin, a young scion of Order magicians, is interested in forbidden knowledge—the working of machines.

He is the Leonardo da Vinci of his age, but his insights violate the rules of the Order magic of Recluce, and in order to pursue his invention he must go into exile—in the lands of Chaos.

Tortured by the knowledge that to preserve Order he must create new devices for war, Dorrin stands between Recluce and the forces of the Chaos that seek to destroy it.

"An intriguing fantasy in a fascinating world."—Robert Jordan, New York Times bestselling author of The Wheel of Time® series

Saga of Recluce

#1 The Magic of Recluce / #2 The Towers of Sunset / #3 The Magic Engineer / #4 The Order War / #5 The Death of Chaos / #6 Fall of Angels / #7 The Chaos Balance / #8 The White Order / #9 Colors of Chaos / #10 Magi'i of Cyador / #11 Scion of Cyador / #12 Wellspring of Chaos / #13 Ordermaster / #14 Natural Order Mage / #15 Mage-Guard of Hamor / #16 Arms-Commander / #17 Cyador's Heirs / #18 Heritage of Cyador /#19 The Mongrel Mage / #20 Outcasts of Order / #21 The Mage-Fire War (forthcoming)

Story Collection: Recluce Tales

Other Series by L.E. Modesitt, Jr.
The Imager Portfolio
The Corean Chronicles
The Spellsong Cycle
The Ghost Books
The Ecolitan Matter
About the Author
---
L. E. Modesitt, Jr., is the bestselling author of the fantasy series The Saga of Recluce, Corean Chronicles, and the Imager Portfolio. His science fiction includes Adiamante, the Ecolitan novels, the Forever Hero Trilogy, and Archform: Beauty. Besides a writer, Modesitt has been a U.S. Navy pilot, a director of research for a political campaign, legislative assistant and staff director for a U.S. Congressman, Director of Legislation and Congressional Relations for the U.S. Environmental Protection Agency, a consultant on environmental, regulatory, and communications issues, and a college lecturer. He lives in Cedar City, Utah.
Praise For…
---
"Outstanding fantasy." —Andre Norton

"Unique and refreshing." —Robin Hobb, author of Fool's Quest

"My favorite thing about L. E. Modesitt's books is that . . . I enjoy rereading them as much as I enjoy them the first time." —SF Revu on the Saga of Recluce