Cyador's Heirs (Saga of Recluce #17) (Mass Market)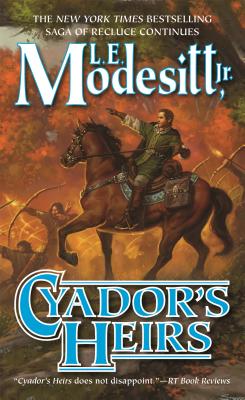 $10.99
Email or call for price.
Other Books in Series
This is book number 17 in the Saga of Recluce series.
Description
---
L.E. Modesitt, Jr.'s Cyador's Heirs continues his bestselling fantasy series the Saga of Recluce, which is one the most popular in contemporary epic fantasy.

Decades after the fall of Cyador, its survivors have reestablished themselves in Cigoerne. Young Lerial, living in the shadow of his older brother and heir Lephi, has a preordained future: He will one day command his brother's forces in defense of Cigoerne, serving at his older sibling's pleasure, and no more.

But when Lerial is sent abroad to learn the skills and wisdom he will need to fulfill his future duties, he discovers he is one of those rare beings who can harness both Order and Chaos. And as war finally engulfs the fringes of Cigoerne, Lerial's growing mastery of Order and Chaos is tested to its limits, and his own.

"An intriguing fantasy in a fascinating world."—Robert Jordan, New York Times bestselling author of The Wheel of Time® series

Saga of Recluce

#1 The Magic of Recluce / #2 The Towers of Sunset / #3 The Magic Engineer / #4 The Order War / #5 The Death of Chaos / #6 Fall of Angels / #7 The Chaos Balance / #8 The White Order / #9 Colors of Chaos / #10 Magi'i of Cyador / #11 Scion of Cyador / #12 Wellspring of Chaos / #13 Ordermaster / #14 Natural Order Mage / #15 Mage-Guard of Hamor / #16 Arms-Commander / #17 Cyador's Heirs / #18 Heritage of Cyador /#19 The Mongrel Mage / #20 Outcasts of Order / #21 The Mage-Fire War (forthcoming)

Story Collection: Recluce Tales

Other Series by L.E. Modesitt, Jr.
The Imager Portfolio
The Corean Chronicles
The Spellsong Cycle
The Ghost Books
The Ecolitan Matter
About the Author
---
L. E. Modesitt, Jr., is the bestselling author of the fantasy series The Saga of Recluce, Corean Chronicles, and the Imager Portfolio. His science fiction includes Adiamante, the Ecolitan novels, the Forever Hero Trilogy, and Archform: Beauty. Besides a writer, Modesitt has been a U.S. Navy pilot, a director of research for a political campaign, legislative assistant and staff director for a U.S. Congressman, Director of Legislation and Congressional Relations for the U.S. Environmental Protection Agency, a consultant on environmental, regulatory, and communications issues, and a college lecturer. He lives in Cedar City, Utah.
Praise For…
---
"Cyador's Heirs does not disappoint, building on the stories of the grandchildren of the great matriarch in the Recluse saga from childhood to early adulthood." —RT Book Reviews