Heritage of Cyador (Saga of Recluce #18) (Hardcover)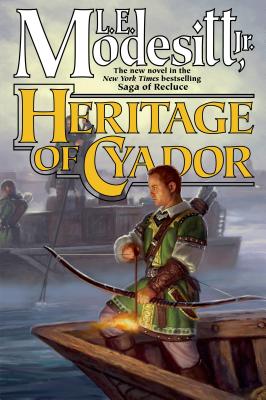 Other Books in Series
This is book number 18 in the Saga of Recluce series.
Description
---
L.E. Modesitt, Jr.'s Heritage of Cyador continues his bestselling fantasy series the Saga of Recluce, which is one the most popular in contemporary epic fantasy.
Five years after utterly destroing an Afritan military force crossing into Cigoerne with his mastery of Order and Chaos, Lerial must lead a delicate mission in Afrit to assist them in repealing invaders that could threaten both lands.
Lerial's troubled history against Afrit may reopen old wounds that will never truly heal.
"An intriguing fantasy in a fascinating world."—Robert Jordan, New York Times bestselling author of The Wheel of Time® series
Saga of Recluce
#1 The Magic of Recluce / #2 The Towers of Sunset / #3 The Magic Engineer / #4 The Order War / #5 The Death of Chaos / #6 Fall of Angels / #7 The Chaos Balance / #8 The White Order / #9 Colors of Chaos / #10 Magi'i of Cyador / #11 Scion of Cyador / #12 Wellspring of Chaos / #13 Ordermaster / #14 Natural Order Mage / #15 Mage-Guard of Hamor / #16 Arms-Commander / #17 Cyador's Heirs / #18 Heritage of Cyador /#19 The Mongrel Mage / #20 Outcasts of Order / #21 The Mage-Fire War (forthcoming)
Story Collection: Recluce Tales
Other Series by L.E. Modesitt, Jr.
The Imager Portfolio
The Corean Chronicles
The Spellsong Cycle
The Ghost Books
The Ecolitan Matter
About the Author
---
L. E. Modesitt, Jr., is the bestselling author of the fantasy series The Saga of Recluce, Corean Chronicles, and the Imager Portfolio. His science fiction includes Adiamante, the Ecolitan novels, the Forever Hero Trilogy, and Archform: Beauty. Besides a writer, Modesitt has been a U.S. Navy pilot, a director of research for a political campaign, legislative assistant and staff director for a U.S. Congressman, Director of Legislation and Congressional Relations for the U.S. Environmental Protection Agency, a consultant on environmental, regulatory, and communications issues, and a college lecturer. He lives in Cedar City, Utah.
Praise For…
---
"The author's not only a superb craftsman and character-builder, but a consummate storyteller, so that each good-against-evil clash appears fresh and engrossing."—Kirkus Reviews